Meet the Newest Actress to Join 'NCIS: Hawai'i'
Season 1 of the anticipated CBS spinoff, NCIS: Hawai'i kicked off in November 2021 and introduced viewers to Special Agent in Charge Jane Tennant (played by Vanessa Lachey) and her team of special agents.
Since then, we've had the opportunity to learn more about the naval officers who make up the cast — including but not limited to NCIS Field Agent Jesse Boone (Noah Mills), who's second in command and Tennant's right hand.
Article continues below advertisement
Before serving as an agent in the NCIS, Jesse worked in Washington, D.C., as a part of the Joint Robbery Task Force for three years. But on the March 7 episode, we get a glimpse into his personal life and meet his daughter, Gracie. So, who plays Jesse's daughter on NCIS: Hawai'i? Here's everything we know.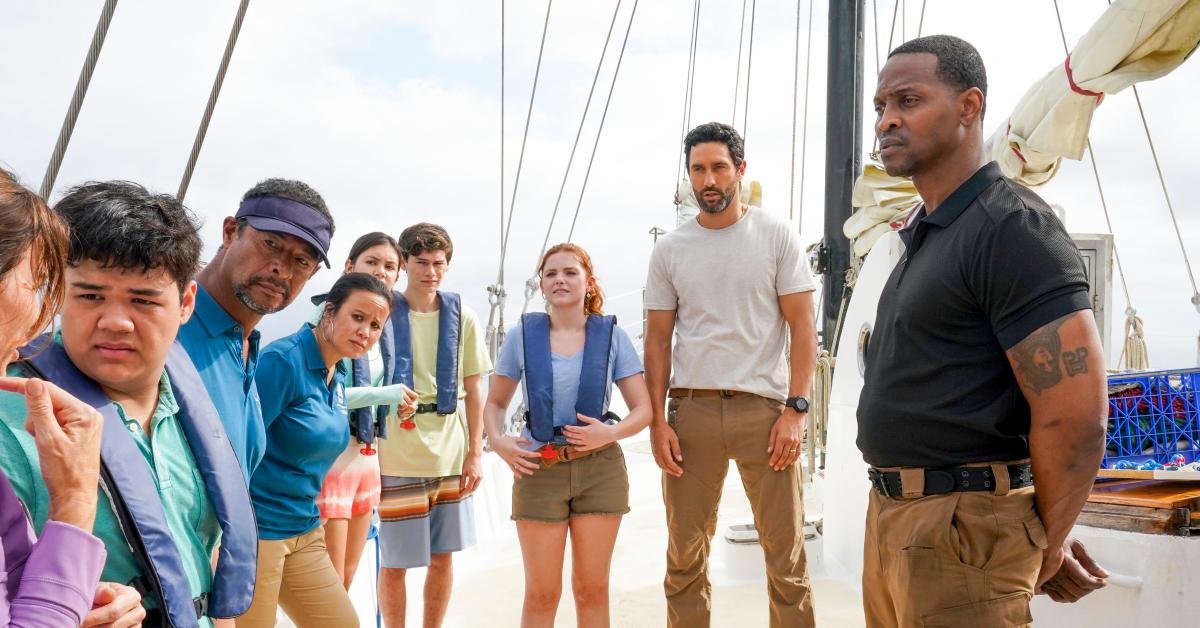 Article continues below advertisement
Who plays Jesse Boone's daughter, Gracie, in 'NCIS: Hawai'i'? She may look familiar.
We first meet Gracie in Episode 15 of NCIS: Hawai'i. In an attempt to bond with his daughter, Jesse books a day of sailing lessons out on the water. Sadly, it doesn't go quite as expected. While Jessie pleads with his daughter to accompany him on a six-week sailing trip, she'd rather go camping with her friends.
However, their argument is put on hold when (as CBS explains in their official episode synopsis), pirates suddenly seize their yacht, take all the passengers hostage, and attack Jesse, leaving it up to his team to quickly locate and rescue his daughter."
The role of Gracie is played by 21-year-old Chloe Csengry, and if she looks familiar, it's because this isn't her first time on the small screen. Read on to learn more about the actress who plays Gracie Boone.
Article continues below advertisement
Who is Chloe Csengery? The actress is best known for her role in 'Paranormal Activity.'
Chloe was born on July 7, 2000, and raised in Houston, Texas. Early on, she discovered her love for the arts and began taking acting classes. At the age of 11, Chloe starred in her first feature film — Paranormal Activity 3. Chloe reprised her role in both Paranormal Activity: The Marked Ones and Paranormal Activity: The Ghost Dimension.
Before joining the cast of NCIS: Hawai'i, she snagged guest roles in Criminal Minds, Parenthood, Law & Order: SVU, Modern Family, Chicago Med, and The Good Doctor. Chloe also starred alongside Christina Applegate in Up All Night.
Ahead of her NCIS: Hawai'i debut, Chloe teased her appearance on the series. She wrote on Instagram, "Joining the NCIS: Hawai'i fam tonight 10/9c on CBS! Can't wait for everyone to meet Gracie Boone!"
Tune in to see if Gracie and Jessie make it home safe when NCIS: Hawai'i airs on Mondays at 10 p.m. EST on CBS.