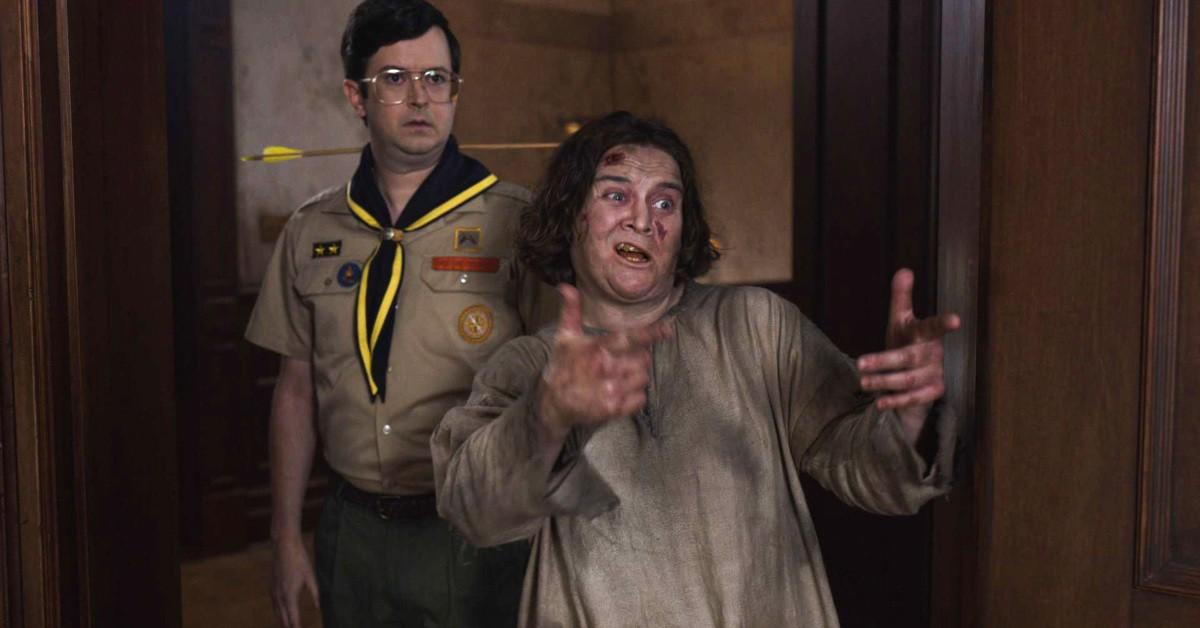 Who's the Hilarious Actress Who Plays Nancy on 'Ghosts'?
Spoiler alert: The following article contains spoilers for Episodes 11 and 12 of the CBS series Ghosts.
One of the cholera ghosts in Jay (Utkarsh Ambudkar) and Sam's (Rose McIver) basement finally gets a name and personality in Ghosts. The hauntingly hilarious CBS sitcom has returned with new and familiar faces. How does Nancy the ghost fit in with the other resident ghosts at Woodstone estate? And where have we seen the hilarious actress who plays Nancy before?
Article continues below advertisement
"You know when I was alive, women couldn't even be a butler! You could be a wench, a midwife, or a whore," Nancy tells Pete (Richie Moriarty) after Pete informs her that Sam is not a ghostly butler. Pete had grabbed Nancy from the basement to act as his fake girlfriend in front of the other ghosts. Do Pete and Nancy end up having an iota of romantic potential?
Who plays Nancy on 'Ghosts'?
Pete's problems began when the ghosts are left to fend for themselves after the television goes into standby mode. Sasappis (Román Zaragoza) blurts out that he overheard Jay saying that Pete planned to tell Alberta (Danielle Pinnock) that he likes her.
Article continues below advertisement
Desperate to distract his fellow ghosts, Pete blurts out that he does like someone ... one of the cholera ghosts in the basement. Luckily for Pete, Nancy the cholera ghost is totally game to come upstairs and pretend to be his girlfriend. She challenges him to actually grow a spine instead of constantly trying to broker ghostly peace.
Article continues below advertisement
Ironically, Pete does finally stand up for himself. After Nancy calls Pete out for his desire to be liked by everyone, Pete is finally fed up with his fake girlfriend. He breaks up with Nancy in front of the other ghosts. Naturally Nancy quickly declares that she was the one who broke up with Pete and declares she's returning to the basement.
Actress Betsy Sodaro is a well-established comedienne who has appeared in multiple comedy films and television shows. She appeared in the Adam Sandler–helmed Netflix film Hubie Halloween. Shaquille O'Neal played the role of DJ Aurora in the film, and Betsy played his wife Bunny! Betsy also lent her voice to several characters on multiple episodes of Bob's Burgers.
Article continues below advertisement
Betsy has also appeared in Brooklyn Nine-Nine, Drunk History, Superstore, Disjointed and more. She has quite the following on her Instagram page, with nearly 50K followers and counting. If you're ever in need of a laugh, be sure to check out her page for a guaranteed chuckle or two!
Article continues below advertisement
Will Betsy Sodaro return to 'Ghosts'?
We'd love to see Betsy make a glorious return as Nancy in Ghosts. While there's no official confirmation that Nancy's ghost will reappear in future episodes, it'd be easy for her to reappear given that she's downstairs in the basement.
Thorfinn the Viking (Devan Chandler Long) also expressed romantic interest in Nancy following her fake breakup with Pete. We'd love to see their romance blossom in a future funny storyline!
You can catch new episodes of Ghosts every Thursday at 9 p.m EST on CBS.