Thing Is Wednesday Addams's Handy Sidekick in Netflix's 'Wednesday' — Who Plays the Severed Hand?
Thing T. Thing is Wednesday Addams's dedicated little helper in Netflix's original series 'Wednesday.' Who plays the silent character?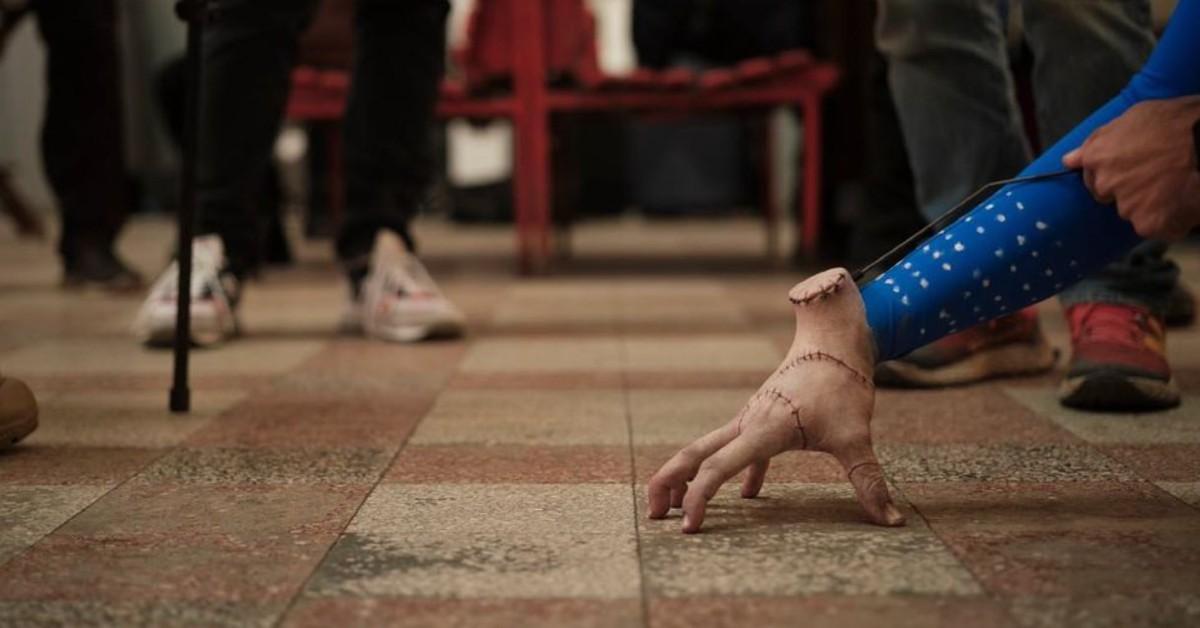 Rather than applauding Jenna Ortega's performance as the woeful Wednesday Addams in Netflix's horror-comedy series Wednesday, let's give her a unanimous double snap. Created by Alfred Gough and Miles Millar, Wednesday follows the trials and tribulations of the deadpan title character as she attends her parents' alma mater: Nevermore Academy. While she navigates her blooming psychic abilities, Wednesday finds herself at the center of a mass murder investigation.
Article continues below advertisement
In the very first episode, titled "Wednesday's Child is Full of Woe," Wednesday finds Thing — the Addams family's famous handy helper — in her dorm room, coming to the realization that her parents sent him (or it?) to spy on her. While Thing T. Thing is never pictured walking about in the beloved 1960s sitcom, the bizarre creature is depicted as an adventurous severed hand in the 1990s Addams Family films as well as in Wednesday.
Considering Thing follows Wednesday around for much of the series, fans are wondering who the actor behind the silent, stitched-up hand is.
Article continues below advertisement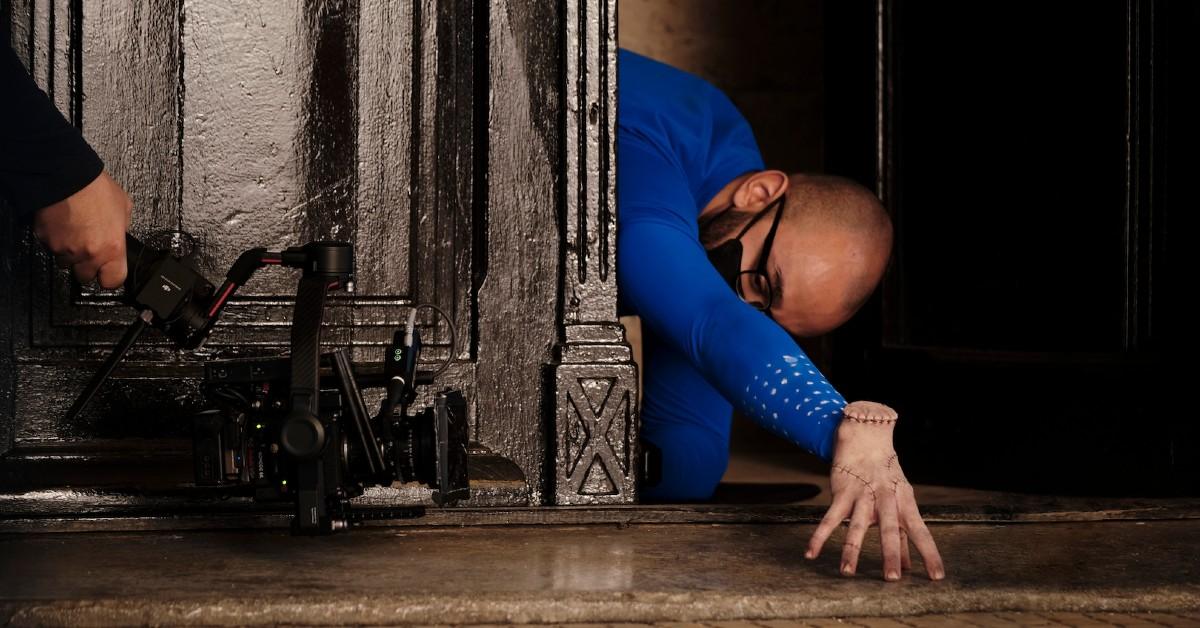 Who Plays Thing in 'Wednesday'? Is Thing "real" or CGI in Netflix's 'Wednesday'?
"Give a big hand to Victor Dorobantu, the incredible actor who plays Thing on Wednesday," Netflix recently tweeted. Yes, Wednesday's partner in crime is portrayed by a real dude with a real hand. While the actor's body was edited out in postproduction, CGI artistry wasn't entirely used to bring Thing to life.
Featuring some creepy SFX makeup, the Romanian hand actor's talented appendage can be seen granting Wednesday's every demand throughout the series, even helping her enter a morgue.
Article continues below advertisement
When you consider the fact that Victor got paid to crawl around in a royal blue suit, following Jenna like a puppy, it's all quite funny.
"He would hide behind walls and underneath beds. Then they built this prosthetic on top of his hand so that it looked like a wrist knob, and he would walk around," Jenna Ortega told Screen Rant.
Article continues below advertisement
Though Victor's mannerisms were always used, he didn't always film alongside Jenna.
"We'd shoot some stuff with [Victor], and other times we would shoot with absolutely nothing there," Jenna continued.
"We'd shoot with the stand-in hand there; never did the tennis ball. I was either working with an actor and responding to him or I was looking at nothing, and then at the end of every take, we would have to bring in these gray and silver balls and a color chart so that they could add CGI."
Victor told Entertainment Weekly that his role entailed "knowing what a hand can do, knowing what a hand can say, gestures, body language, [and] Morse code."
As you can imagine, it would've been difficult to plan out every one of Thing's intricate movements. So, Victor — who's also a magician/illusionist — went with an organic approach.
Article continues below advertisement
"We did everything we could to get to the point where Thing was expressing emotion [via] hand gestures," he explained to Gayety. "We just improvised and we just tried to make it natural."
Are we alone in thinking Victor's hand deserves an Emmy?
Wednesday is currently streaming on Netflix.