Ayo Edebiri Has Replaced Jenny Slate as the Voice of Missy on 'Big Mouth'
Over the summer, Jenny Slate announced that she would no longer be voicing Missy in 'Big Mouth', so who voices the character now?
As it returns for its fourth season, Big Mouth is dealing with the aftermath of the biggest casting shakeup the show has ever produced. Over the summer, amidst upheaval across the nation as a result of the death of George Floyd, Jenny Slate announced that she would no longer be voicing Missy, the Black character she's played on Big Mouth since the show's first season.
Article continues below advertisement
Who voices Missy in 'Big Mouth' now?
In addition to leaving the show, Jenny also acknowledged that her logic in taking the role had been flawed.
"At the start of the show, I reasoned with myself that it was permissible for me to play 'Missy' because her mom is Jewish and white — as am I," Jenny said in her announcement. "But 'Missy' is also Black, and Black characters on an animated show should be played by Black people.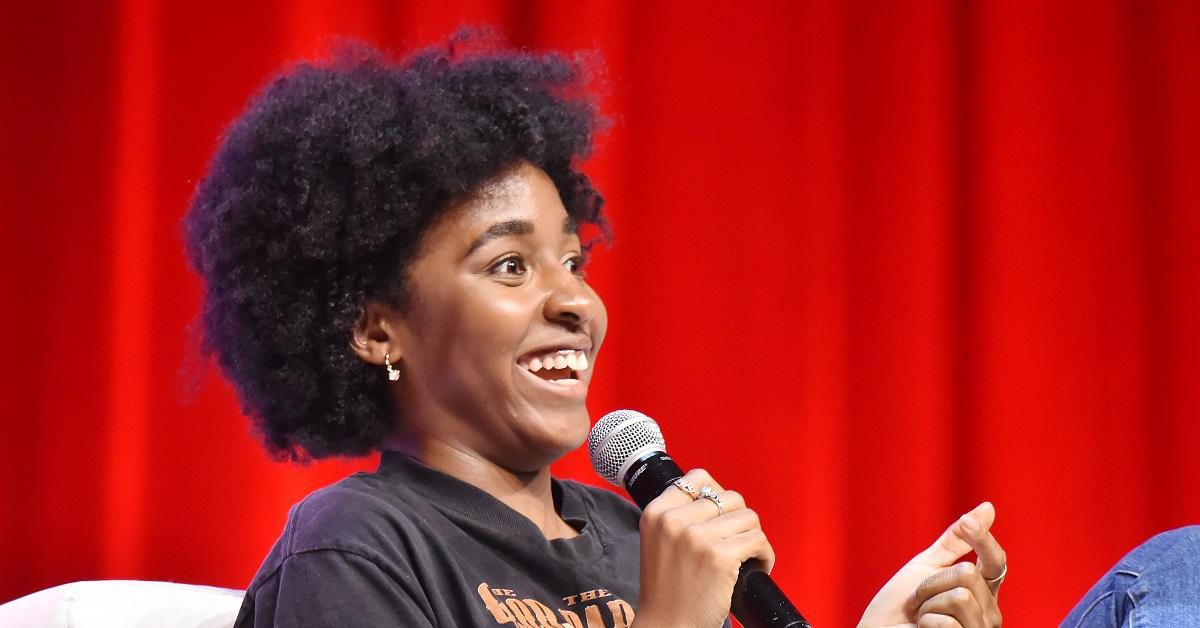 Article continues below advertisement
Shortly after Jenny said that she would be leaving the role, Ayo Edebiri was announced as the new voice actor for the character. Ayo had already joined the show's writer's room and was therefore familiar with Missy as a character and with the tone of the show more broadly. Ayo also believes that her naturally dorky past will make it easy for her to connect with her new character.
"I was definitely a very uncomfortable child, so I think the show speaks to that and a lot of those feelings, which still resonate with me as an adult," Ayo told Variety. "I'm back home in my childhood bedroom right now and on my bookshelf in between 'A Series of Unfortunate Events' is Bill Clinton's autobiography and Nelson Mandela's autobiography and a translation of 'The Iliad' in Latin. I was a true dork. So I don't think I have to go too far to connect with Missy."
Article continues below advertisement
When will Ayo take over as Missy?
Although Ayo's casting announcement came before season 4 was released, Jenny will remain the voice of Missy for much of the show's fourth season. Ayo will take over in the role in the penultimate episode of the new season. Originally, though, Jenny was supposed to voice the character for the entirety of season 4.
Article continues below advertisement
Eventually, the show's creative team landed on the penultimate episode as the best spot for Ayo to take over. "It's about Missy's continued evolution as a person — that she has all of these different parts of who she is," co-creator Nick Kroll explained.
"There's the sidelines Missy and the more sexually adventurous Missy, mirror Missy, and then also this Missy that she's been discovering [in Season 4] through hanging out with her cousins and really taking a look at her Black identity," Nick explained.
The moment also serves as a kind of farewell to Jenny's version of the character. Although Ayo is taking over the role, there are parts of Jenny's performance that are likely to remain.
Ayo said that she'll pay "homage" to the work that Jenny did, while bringing something new to the table. "The voice I found is also because of the work Jenny did, too," Ayo said.