Why Did Daisy Keech Actually Leave the Hype House?
TikTok's favorite collaborative channel is in some pretty severe turmoil. Although the Hype House has had a number of changes and additions since its launch, it looks like it might be down to just 16 members. As Insider noted, the Hype House's Instagram is now following only 16 accounts, having unfollowed Patrick Huston, Connor Yates, Calvin Golby, and Wyatt Xavier, leaving their status with the house up in the air.
Article continues below advertisement
But one person's status is definitely not up for debate. Daisy Keech is out. But why did Daisy leave the Hype House in the first place? The fitness model and influencer is not walking away from it without a fight.
Article continues below advertisement
Why did Daisy Keech leave the Hype House? It's all about the recognition.
When you look up who the founders of the Hype House are, two names come up. The story goes that it was dreamed up by Thomas Petrou in December 2019 with the help of TikTok's resident e-boy Chase Hudson. But is that the true story? According to Daisy, it's not.
Early in 2020, a new line popped up in Daisy's bio: "co founder of @thehypehousela". And, only seven days into the new year, she filed a trademark application covering "the category of tops as clothing" which certainly made it look like she was planning on developing merch for the Hype House.
Article continues below advertisement
Article continues below advertisement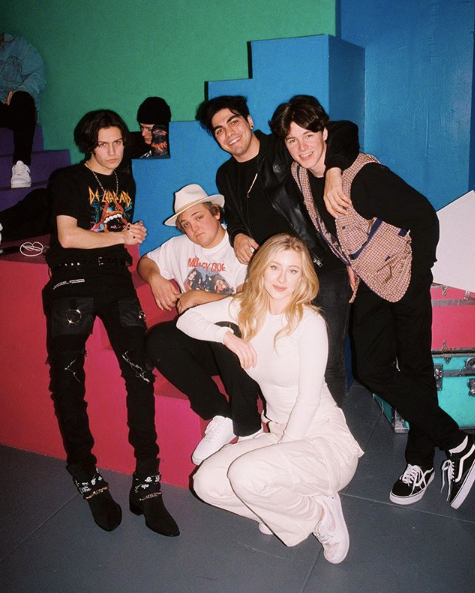 Article continues below advertisement
According to Daisy, there were three founding members and she was one of them.
As Daisy told Insider, the Hype House was, to some degree, Thomas's idea, but she asserts that he asked her to help. They formerly worked together with Jake Paul's Team 10 collaborative YouTube channel. But when Thomas met Chase, they began working on it, all three of them. Daisy said that she struggled to find her voice and the boys ended up taking over, with her being pushed off to the side.
"For the first couple of interviews, I just kinda kept my mouth shut and let them do them," she said. "And you know, I'm also young. And going into those interviews, it's kind of nerve-wracking when there's a whole production team and there's Thomas and Chase kind of taking charge with Chase's manager or whatever. And then I'm there all by myself...like, I didn't really have anyone there to tell me what to do, to tell me that I should be speaking up, telling me that this isn't right."
Article continues below advertisement
We may soon see a very different Hype House if Daisy's trademark applications are approved.
Recently, Thomas has been promoting a new line of merchandise, claiming that there will be a Hype House line coming soon. Which Daisy didn't take too kindly to. Her lawyer, Chris Young, sent a cease and desist letter asking him to obtain her consent before using the trademark. But, as of March 19, he and the rest of the Hype House are still promoting the merch. It should be noted that neither Daisy nor the Hype House actually have the trademark as of yet. It's still pending.
Article continues below advertisement
According to Chris, Daisy is planning to start a new house in competition with the Hype House. And, if her trademark application gets approved, she might be able to actually name that new house Hype House. The rumor is that the other four people the Hype House stopped following on Instagram (Patrick Huston, Connor Yates, Calvin Golby, and Wyatt Xavier) may be joining her house.
Daisy is still going to have to continue dealing with the old Hype House for the time being. The real house's lease still includes her name and, thanks to Thomas, she says, she might not get her deposit back. She was the only one of the four tenants who could actually qualify for a lease so it remains in her name. But apparently Thomas made some renovations without notifying the landlord, which puts her deposit in jeopardy.