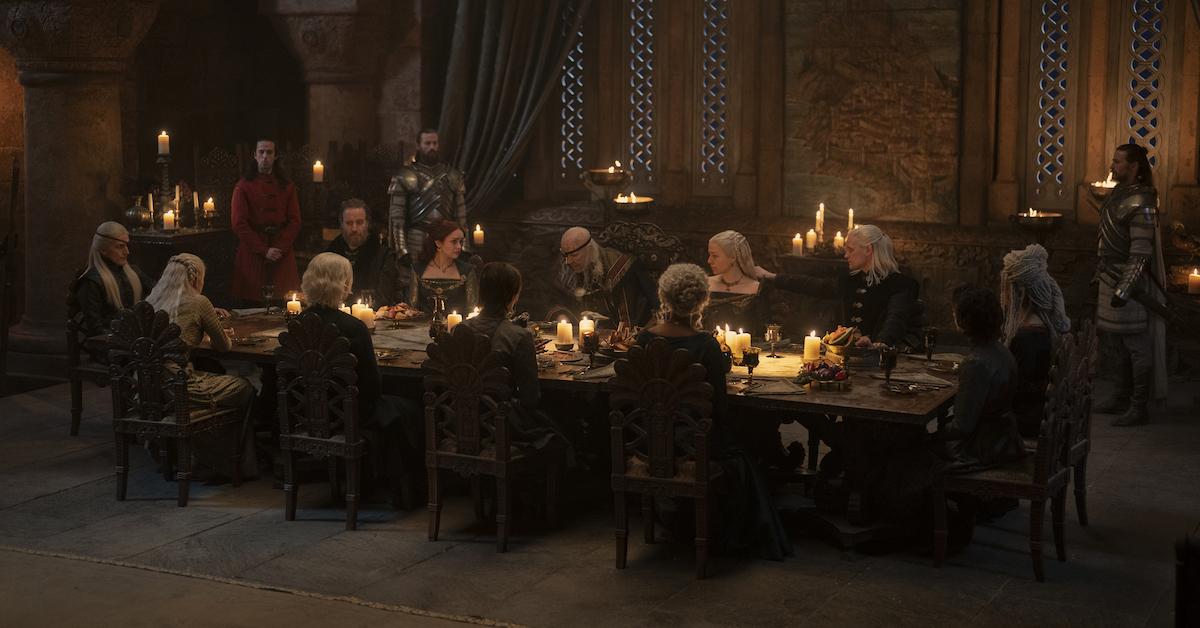 [SPOILER] Notably Does Not Have a Funeral in 'House of the Dragon' — Here's Why
Spoiler alert: This article contains spoilers for House of the Dragon Episode 9.
As House of the Dragon nears its finale and the beginning of the Dance of the Dragons, HBO's iconic series continues to surprise us. Basically, in Episode 8, Viserys (Paddy Considine) utters his last words to Alicent, who misinterprets them to kick off the Targaryen civil war. Episode 9 is focused solely on the "Greens" as they deal with the fallout from Viserys's death, and one thing is clear: Viserys doesn't have a funeral.
Article continues below advertisement
We saw that after Laena's death earlier in the season, the families all came together for her funeral in the Velaryon tradition. But Viserys doesn't have a funeral at all. In fact, his body seems to get mummified. So, why doesn't Viserys have a funeral, and what actually were his last words?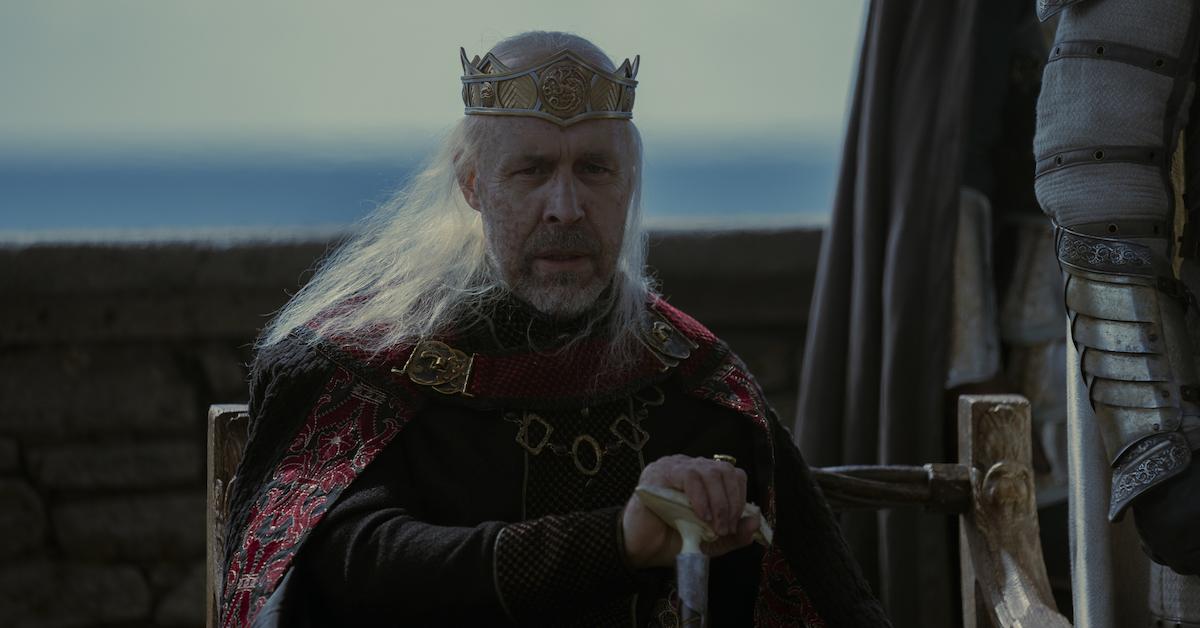 Article continues below advertisement
Viserys doesn't have a funeral in 'House of the Dragon' ... yet.
Episode 9 focuses on the "Greens," who are led by Alicent Hightower, Ser Criston Cole, Otto Hightower, and Alicent's sons, Aegon and Aemond. Viserys utters his last breath at the end of Episode 8, which leads to Alicent moving forward to cover up Viserys's death from the rest of the realm. This means that instead of honoring him with a funeral, Alicent and her allies do what they can to hide his body.
It's quite a strange move for someone who's supposedly grieving, but the first priority of the Greens is solidifying Aegon's (baseless) claim to the throne. If they were to have a funeral for Viserys and inter his body, or give him a dragonrider's funeral, this would call attention to his death. Not only that, but Rhaenyra would come back to Westeros as quickly as she left to take her rightful seat on the throne.
Article continues below advertisement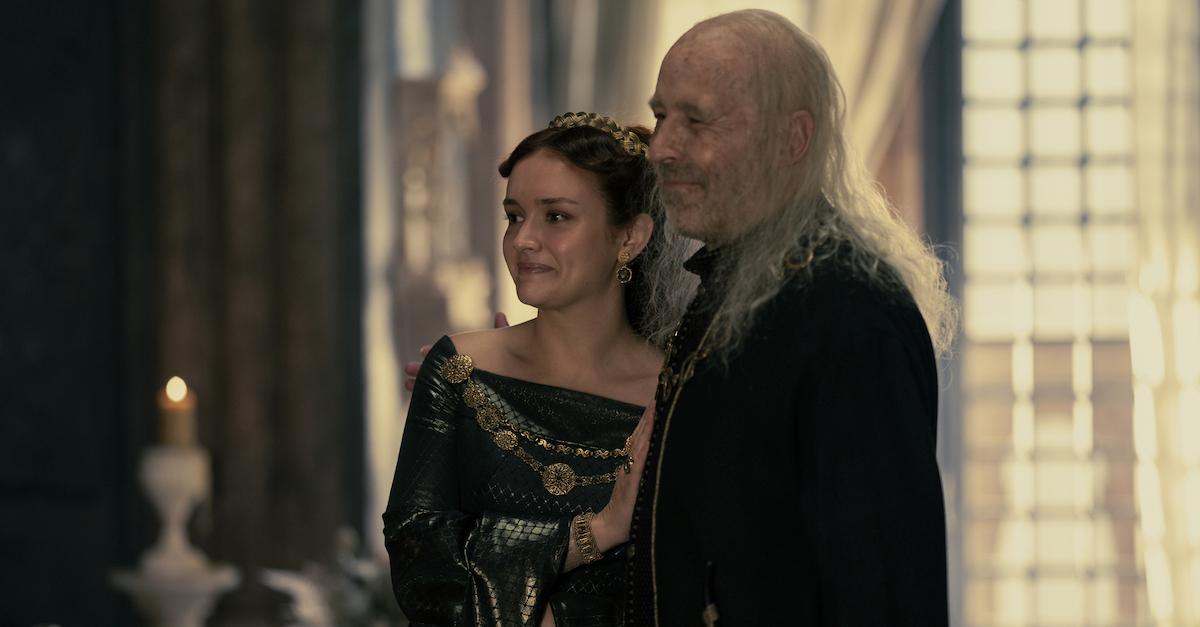 Instead, Alicent's allies mummify Viserys's body by wrapping him up and keeping him in his chambers. They do this in order to prevent the scent of his body, which is likely even worse than a typical dead body due to his pre-death decaying flesh. However, if they did not hide his death and delay his funeral, it would have been impossible to install Aegon as the new King of the Seven Realms.
Article continues below advertisement
Alicent misinterprets Viserys's last words in 'House of the Dragon.'
Viserys's final words become the impetus for the Dance of the Dragons in the HBO series, which is a departure from George R.R. Martin's Fire & Blood canon. In the books, Alicent is motivated by more self-interest than in the series. However, this slight change makes her a more complex character for us to empathize with, which creates more engaging conflict between Alicent and Rhaenyra.
After the eventful family dinner in Episode 8, Viserys whispers the prophecy to Alicent, mistaking his wife for his daughter, Rhaenyra. Viserys is a dreamer, and with the importance of prophecies in the Targaryen family, he believes it's essential to get the words out. After some incoherent mumbling thanks to drinking the milk of the poppy, Viserys gets out something about Aegon, referring to Aegon the Conqueror, who initially united the seven kingdoms.
Article continues below advertisement
"To unite the realm against the cold and the dark," Viserys says. "It is you. You are the one. You must do this. You must do this." He is, of course, referring to the prophecy he shared with Rhaenyra earlier in the season, in which winter will come from the north and a Targaryen must be seated at the throne to unite the seven realms. Viserys believes he is reminding his daughter of this prophecy, and reiterating that her son must succeed her.
Article continues below advertisement
Instead, however, Alicent interprets this as that her oldest son with Viserys, Aegon, is meant to be king. This causes all of Alicent's further decisions in pushing her son onto the throne and hastily hiding Viserys's death, doing so in order to protect Viserys's supposed wishes. Viserys breathes one last breath as he says "my love," but he is of course referring to his first wife, Aemma, of who he has visions while on his deathbed.
Tune into the finale of House of the Dragon on Oct. 23 at 9 p.m. on HBO.