Confused by Ice in Urinals in Bar Bathrooms? Here's Why It's There
Why do bars put ice in urinals? Here's why some establishments engage in this practice.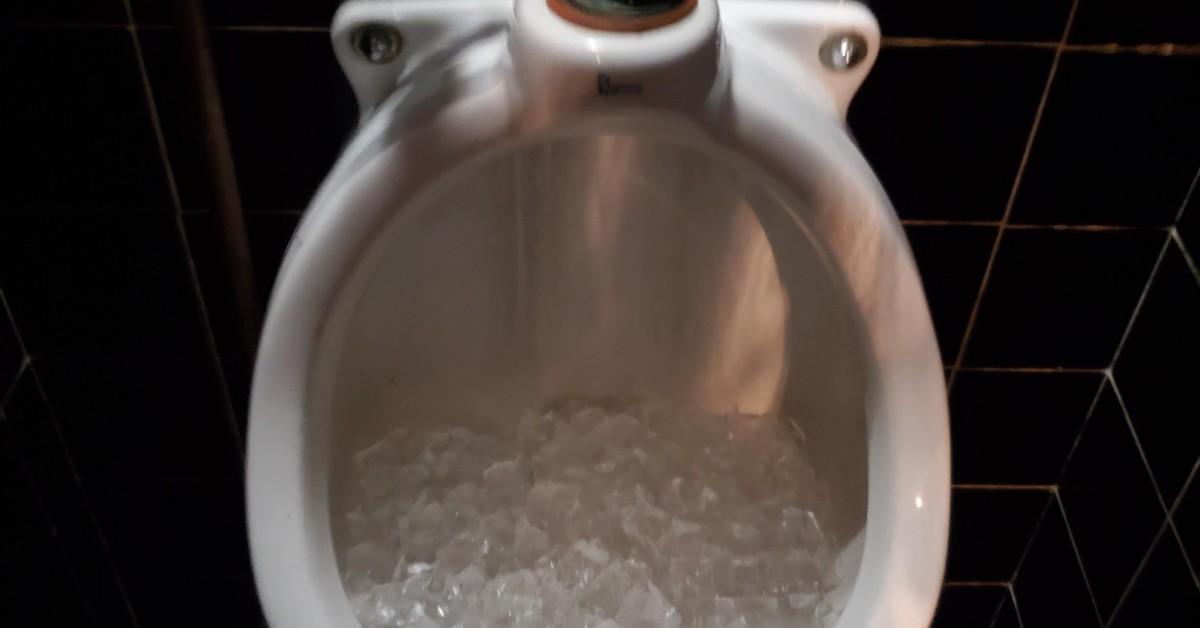 When people drink heavily, they inevitably pee a lot. Like, a lot more than they would if they weren't inebriated, thanks to the suppression of our body's ability to produce the hormone vasopressin, rendering booze a very effective diuretic. So this means that bars need to make sure their toilets are in tip-top condition and their bathrooms are in perfect working order. But what does ice have to do with all of that? Why do bars put ice in urinals?
Article continues below advertisement
Why do bars put ice in urinals?
If you've been in a men's room at a bar or restaurant, you may have noticed that the urinals are often filled with ice. Well, have you ever noticed that the bathrooms with urinal ice smell decidedly less like pee? No? OK, well, if you recall the stinkiest restrooms you've ever been to, was there ice in those urinals? Probably not.
That's because the ice, believe it or not, helps to mitigate the pee smell. Urinals are designed in such a way that the gases from pee kind of waft upward and create an unpleasant urination experience for everyone involved. When there's ice in the bottom of the urinal, though, that doesn't happen.
But how was this discovery made in the first place? Did a bored, drunk dude want to know if his pee was hot enough to melt ice cubes?
Article continues below advertisement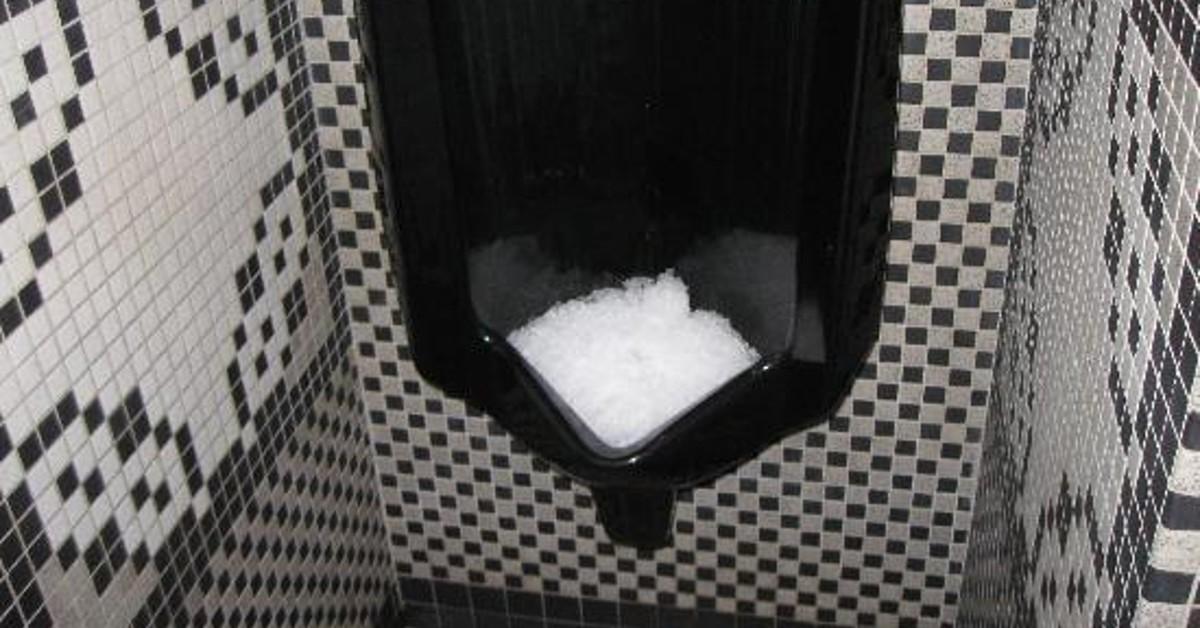 The origin of ice in urinals actually begins with the invention of the urinal itself, as well as those odor-fighting "cakes" that you'll sometimes find resting at the bottom of a urinal.
According to Cleanlink, Andrew Rankin is credited as having the first ever urinal patent. He called it "the best thing on earth." No one knows if he had seen the wheel at that point in his life yet.
Article continues below advertisement
Cognizant of the wheel or not, Rankin did at least have the foresight to see that his invention could ultimately be the culprit behind some gnarly smells, so he included in the patent a recipe for the first ever urinal cake, which is described as being composed of, "sugar, molasses, syrup, chloride of soda, water, and other ingredients."
Article continues below advertisement
Making these cakes was a pain in the patoot, and someone decided that it would be better to craft them out of the chemical Naphthalene instead. While this was a super effective odor killer, health code standards weren't exactly the best back in the day, and constant exposure to Naphthalene just destroyed people's red blood cell counts right and left.
Making cakes out of this chemical began falling out of fashion in the early 1900s and by the time Prohibition rolled around and speakeasy bars popped up all over the country, business owners had to get creative with how they disposed of their ice.
Article continues below advertisement
That's because if they tossed the massive quantities of cubes out in the open, then the police would become suspicious. So they figured to let nature's ice melting agent do the dirty work and started tossing ice in urinals.
Article continues below advertisement
Bartenders soon began to notice that the ice was great at masking the pee smell. Apparently, the ice freezes the odor-causing molecules in urine rather than letting them escape into the air. As the ice thaws, those molecules drip directly into the drain and away from other urinal visitors' noses.
Ice has since started falling out of fashion in urinals in lieu of conserving water and energy. There are tons of urinals being produced today that use little to no water even. Have you ever peed in a urinal chock full of ice?