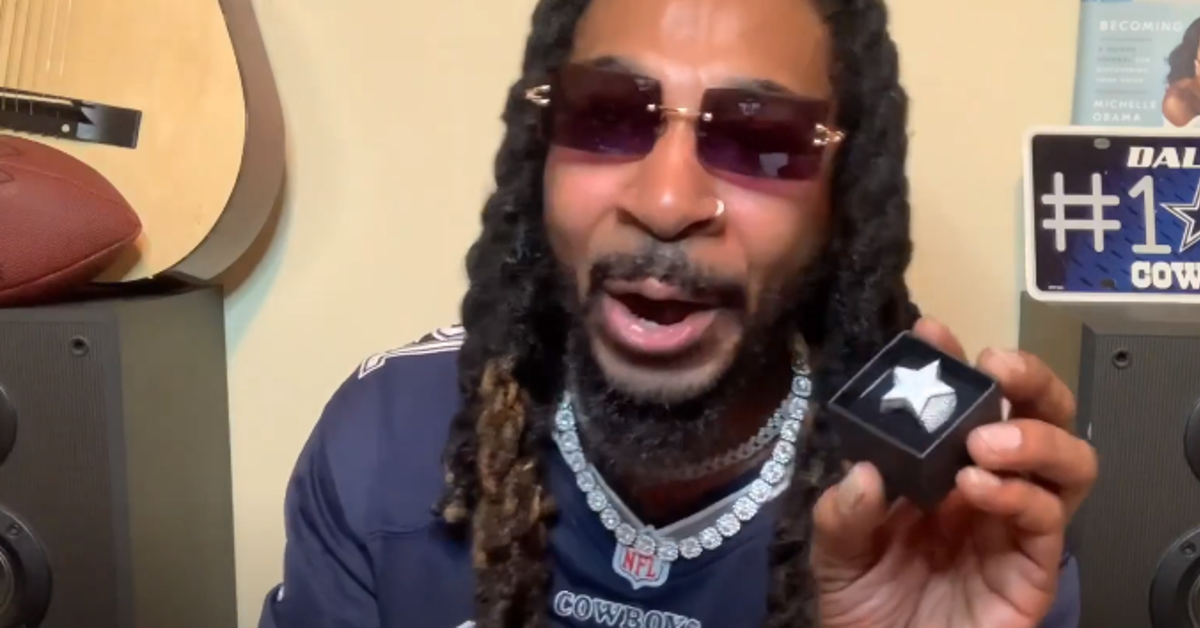 Is There a "Secret Society" of the Star Ring?
People love their conspiracy theories and conjectures. And these conjectures exist in pretty much every niche or culture, including in hip hop. So, why do so many rappers wear "THE" star ring?
Article continues below advertisement
Seriously, why do so many rappers wear the star ring?
There are a lot of theories surrounding why so many high-profile artists at the top of their respective games rock the symbol. But to understand these theories, we need to delve into the history of the star across various cultures through history first. The five-pointed star is about as ancient as sigils come. It's considered one of the earliest religious symbols and predates monotheistic disciplines, going back to many pagan belief systems that worshipped nature and the cycle of birth, growth, and death.
Article continues below advertisement
The star represents a variety of different things depending on the belief system. Early Christians adopted the pentagram to represent the five wounds of Jesus. Some other examples of the five-pointed star were found on Sumerian pottery, where it was used as a symbol of the goddess Ishtar and god Marduk.
Article continues below advertisement
Ishtar is the goddess of love, war, sex, political power, and justice. Marduk is the god of magic, judgment, water, and vegetation, so the star eventually became a sign that packed a dual meaning: the feminine and masculine aspects of humanity and everything in between.
Article continues below advertisement
Over the years, the pentagram has become closely associated with Satanism, witchcraft, or a belief in the occult. While there are plenty of notable occultists who've implemented the pentagram in their teachings, it ultimately became seen as an evil symbol by many monotheistic philosophies because of its association with pagan practices.
Article continues below advertisement
Many people believe that the star ring gives off "bad vibes."
Many people believe that the star ring gives off "bad vibes," especially in the hip-hop world, where murdered and deceased rappers are often pictured sporting the ring. Tupac was known to rock the star ring, as were other artists like Young Dolph, Mo3, and King Von. Some have stated that the ring brings bad luck, seeing as there are so many images of those dead rappers wearing the specific piece of bling.
The conspiracy theories that point to the "evil" nature of these star rings can probably best be summarized by this Boxden thread by user Indyvidualz. "I been wanting to ask someone about this for the longest," they wrote. "Have y'all noticed every time a rapper makes it to a commercial level they start rocking that 5 star/Pentagram diamond ring?"
Article continues below advertisement
"I remember noticing it when Wiz first made it big with "Rolling Papers" and he rocked one and literally I been seeing hella rappers with the same exact ring. Now, ask yourself... Why would so many rappers get the same ring, but if somebody stole their chain idea, they would have a fit?"
Article continues below advertisement
So is there "bad juju" associated with the ring? Do successful rappers become a part of some type of entertainment "secret society" at some point that comes with a hefty price? Or is it just a stylistic choice, like leg warmers in the '80s or surfer bros with puka shell necklaces?
Honestly, there doesn't seem to be a concrete answer.
There doesn't seem to be any evidence to suggest that there's some type of secret hip-hop society of occultists out there who have sold their souls for record label deals. Nor does there seem to be any religious imagery associated with it.
Unless some bombshell comes out saying otherwise, it just appears to be a fashion trend that has caught on in the industry.