Travis Kelce Putting His Finger Under His Nose Has Got Some People Confused
Travis Kelce puts his finger under his nose on occasion, which has led some to wonder what the gesture from the football player might mean.
The Gist:
Travis Kelce sometimes puts his index finger under his nose horizontally in a way that resembles a mustache.
Travis seems to be making fun of his own mustache, and there doesn't seem to be any deeper meaning behind the gesture.
His every move is now being scrutinized in large part thanks to his relationship with Taylor Swift.
Article continues below advertisement
Now that it seems Travis Kelce and Taylor Swift are very official, few people on the planet are having their every move scrutinized more than him. The football player is currently in the middle of the 2023 NFL season, which means he's highly visible and traveling all across the country for games.
In one recent video, though, Travis was filmed doing a hand gesture that confused some fans. He put his finger under his nose, and some wanted to know what that gesture means and why he seems to do it so regularly.
Article continues below advertisement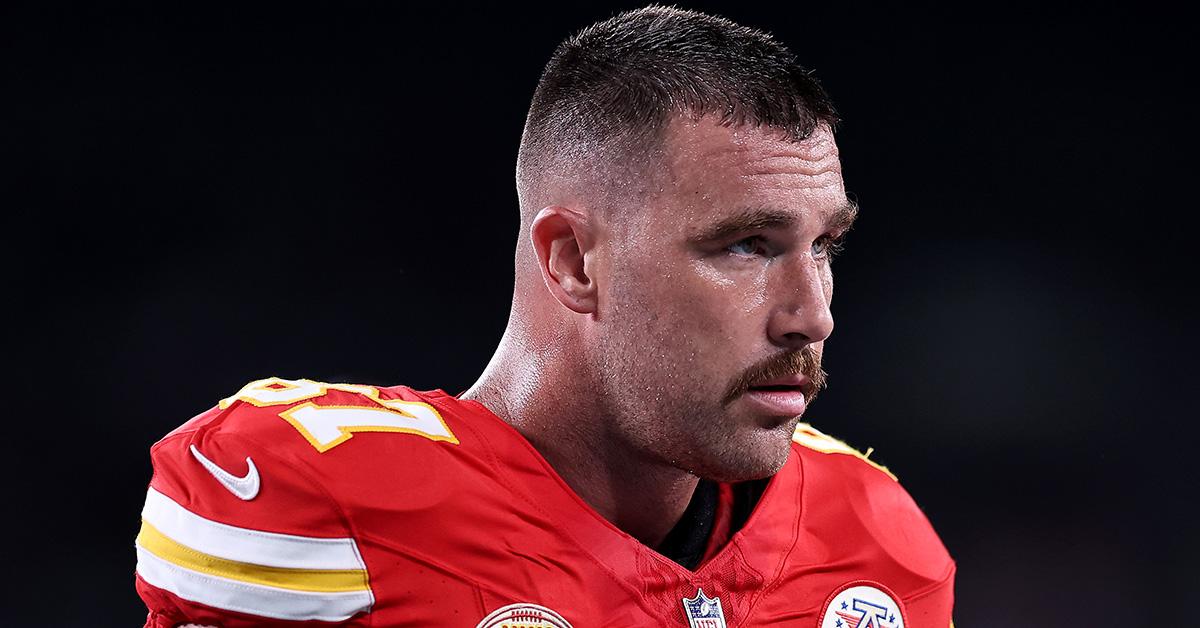 Why does Travis Kelce put his finger under his nose?
The hand gesture Travis has been seen doing involves putting his index finger underneath his nose in a way that resembles a mustache. Travis, who is currently rocking a mustache himself, hasn't explained exactly why he does the gesture, but the explanation probably has something to do with his actual mustache. He may be making the hand gesture just as a way to point out his own facial hair or to poke a little bit of fun at himself.
Article continues below advertisement
Because Travis hasn't explained it, we don't know for sure, but it's almost definitely got something to do with his actual facial hair. He's putting a finger mustache on top of the mustache he already has and just getting a little silly with it.
The gesture doesn't appear to have any deeper meaning beyond that and seems to just be something he does spontaneously.
Travis Kelce has become a very popular Taylor Swift boyfriend.
While many of Taylor's recent romantic partners have caused major controversies among her fans, Travis has sparked a very different reaction. While the couple are being highly scrutinized, most of the posts about their relationship point to how sweet it seems to be.
This may be in part because we haven't seen them interact much at all, and have instead only seen Taylor coming to Travis's sporting events and reacting to his games.
Article continues below advertisement
Taylor's game attendance has also become a big deal for the NFL itself, which recently made pictures of her at the Chiefs-Jets game the organization's cover photo. Taylor Swift and the NFL are two of America's most popular institutions, and the NFL seems to be milking this Taylor relationship for all that it's worth.
Other than Travis and Taylor's cute reactions to one another at games though, we don't have much in the way of solid information on the state of their relationship. It's possible that they could go the distance. Regardless of the outcome, Taylor is sure to get some great material for her next album out of the deal.