The Police Raided Afroman's House — and Then He Wrote a Song About It
Why is Afroman being sued by the cops? The Ohio police raided Afroman's house in 2022 — here's everything we know about the ongoing lawsuit.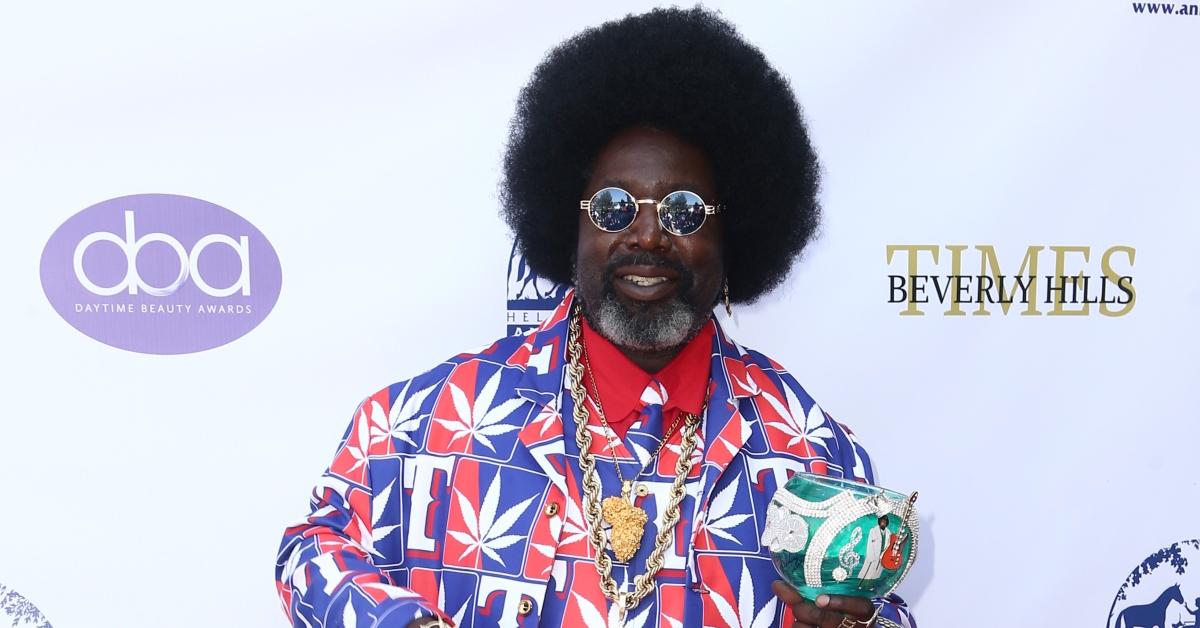 Before rappers like Wiz Khalifa and Snoop Dogg, there was another king of cannabis — the one, the only, the Afroman. In the year 2000, he blessed us all with the procrastination anthem we didn't know we needed.
More than 20 years after the release of "Because I Got High," Afroman is still making headlines.
Article continues below advertisement
In late 2022, he dropped his song "Will You Help Me Repair My Door," which caused quite a bit of controversy at the Adams County police department in Ohio. Now, he's being sued. Here's everything you need to know about his recent legal troubles.
Article continues below advertisement
Why is Afroman being sued? Afroman's "Will You Help Me Repair My Door" song, explained.
In August 2022, Afroman's home was raided by the police on suspicions of drug trafficking and kidnapping. However, in the end, the authorities found no proof of his alleged crimes, and no charges were filed.
Afroman said that his home was destroyed in the invasion. During the raid, they confiscated more than $5,000 from the property. Following the incident, the rapper spread the word about what happened by way of his new single, "Will You Help Me Repair My Door."
"Will you help me repair my door? / Did you find what you was looking for," he asks in the chorus.
"Would you like a slice of lemon pound cake? / You can take as much as you want to take / There must be a big mistake," the song continues.
Article continues below advertisement
The single didn't see viral success until the rapper released a visual for the song that featured footage from the raid. Additionally, Afroman's music video for "Lemon Poundcake" further depicts the scene of the cops' alleged activities. Now that the videos have acquired millions of views online, the officers involved are under fire. And they're not happy about it ...
Article continues below advertisement
Everything you need to know about the cops' lawsuit against Afroman.
The Adams County Sherriff's Office has filed a lawsuit against Afroman, who is accused of subjecting officers to "humiliation, ridicule, mental distress, embarrassment and loss of reputation."
In addition to their requests that all of the proceeds from the song be donated to the officers in question, the suit also demands that the songs and subsequent social media posts be removed from all platforms.
Article continues below advertisement
"Unless Defendants are restrained, Plaintiffs will suffer irreparable injury to their reputations, their mental health, and their legally protected rights as Defendants continue to willfully and maliciously violate those rights," their complaint continued.
Since then, Afroman has responded to the suit and doubled down on his claims that the officers' actions were unlawful.
"I was thinking, these big bad cops ... are being beat up and bullied by those little corny rap songs I made about them," he said in a March 2023 interview with NPR. "I'm like, 'Oh my god, are you letting me know that my raps are working on you?'"
As of this writing, Afroman's account of the raid is still live on his social media accounts.