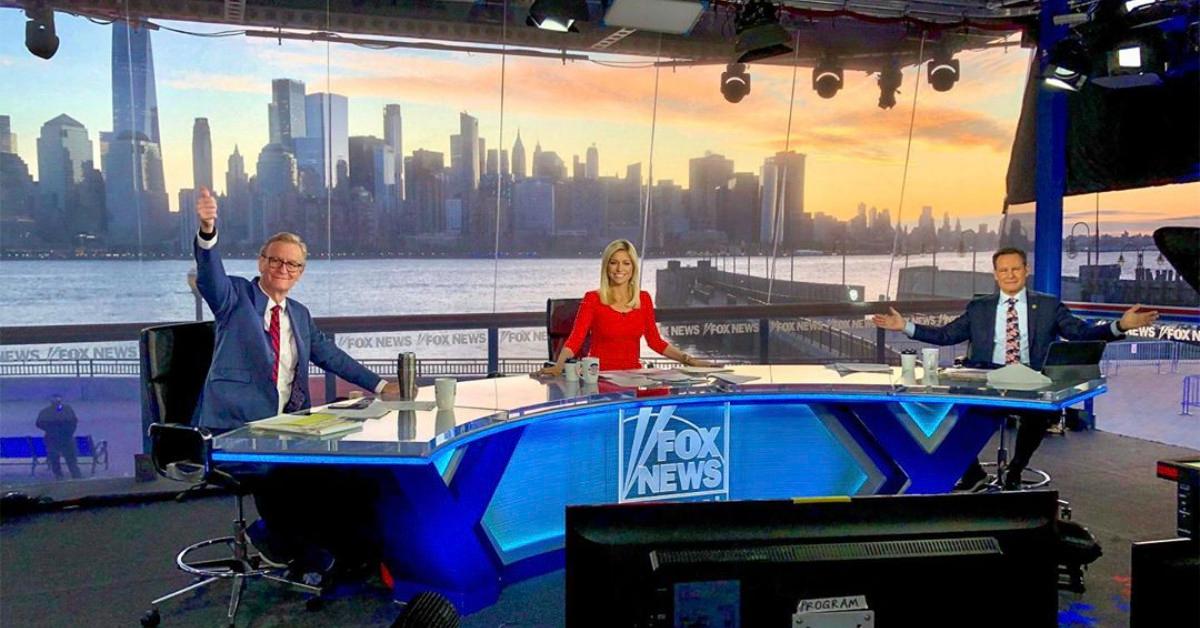 'Fox and Friends' Decamps to New Jersey, Sparking Confusion and Controversy
Why is Fox & Friends in New Jersey all of a sudden? Turns out, Fox News has set up shop in Jersey City, N.J., for the 2020 presidential election, constructing a "Democracy 2020" pavilion in Liberty State Park, with plate glass windows offering a view of the New York City skyline and the Statue of Liberty.
Article continues below advertisement
Some people are confused by the switch-up, though, since the Fox News headquarters is just across the Hudson River in midtown Manhattan. Meanwhile, Fox & Friends' recent segment elsewhere in New Jersey is the subject of derision and controversy. Read on…
'Fox & Friends' is filming in Liberty State Park.
After a Fox & Friends clip hit Twitter on Tuesday, Nov. 3, one user tweeted, "Why is the [Fox and Friends] set in New Jersey? … Looks like Jersey City. Odd."
That user was spot on: A Reddit user posted a photo of the new Fox News studio in Jersey City's Liberty State Park on Monday, Nov. 2, the eve of the election.
Article continues below advertisement
Commenters on the Reddit post shaded the conservative-skewing TV channel, with one saying Fox News was "going to set fire to the Statue of Liberty for supporting immigrants."
Another commenter wrote, "If they set up in Manhattan they know they'd be at the center of unwanted attention. Civil societies shun them."
A third commenter, meanwhile, speculated that Fox News "doesn't want to be the victim of rioting. But their ratings would certainly swell if their studio was overrun with protesters."
Article continues below advertisement
The Fox & Friends Instagram account teased the move to Jersey a day earlier, uploading a pic of the morning show's anchors in the new studio. "It's a special edition of Fox & Friends," the post's caption read. "We are only two days out from Election Day! Tune in!"
And on Monday, the same Instagram account said Fox & Friends would offer "complete coverage live from Liberty State Park," sharing drone footage of the new studio.
Article continues below advertisement
'Fox & Friends' courted controversy with a segment at a New Jersey diner.
In an analysis posted on Monday, CNN Chief Media Correspondent Brian Stelter said Fox News viewers "are being misled about Trump's chances of winning the election," and cited a Fox & Friends segment a day earlier as one of his supporting arguments.
"The network's talk shows are constantly suggesting that a minority of people are actually the 'silent majority.' Case in point, Sunday's Fox & Friends featured Trump voter after Trump voter at a diner in Asbury Park, New Jersey," he wrote. "The segment was not at all representative of a blue state."
Article continues below advertisement
The Twitter account Bad Fox Graphics concurred — and expressed concerns over the Fox News correspondents' social distancing in the diner (or lack thereof).
"The @foxandfriends Sunday crew is very pleased with themselves for sending @willcain and @PeteHegseth to Asbury Park, NJ, to threaten the health and safety of unmasked New Jersey Republicans eating breakfast," @BadFoxGraphics tweeted on Sunday. "Thoughts & prayers, pancake people. New Jersey is not turning red."