This Is the Real Reason Katie Holmes Was Recast for 'The Dark Knight'
Christopher Nolan's 'Batman' trilogy redefined what superhero movies could be, but fans always wondered why Katie Holmes' character was recast.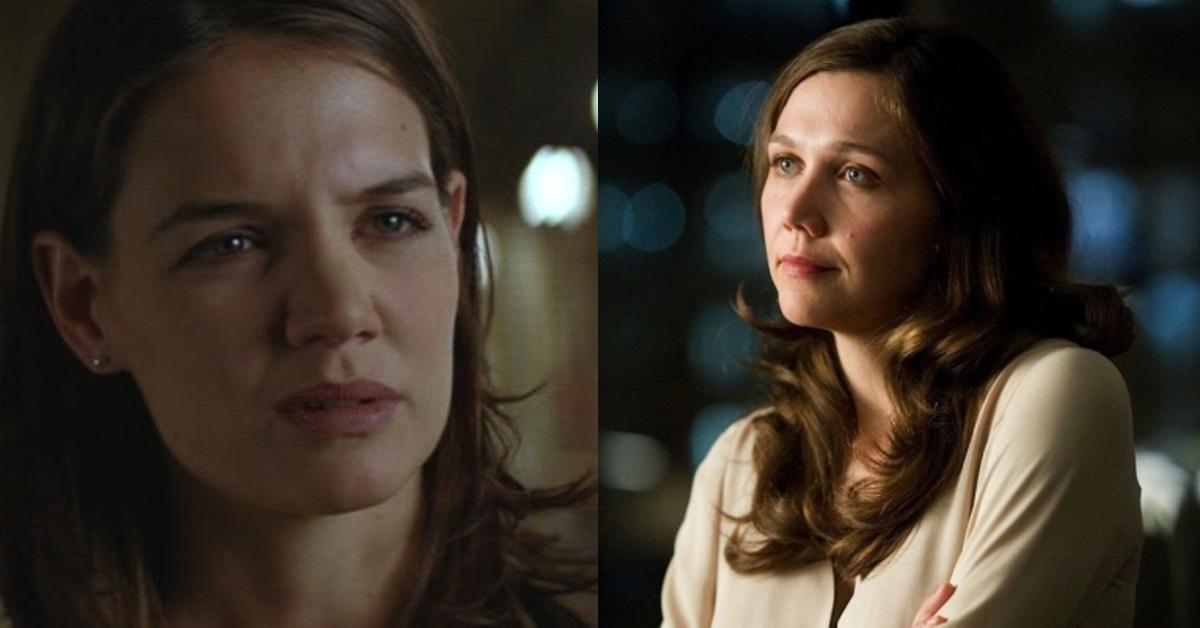 It's always a bit of a trip whenever an actor or actress is replaced by someone else for a sequel or a prequel. Even though Hannibal came out several years after The Silence of the Lambs and I loved Julianne Moore in it (then again, she's great in everything), it was kind of jarring to see that Jodie Foster wasn't in the movie. Aunt Vivian's replacement in The Fresh Prince of Bel-Air was also a huge change, and Batman fans probably always wondered why Katie Holmes was recast in Nolan's trilogy too.
Article continues below advertisement
Seriously, why was Katie Holmes recast in 'Batman: The Dark Knight'?
There were tons of rumors as to why Katie's replacement with Maggie Gyllenhaal for the role of Rachel Dawes happened in the first place. Some speculated that it was all part of some weird, Scientology conspiracy (she was with Tom Cruise at the time), others thought that Nolan had wanted to switch up the casting because Holmes "didn't have the acting chops" to go toe-to-toe with some of the other high-profile talent in the production.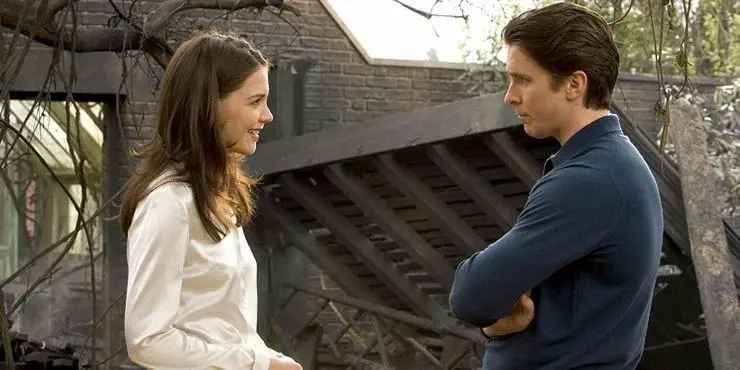 Article continues below advertisement
The Dark Knight is not only the most-beloved entry into cinematic history when it comes to the Caped Crusader, but it could very well be one of the most important films ever made.
It didn't just redefine the superhero genre by providing thought-provoking narratives and excellent performances from a list of top talent, but it implemented new technology for a feature film. For the first time ever, 70mm HD film IMAX cameras were used to shoot a Hollywood movie.
The cameras were noisy, and loud. In fact, they were so loud there were reports of their droning noise pissing off Christian Bale, Michael Caine, and Heath Ledger on numerous occasions. The film's final script was ultimately a blend of two different treatments: one that featured the Joker as the movie's primary villain and another with Two-Face. Both screenplays were meshed together to provide an ideological narrative about identity, intent, perception, faith, corruption, and heroism.
Article continues below advertisement
While many superhero flicks are CGI boom fests that don't particularly age well and can come off as quite soulless, there's something to be said about Nolan's dedication to building an actual world and using real-life surroundings and practical effects in his films. While it's undoubtedly harder to pull off for the Batman universe, it seems almost necessary.
What's truly interesting about The Dark Knight is that, even though it's a superhero movie, it ultimately feels painfully human at points.
Article continues below advertisement
So what caused Katie Holmes to "miss out" on cinematic history?
There really isn't a big, controversial reason for her departure from the series. There weren't any reports of enmity between her and other cast members on set, or with production, or with director Christopher Nolan, either. Holmes states that while she had a great time on the first film, she had wanted to pursue other career opportunities at that point.
She said, "[I] really enjoyed working on the first one [and it was] a decision that I made at that time and it was right for me at that moment."
Nolan even provided a classy response when addressing the replacement. Obviously, a director wouldn't be thrilled that one of his main actors, especially one who portrays a character as important as Rachel in the narrative, dropped out, but the Tenet creator said, "these things happen, and I was very, very fortunate that Maggie [Gyllenhaal] was able to take it over."
Article continues below advertisement
Katie went on to say that she thought Maggie did "a wonderful job" and added, "But I really hope that I get to work with Chris someday." She hasn't appeared in any of his productions since.
Christopher Nolan's highly anticipated spy flick, Tenet, which stars John David Washington and Robert Pattinson, has suffered a series of theatrical pushbacks in the wake of the COVID-19 pandemic.
Article continues below advertisement
With a budget of $200-225 million, the film was one of Warner Bros. most highly anticipated, A-ticket properties. And while it seems like theaters will still be closed over most of the country, the studio will be looking to VOD for profits.
There could be life for films when it comes to pay-for-streaming: VOD sales for Trolls: World Tour outdid the first movie's box-office success.
Still, watching a Nolan flick on the big screen is somewhat of an experience, to say the least, and even though Costco's got some great sales on flat screens, there's something to be said about heading to the cinema to see the man's work play out. Will you be catching Tenet at home? Or are you gonna head to one of these seven states to watch the flick? I'll go to Arizona, I don't care.