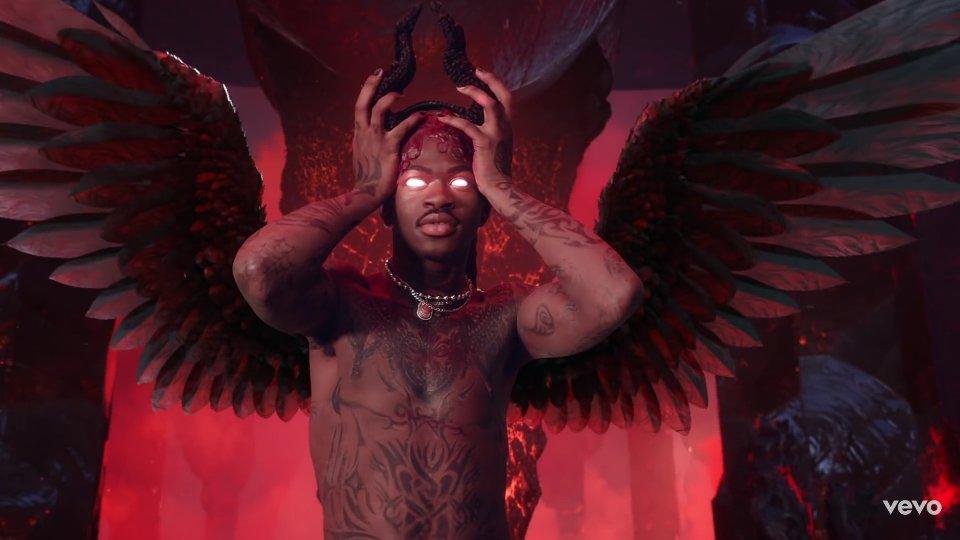 Lil Nas X Fans Are Having Problems Streaming "Montero (Call Me By Your Name)"
Rapper Lil Nas X's most recent single "Montero (Call Me By Your Name)" debuted as the No. 1 song on the Billboard Hot 100 chart, and was streamed millions of times in the first week alone. The 22-year-old released the single with a controversial (yet wildly popular) music video offering commentary for the religious narratives the LGBTQ+ community often faces.
But not long after its release, the song is rumored to be removed from streaming platforms like Apple Music and Spotify. Why?
Article continues below advertisement
Lil Nas X claimed the song would be removed by April 14.
The rumor that the song might be removed from streaming platforms was started by Lil Nas X himself. On April 13, the rapper tweeted, "not even joking. Everybody stream 'Call Me By Your Name' hard today because it may no longer be available tomorrow and there's nothing I can really do about it. Thanks for all the support tho!"
He offered no further explanation as to why the song might be removed, and of course, fans began panicking.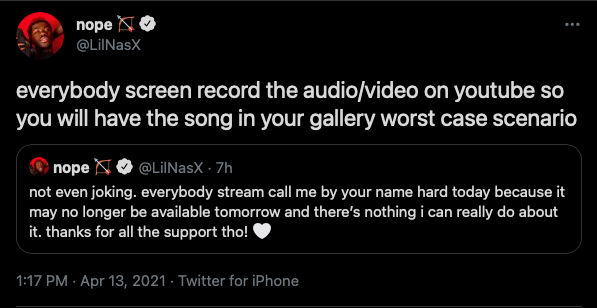 Article continues below advertisement
Lil Nas X even suggested fans screen-record the music video to make sure they still had it in case it was removed.
"Everybody screen record the audio/video on YouTube so you will have the song in your gallery worst case scenario," he wrote in a subsequent tweet.
Now, this could have just been a marketing ploy by the rapper to increase the song's streaming numbers (though let's be honest, he doesn't need to use tricks like that). But some soon began reporting that they were having issues streaming the song.
"Is anybody else having trouble playing #MONTERO on Spotify?" one Twitter user asked. "I tap on it and then it immediately stops. All other songs work."
"I was about to laugh at you guys for not being able to listen BUT I CANT ANYMORE EITHER!!" one Apple Music user tweeted with a screenshot saying the song was not available in their region. "I literally just listened to it on the way home last night like 20 times and now it's [UNAVAILABLE]."
Article continues below advertisement
Is "Montero (Call Me By Your Name)" being removed from Apple Music and Spotify?
At this time, there has been no official comment from the rapper or any of the streaming services about the potential removal of the song. Some users are having issues accessing the song while others are able to stream it without any problems, which is causing a lot of confusion among listeners.
Amid all of the panic, Billboard reported that the song was not being removed from streaming services, though it offered no further explanation.
"Billboard can confirm that the song is not being removed," the outlet wrote.
Columbia Records put out a tweet addressing the situation, saying they were doing "everything possible" to keep it up.
"Thanks for all your comments regarding @LilNasX 'Montero (Call Me By Your Name),'" the record label tweeted. "It's unfortunately out of our control but we are doing everything possible to keep the song up on streaming services. We will keep you up to date as we hear more. Thank you for understanding."