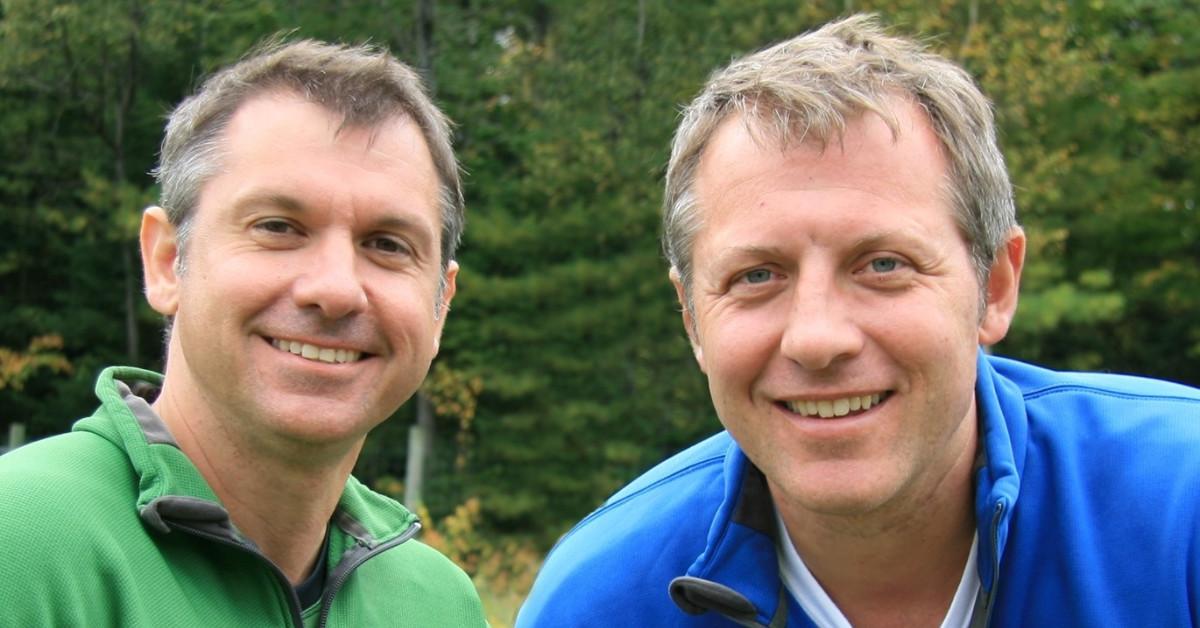 Pony Costumes Got 'Wild Kratts' Stars Martin and Chris Kratt Their First PBS Show
Thanks to educational PBS shows like Kratts' Creatures, Be the Creature, and now Wild Kratts, brothers Martin and Chris Kratt have a long legacy of wildlife-focused TV shows for kids (and a nice worth, according to reports).
Article continues below advertisement
But getting a show on TV meant these siblings had to venture into the savage world of showbiz. Here's more information about the Kratts' careers so far…
Martin and Chris Kratt dressed up as horses in their pitch for 'Kratts' Creatures.'
Growing up in suburban New Jersey, Martin and Chris watched nature shows on television. "At the time in the late '80s, there were no kids' wildlife shows," Martin told Variety in 2021. "There were nature documentaries that families would watch together, but nothing made just for kids. So we thought, 'Wow, if we could do a show that shared the adventure with kids and get kids introduced to all these amazing animals, maybe that could have some kind of impact on saving endangered species.'"
Article continues below advertisement
So after attending college — Martin studied zoology at Duke University, Chris pursued biology at Carleton College — the brothers started developing a television show about wildlife. They didn't get many bites, though: Executives at TV networks dismissed their work as "cute" or "frivolous."
But in 1993, the brothers sent Leo Eaton, then the vice president of production at Maryland Public Television, a VHS demo in which they donned pony costumes to join a herd of Chincoteague horses.
"I figured it was just a kids' show," Eaton told Variety. "But my son was 4 years old at the time. I said, 'Come on, Alex, take a look.' And he must have watched that little demo 70 times. He just loved it. And I got so sick of him saying how wonderful it was — I figured I must meet these guys."
Maryland Public Television then ordered a pilot episode, which then the attention of PBS, which then ordered 50 episodes of what would become the Kratts' first show, Kratts' Creatures.
Article continues below advertisement
'Wild Kratts' gives the brothers the chance to show animal behavior they can't film.
Martin and Chris have spent decades traveling the world with cameras in hand to film content for Kratts' Creatures and their other shows, which include Zoboomafoo and Be the Creature. And they created their current show, the animated Wild Kratts, because there was animal behavior they wanted to depict but couldn't film in the wild.
Six seasons in, Wild Kratts is a hit with audiences. And it sounds like the brothers — who each have a net worth of $1 million, according to Celebrity Net Worth — won't stop anytime soon. "Chris and I take turns deciding where to go on our next adventure and which animal to pursue," Martin said in a recent PBS Q&A. "We never run out of animals we want to search for because there are so many amazing animals on this planet. There are over 8 million species, and we'd like to meet all of them."
Martin and Chris Kratt
Zoologists, creators of 'Wild Kratts'
Net worth: $1 million each (reported)
Martin and Chris Kratt are the zoologist brothers behind the PBS educational shows Kratts' Creatures, Zoboomafoo, Be the Creature, and Wild Kratts
Birthdate: Martin: Dec. 23, 1965, Chris: July 19, 1969
Hometown: Warren Township, N.J.
Education: Martin: Duke University, Chris: Carleton College
Spouses: Martin: Laura Wilkinson, Chris: Tania Armstrong
Children: 2 each