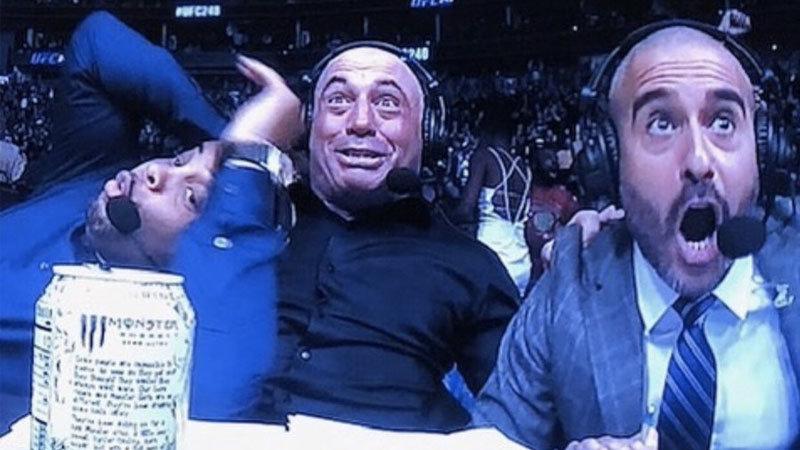 Fight Island: This Is What UFC 251's Commentary Team Will Be
UFC 251, like many epic UFC cards as of late, has featured a number of shake-ups that don't just extend to the fighters in the octagon, but those calling the bouts in the commentating booths, too. Paul Felder was slated to be behind the desk working the pay-per-view, however, when it was revealed he came into contact with Din Thomas who tested positive for COVID-19, a replacement was immediately called in for the UFC fighter/analyst.
But what about Joe Rogan? Will he be at UFC 251?
Article continues below advertisement
Joe Rogan wasn't present at the UFC 251 weigh-ins.
The peripatetic nature of the "revolving" UFC 251 fight card had MMA fans in serious fits. Due to his undeniable explosion in 2019, which all culminated from years of entertaining bouts and authenticity, Jorge Masvidal was picked to be the favorite fighter against "The Nigerian Nightmare" Kamaru Usman.
Kamaru has proven to be a threat at Welterweight, absolutely steam-rolling then-champ Tyron Woodley and breaking Colby Covington's jaw in a five-round slobberknocker.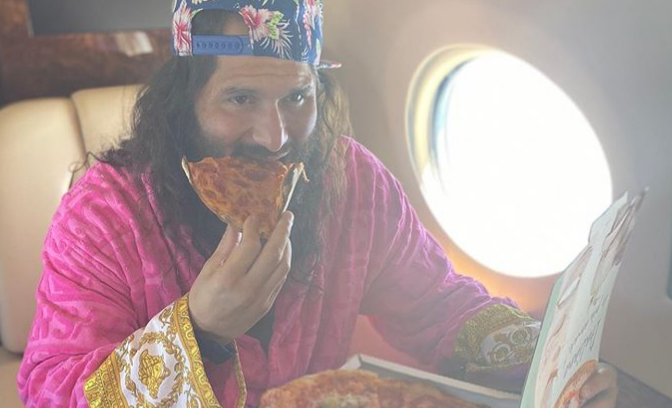 Article continues below advertisement
However, it was Jorge's back-to-back-to-back highlight reel victories against Darren Till, Ben Askren, and Nate Diaz, which includes the fastest knockout in UFC history, that had fans really excited.
Jorge, who's been in the sport a long time, says he crunched numbers with his management team and tried to negotiate what he believed was a fair figure for the fight against Kamaru.
The UFC was not having it.
Instead, Gilbert Burns, who also put on an amazing performance against former champ Tyron Woodley, was booked to scrap against Kamaru on Fight Island. Some were bummed that it wasn't Jorge in the main event, however, it's difficult to be that upset over Gilbert's title contention: he is a phenomenal fighter and poses a serious threat to anyone in the Welterweight division. But Gilbert was forced to drop out on a week's notice after testing positive for COVID-19.
That's when Jorge's phone rang.
Article continues below advertisement
The UFC called the fighter up and got to a purse figure that was more agreeable to Jorge, who weighed in at 192 pounds upon hearing the news. He immediately started restricting his food and water intake and began the grueling weight-cutting process. At the weigh-ins, he came in at an even 170 pounds, as did Kamaru.
Absent from the weigh-ins, however, was Joe Rogan.
Article continues below advertisement
Will Joe Rogan be commentating at UFC 251?
It doesn't look like he's going to be making trips to Fight Island anytime soon to call events. The ESPN commentary team, which includes John Gooden, Jon Anik, Dan hardy, Paul Felder, and Michael Bisping will be taking up those duties.
Although Paul Felder ultimately tested negative for the coronavirus, Michael Bisping was given a seat at the commentator's table for the first-ever fight island event in Paul's stead.
"The Count" dished out on the fighter's unfortunate situation, stating that since he was sitting next to Din on the flight to the UAE, the UFC is erring on the side of caution and isn't allowing him to commentate on the fight. What's more is that he's being forced to quarantine for 14 days before he can leave the country. Michael Bisping relayed how sorry he felt for the Philadelphia native in an interview with MMA Focus.
Article continues below advertisement
Members of the UFC team who arrived at Fight Island have been documenting all of the restrictions implemented in the wake of the COVID-19 pandemic, and most of them are being forced to stay in their hotel rooms before the event. Jon Anik shared footage of his hotel room, and it's genuinely delightful to hear him exclaim about the plush accommodations, stating he could "do laps" in the room if he wanted to.
Article continues below advertisement
UFC 251 will stream on ESPN+, with the prelims starting at 8 p.m., EST, and the main card airing at 10 p.m.