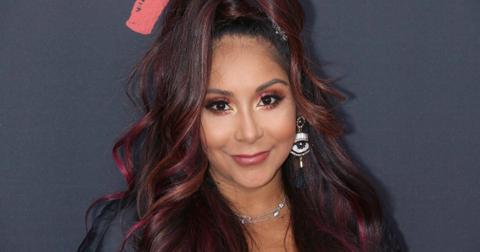 Snooki Is Coming Back to 'Jersey Shore Family Vacation' … in Doll Form
By Dan Clarendon

Updated
Will Snooki come back to Jersey Shore Family Vacation? Yes, but not in the way fans of might hope! An upcoming episode of the MTV reality series — a reboot of the 2009 show Jersey Shore — will feature a doll version of Nicole "Snooki" Polizzi.
(You might recall that former Jersey Shore star Sammi "Sweetheart" Giancola also got a doll doppelgänger, which Snooki and costar Deena Cortese threw into a pool in the reboot's first season.)
Article continues below advertisement
"I think we can tease that there is [a Snooki doll]," Mike "The Situation" Sorrentino said on the Nov. 20 episode of the It's Happening with Snooki & Joey podcast. "It is pretty funny and hilarious, but we want the real Snooki back."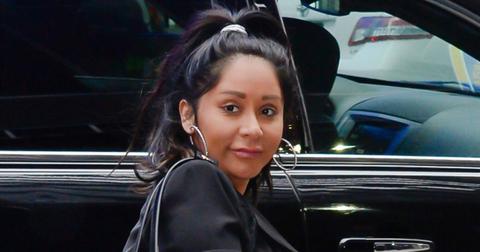 Article continues below advertisement
Snooki left 'Jersey Shore Family Vacation' after Season 3.
Though her onscreen departure didn't air until the Jersey Shore Family Vacation Season 3 finale in June 2020, Snooki announced her retirement from the reality franchise six months earlier, saying she was ready for more time with her kids — sons Lorenzo and Angelo and daughter Giovanna — and less reality TV drama.
"I am not coming back to [Jersey Shore Family Vacation] for a Season 4, if there is one. And there's a lot of reasons why, but the main reason is really … I'm just like, I just can't do it anymore," she said on the same podcast at the time. "I hate being away from the kids. I don't like partying three days in a row. It's just not my life anymore."
Article continues below advertisement
She went on: "You know, when I leave my kids and I film the show, like, I want to have a good time. And I'm putting myself out there, and I just want to come off as a good person. And lately, on the show, it's just been very drama. … And so for me, it's just like, I don't want that, and I'm not leaving my kids for days on end when that's the result of it. I just don't like the turnout of it, and I don't like the person I'm portrayed as."
Article continues below advertisement
She has no regrets about her departure from the show.
On the Nov. 20 podcast episode, Mike urged Snooki to return to Jersey Shore Family Vacation. "You are a legend, and I want to put it out there that all legends come out of retirement at least once," he said. "I will be hopeful, but we did miss you [unbelievably] and we did keep your spirit alive."
For her part, Snooki said she was excited about Season 4 — but only as a viewer. "I miss everyone filming and even the crew but do I regret my decision? Hell no," she said.
Article continues below advertisement
Still, her former costars are still crossing their fingers. "We're still leaving the door open for her return," Mike recently told E! News. "I'm going to remain positive. I think maybe in the next year, we might see her come back in some capacity. I'm being hopeful, but, at the same time … we've known each other for over 10 years, almost 150 episodes of TV, and the dynamic is, to be honest, magic. I think you guys are really going to be happy with what you see."
New episodes of Jersey Shore Family Vacation air on Thursdays at 8 p.m. ET on MTV.