Woman Blasts Ashley Furniture After Receiving Couch Filled With Broken Pieces of Wood
An Ashley Furniture customer blasted the chain for selling her a couch that was falling apart, with pieces of broken wood falling from it.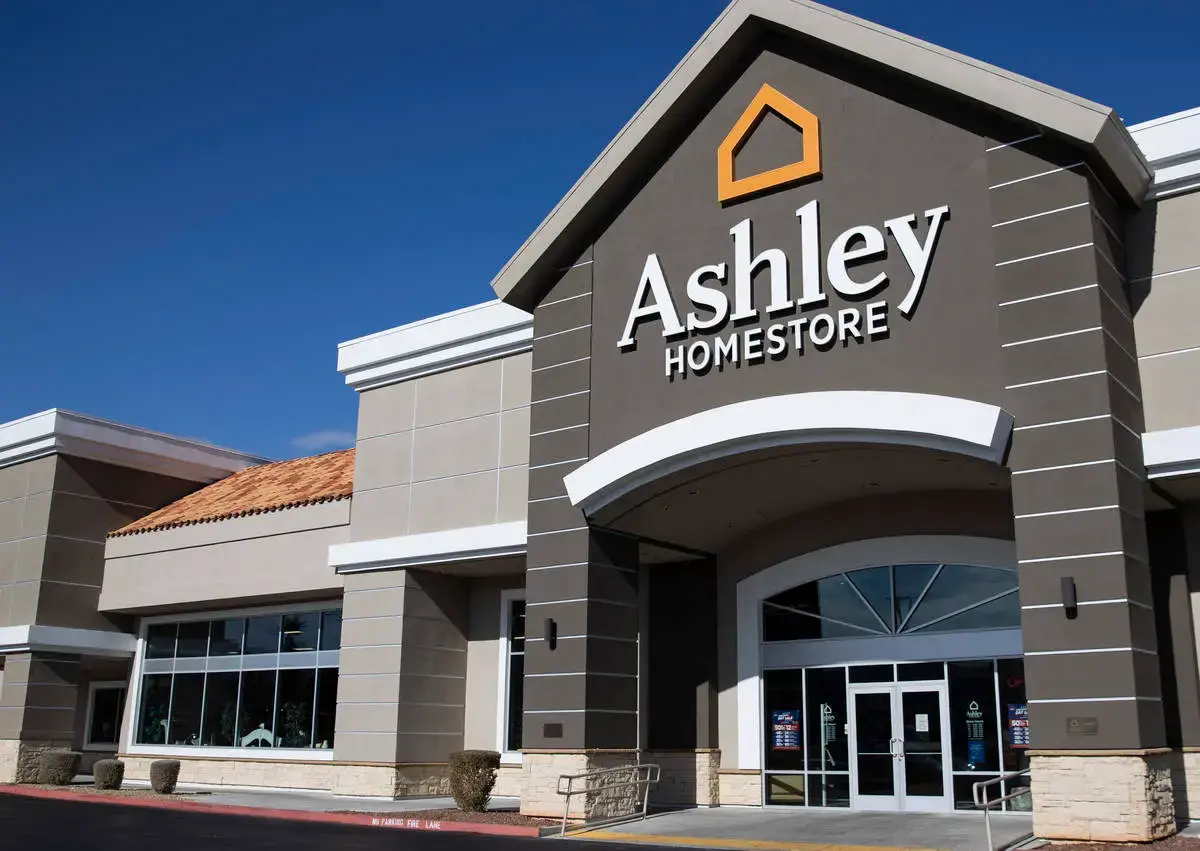 Decking out your home with furniture isn't exactly an affordable financial undertaking. Sure, if you've got some time on your hands you can check Facebook marketplace or Craigslist and rent a Uhaul truck and then go to town. Sure, you should probably spend some money to get things properly cleaned and heat-treated to make sure that you don't end up with any bedbugs or other critters in your dome, but it's definitely a route that a lot of people take.
Article continues below advertisement
But if that's not an option for you, or you'd rather buy something new or a specific piece that goes with the way you want to design your home, then you'll probably hit up a furniture store for some new swag for your crib.
And when you're buying something new, you're probably expecting it to be in perfect condition and presumably last you a few years before it starts getting all tattered and haggard.
Well, according to this one TikToker, that unfortunately wasn't the experience they had after buying a new item from Ashley furniture. @gigi_unbreakablebt posted a clip where she said that a couch she purchased from Ashley was falling apart right after she bought it; basically shedding bits of broken wood.
Article continues below advertisement
She says in the video, "All right, today we're ranting 'cause I have kept my mouth shut for damn near three months and I am over it today. Not only have I experienced horrific customer service, but the quality of the s**t that I purchased that I spent damn near ten thousand dollars for is horrible. It belongs in the trash."
Article continues below advertisement

You read that right, Gigi spent $10,000 on new furniture from the retailer and purportedly ended up with items that she would probably be better off buying secondhand, from the sound of it. "We needed to buy a new couch because we had to get my daughter a disabled bed, a bed that was more suitable so we needed a different couch."
Article continues below advertisement

She continued, showing off the couch on the video. It looks like a brand-new, brown leather couch. She goes on to call it a "piece of junk" before stating that while it might look nice, it belies the abysmal quality of the item that she purchased. She states that she had problems with the company from the get-go, stating that the moving company forgot to bring one piece of the couch upon the initial delivery.
Article continues below advertisement

Gigi goes on to say that Ashley told her that getting the missing piece would take an additional three weeks after they failed to complete the delivery entirely on the first trip to her home. But that's just the beginning: she then discovers that the built-in USB port in the middle of the couch underneath one of the armrests in the giant sofa wasn't functional.
Article continues below advertisement

On top of that, some of the silver cup holders that were supposed to be in the couch didn't come packaged with it either, and she was unable to get others because she was told that the item was "discontinued."
Article continues below advertisement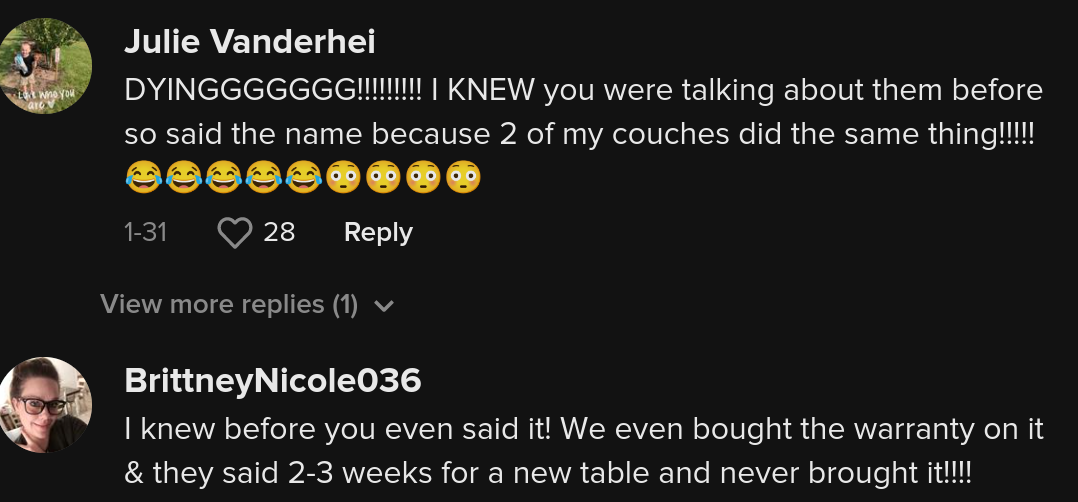 Then Gigi sits on another section of the couch and begins pushing against the back rest to demonstrate the noise that emits from it when she does. "You hear the crunch?" she asks viewers in the viral TikTok clip. She said that while the service representative from Ashley came to address the problems with the couch, he begins pulled out pieces of wood from the couch recliner.
Article continues below advertisement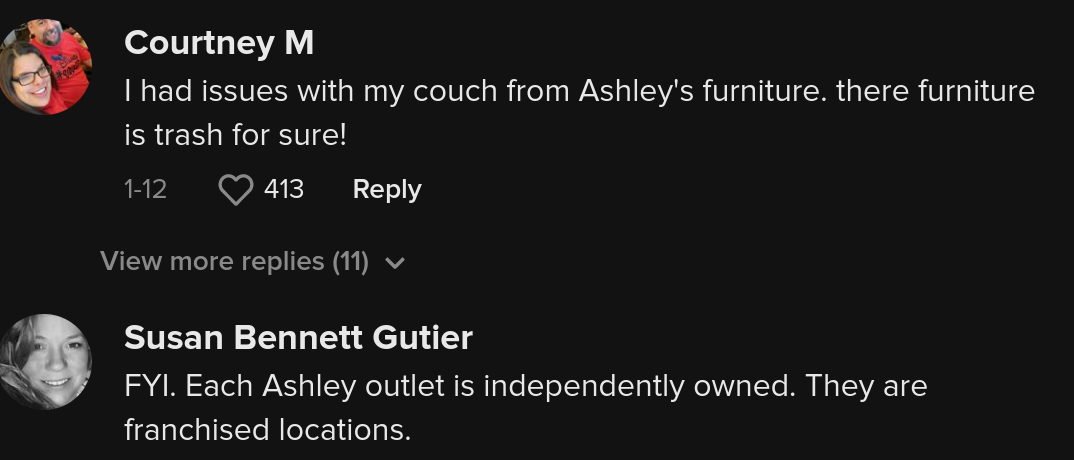 The service representative then told her, after addressing the other issues with the piece of furniture, that even in spite of the errant wood chips possibly poking into people's backs whenever they sit on the sofa, that it was ultimately up to "showroom standards."
Article continues below advertisement

She said that they didn't just experience problems with the couch delivery, but with a "fancy" Tempur-Pedic adjustable mattress as well, calling it a "hot mess." Gigi said the delivery people couldn't set up the bed properly and "dragged" it in and out of her home 4 times to correctly assemble the mattress before finally getting it right.
Article continues below advertisement

She ended her video by warning her followers from purchasing from the popular furniture store chain.
"So after weeks of fighting with these people arguing with them, trying to get them to take all of this s*** back because I'm done with Ashley's furniture. Do not ever purchase anything from Ashley's Furniture. They are the absolute worst, worst company to purchase anything from."
Article continues below advertisement

"So pretty much today I was told like yeah that's just how it's gonna sound, it just is what it is. Oh, you didn't have all your products that you paid for? For like two months? Yeah sorry, that just is what it is. Oh, you purchased your couch with silver cup holders? Yeah no those are discontinued so sorry you can't have those."
Article continues below advertisement

Gigi continued, "Don't do it you guys do not do it. Ashley's Furniture is trash. They don't belong in business, they don't belong taking anybody's money. They're trash."
Judging from the comments left by other TikTokers who viewed Gigi's story it appears that they've had issues with the retailer themselves. Have you ever purchased anything from Ashley's? What was your experience like?