Woman Brings Guy Home, Forgot She Gave Dad Access to Her Doorbell Camera
A woman posted the embarrassing way her father found out she was bringing a guy home: she forgot she gave him access to her security camera.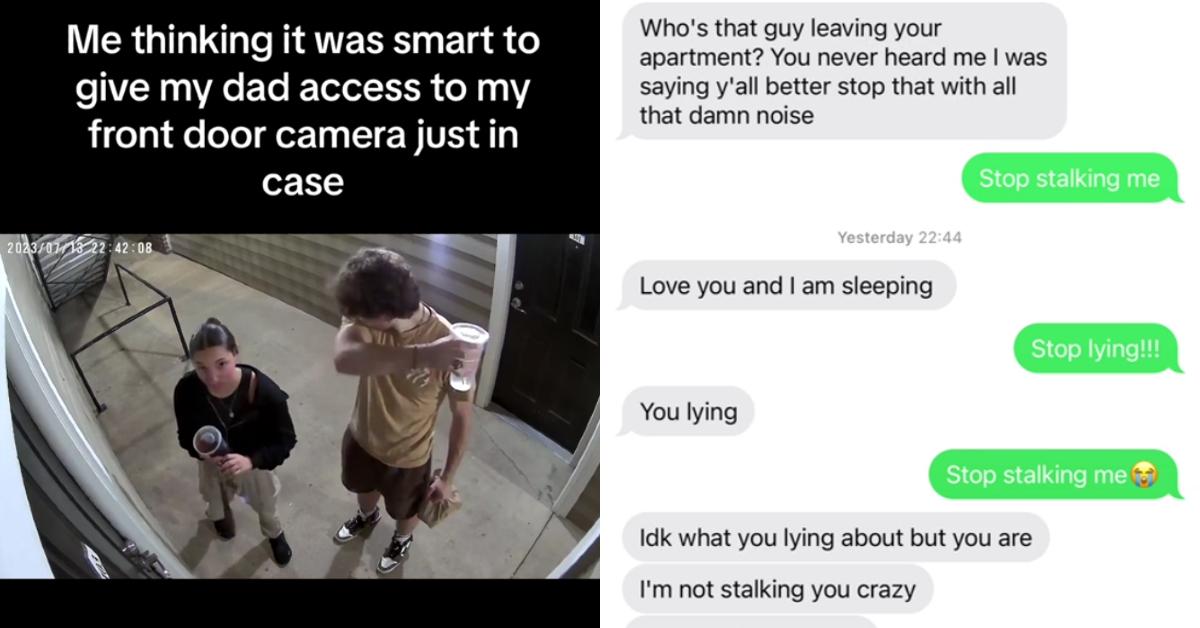 Article continues below advertisement
And there have been recorded incidents where homeowners have even used their doorbell cameras, in real-time, to assist officers in apprehending criminals who were hiding out on their property, to boot.
And consumers seem to love these gadgets: in fact, there are a purported 12 million people who've outfitted their homes with a video doorbell camera system.
Article continues below advertisement
It's not hard to understand why folks like them: they could prevent and/or record crimes, and if you're away from home, you can remotely access the doorbell cameras to see who's coming by.
You could even give camera access to a loved one like this TikToker did. However, it did lead to an awkward situation one night.
Article continues below advertisement
TikTok user @skullysworld3535 uploaded footage of her and a guy heading into her house what appears to be late at night. She writes in a text overlay of the video: "Me thinking it was smart to give my dad access to my front door camera just in case"
She approaches the door, hands the man her purse, and then digs her keys out of her pocket and attempts to unlock the door. As she does this, a voice can be heard, apparently echoing through the loudspeaker of the doorbell camera, telling the woman to "go to sleep."
Article continues below advertisement
She looks up at the camera, and then a text message conversation between her and her dad pops up on the screen. "Who's that guy leaving your apartment? You never heard me I was saying y'all better stop that with all that damn noise."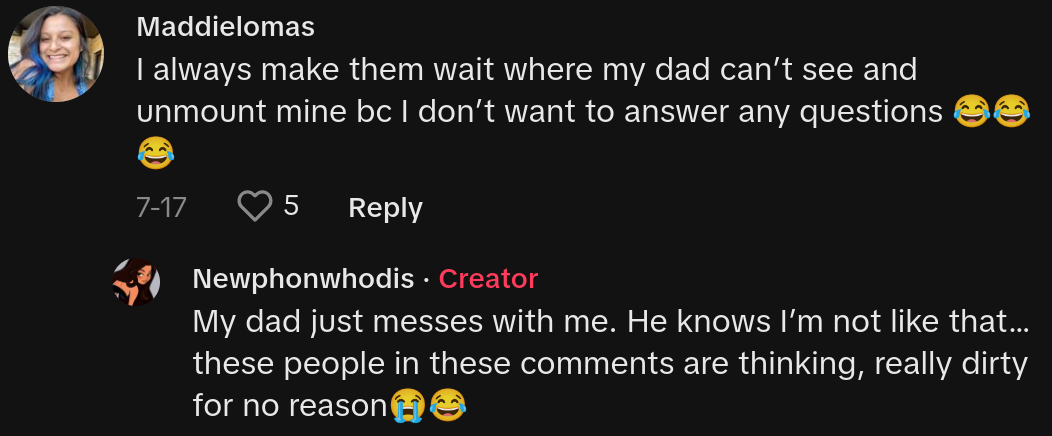 Article continues below advertisement
She responded by saying, "Stop stalking me"
He responded with a text message at 10:44 pm writing: "Love you and I am sleeping"
"Stop lying!!!" she writes back
"You lying," her dad replies.
"Stop stalking me," she writes again, with a crying emoji.
Article continues below advertisement
"Idk what you lying about but you are...I'm not stalking you crazy...It's called caring you," he then rattled off various heart emojis. The TikToker responded back with, "I love you too," followed by some heartfelt emojis of her own.

Article continues below advertisement
In the comments section, one user joked that if they were in a similar situation, their dad definitely would've tried to curb the dude: "My dad would've said something like 'what happened to the other guy' knowing there is not another guy"
To which the TikToker responded that she feared her own father would've done the same thing: "Nah I was scared my dad was gonna say something like that because I just started talking to this guy"
Article continues below advertisement

Another person said that they made sure to remove their father's access to their security camera system at their place: "When I moved out my dad bought me security cameras and added himself to it. The second he left I removed him"
Article continues below advertisement

But @skullysworld3535 didn't seem to care about her father checking in on her due to the nature of their dynamic: "Hella smart me and my dad are close so I don't mind him having them, I just thought it was funny"