The Mailbox Repair Gag in 'The Woman in the House' Hilariously Hits on a Mystery Trope
If you've seen Netflix's 'The Woman in the House', then you may have noticed handyman Buell endlessly fixing a busted mailbox. Well, he represents a thriller/mystery trope.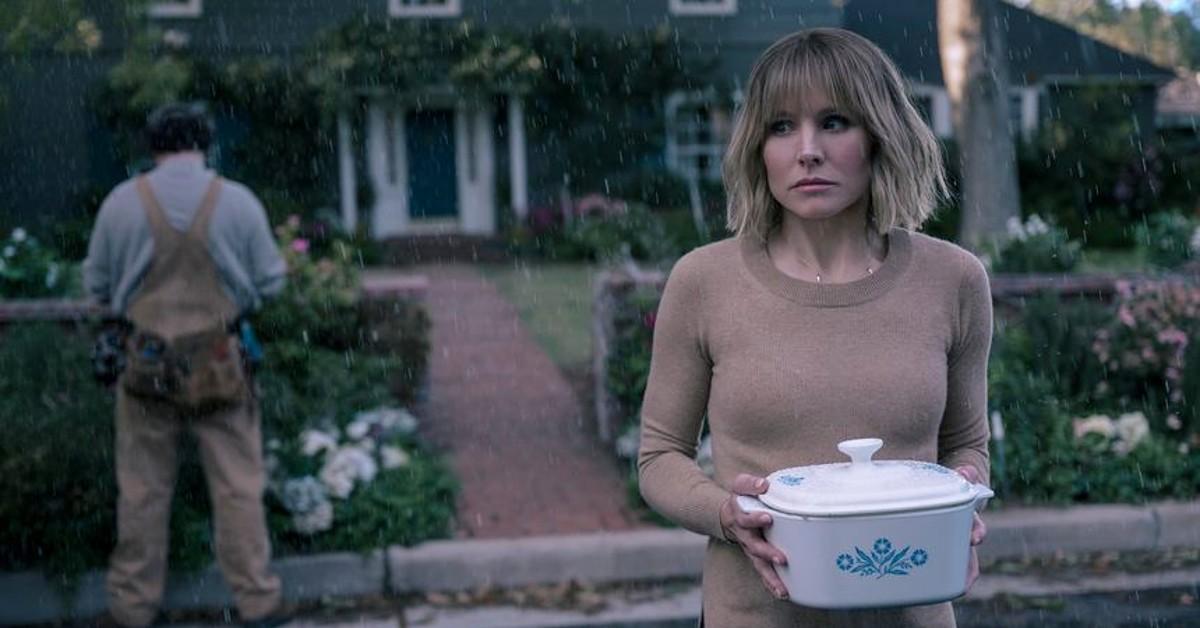 Spoiler alert: This article contains spoilers for The Woman in the House Across the Street From the Girl in the Window.
How many handymen does it take to fix a mailbox? The answer is one, but it may take him a while. It may take him weeks, or even years. In Netflix's new bonkers satirical thriller series The Woman in the House Across the Street From the Girl in the Window, alcoholic, divorcée, and ombrophobe Anna — played by the always-enjoyable Kristen Bell (Veronica Mars)— spends her days drunkenly staring into her hot neighbor's house across the street from her own living room window.
Article continues below advertisement
With cheesy thriller novels, prescribed pills, and red wine by her side, Anna strives for escapism, as she can hardly bear to think about her late daughter, who was gruesomely (and absurdly) murdered years prior. But Anna's unhealthy form of escapism comes back to bite her when, from afar, she witnesses a bloody murder occur in her neighbor's home. Did the hazardous pills-and-wine concoction trick her eyes? Or did she really see a woman's soul leave her body?
Acting as a parody, and sometimes a pastiche of films like Alfred Hitchcock's stunning Rear Window and Joe Wright's dreadful film adaptation of The Woman in the Window, the bulk of Rachel Ramras and Hugh Davidson's series sees Anna attempt to uncover the truth, as no one believes her (and some gaslight her).
Article continues below advertisement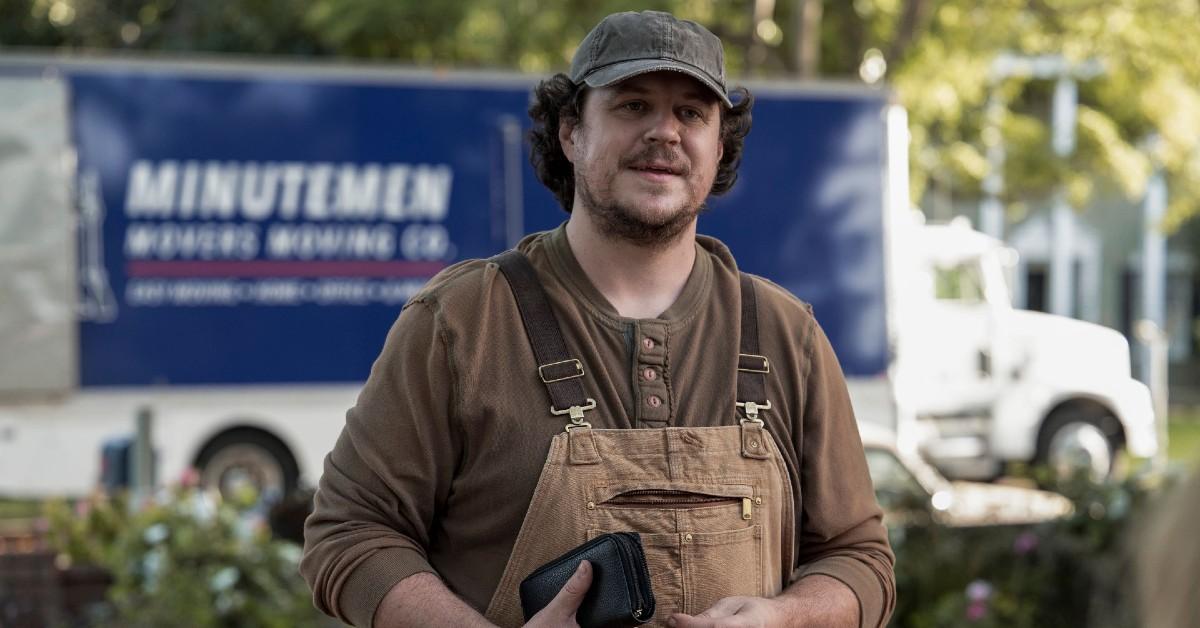 Though the audience sees Anna constantly run all over town, looking for answers like a mad woman, her simple, trusty handyman, Buell (Cameron Britton), is a comforting constant when she arrives home. We initially see him working on her busted mailbox, and, well, we only see him working on repairing that darn mailbox — for eight episodes! Let's discuss how this ridiculous ongoing gag — one of the show's more successful ones — reflects a common trope in mysteries and thrillers.
Article continues below advertisement
How does Buell endlessly fixing a mailbox represent a thriller/mystery trope?
"Usually when there's a constant and there's a wise old tree in a cartoon, you go back to the constant, and you get new information. Buell's character gives absolutely no information and is not helpful in any way. He's just the constant. And so, Anna doesn't really know where to place him, other than he's just always there," Kristen Bell explained to Collider.
There is literally nothing wise about Buell, so he'd never be the persistent voice of reason, or encyclopedia for small-town information. Buell is just, well, Buell. He's dopey, quiet, kind, and even dull — did we mention he has a bizarre interest in taxidermy?
After an aggressive confrontation with her gossipy neighbor, Anna is plagued with embarrassment, leading Buell to say, "Everybody makes mistakes, Miss Anna. I know I have, but that's a story for another day."
Article continues below advertisement
That isn't the only time he utters those words. Hilariously, he never tells Anna or the audience what "mistakes" he's made. But Anna's ex-husband, Douglas Whitaker (Michael Ealy), on the other hand — who's a psychiatrist for the FBI, specializing in serial killers — later explains that Buell is a former patient of his.
Article continues below advertisement
"And then, as the story unravels, there's this wonderful line that I have to Michael's character when I say, 'What was Buell like when you hired him to fix our mailbox all those years ago?' Just that line sums up what we're doing. You go, 'Oh my God, he's been fixing that mailbox for years,'" Kristen continued.
Douglas relays to Anna that Buell was his first patient and that he was rehabilitated after being found criminally insane. "He killed his entire family with a clawhammer," he says. Cue upside-down smiling emoji.
Buell fixing the godforsaken mailbox for the entirety of the series could also represent when false clues are purposely planted right in front of the audience's faces. How many times has a main suspect or certain scene been added to a thriller solely for the intent of throwing the audience off? Those who were paying close attention in TWITHATSFTGITW may have wondered why Buell was really always poking around, but in the end — even after learning of his dark past — he's actually not the killer.
Article continues below advertisement
In Kristen Bell's words, much of what Buell does is "pointless," which makes his presence one of the funnier elements of the series.
"If you really watch Cameron's performance, he's so great because he's picking things up, and he's looking at them. He analyzes everything before he touches it. It's great, and it's absolutely pointless, which is perfect," Kristen concluded.
All eight episodes of The Woman in the House Across the Street From the Girl in the Window are currently available to stream on Netflix.