Woman Tried Popular Beauty "Hack" on Eyes, Ends Up Needing Eye Surgery to Fix It
A young woman warned other TikTok users to be careful when trying out beauty hacks they come across on the popular social media platform.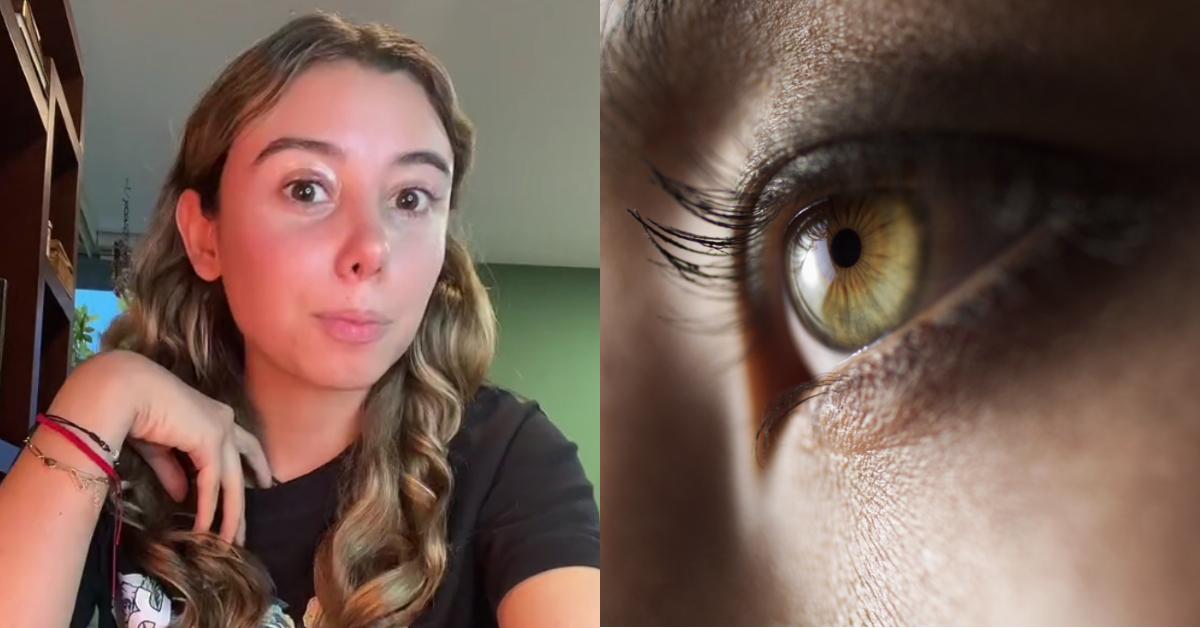 Sometimes, online "hacks" can provide some pretty useful information that you otherwise would've been left in the dark about and, after reading up on these hackaroos or watching demonstrations of how they're performed, you feel all the more enriched for seeing them and are left excited about all the different ways in which you'll be able to implement these hacks into your life.
Article continues below advertisement
And while some of the more annoying "life hacks" are so frustrating because they end up being massive wastes of time, sometimes, bad advice on the internet can lead to serious health problems. Something that 22-year-old TikToker Aranza (@entre_letrasea) learned the hard way after trying out a beauty trick she picked up on the popular social media application.
Article continues below advertisement
A large portion of TikTok's audience has what some might define as a psychopathic obsession with genetically gifted young people and aesthetics.
As a result, the application is home to a slew of different beauty hacks that folks are eager to try out in the hopes of looking as beautiful as possible.
Article continues below advertisement
One hack that Aranza said she saw on the app promised to give her clear skin: coconut oil and micellar water, and she purportedly used it for years.
However, one day, when she developed a painful and unsightly stye on her eye, she once again decided to go online and try to find a remedy for it. She tried applying alternating applications of hot and cold water to get the stye down.
Article continues below advertisement

Nothing seemed to work, however, so she ultimately decided to head to a doctor and get some help. After running some assessments, the healthcare professionals informed Aranza that the stye was a result of her applying coconut oil to her face so regularly.
Article continues below advertisement

Knowing the definition of what a stye is and how they form, it makes sense that Aranza's persistent application of the oil on her face would lead to the skincare issue she experienced.
Article continues below advertisement
Penn State defines the skin condition as: "A stye is caused by a blockage of one of the oil glands in the eyelids. This allows bacteria to grow inside the blocked gland. Styes are a lot like common acne pimples that occur elsewhere on the skin. You may have more than one stye at the same time.
Many oils, including coconut, are "insoluble with water," which means that there's a higher likelihood that constantly applying it to one skin could potentially cause blockages.
Dr. Whitney Bowe, who posts medical advice on TikTok, cautions users on the app against applying coconut oil to their face.
Article continues below advertisement
She states that while coconut oil can be used as an effective tool in makeup removal, it can often leave behind a film on the skin that is difficult to take off.
This film can lead to blockages, which can ultimately be what happened to Aranza's eye.
Article continues below advertisement
The 22-year-old social media user said that she had to undergo a 20-minute surgery in order to remove her stye, leaving her with a patch on her eye, according to The New York Post.
Aranza also wanted to warn others about blindly following beauty and/or health advice on social media, which a lot of commenters who saw her video agreed with: "The worst thing is that there are other people here on tik tok who remove their makeup with coconut oil and recommend it"
Article continues below advertisement

Another seemed to agree with Aranza's story time, writing: "Moral, any subject (health, beauty, exercise, etc.) always with professionals."
Have you ever been let down by a health and or beauty hack that you learned online? What do you think of Aranza's story?