New Housemates Honor Late 'Terrace House' Alum Yosuke Imai
Americans are still binging their way through Part 3 of 'Terrace House', but Part 4 just released in Japan, which honors late 'TH' alum, Yosuke Imai.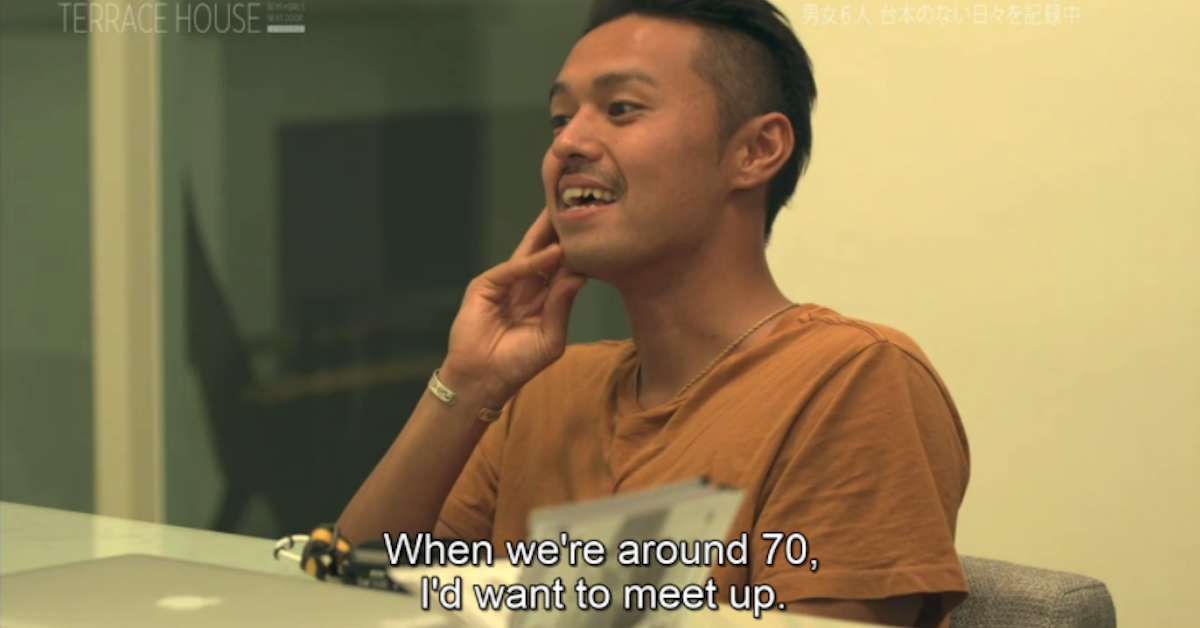 Terrace House is a Japanese reality show kind of like Big Brother, but without the constant drama, backstabbing and rifts that characterize most other unscripted series. The show is almost mundane in its lack of conflict, and even when there is fight in the house, it's handled with politeness and consideration that you would never find in a group of American reality TV contestants.
Article continues below advertisement
That's partly why fans were recently shocked to find out about the death of a previous Terrace House star.
The news was revealed on Terrace House: Tokyo 2019-2020 Part 4, which has so far only aired in Japan (Netflix released Part 3 in the U.S. in April), when a new housemate, Reo, reminisces about Yosuke Imai, who tragically died shortly after his appearance on the show.
So, what happened to Yosuke after his time on Terrace House? Keep reading for everything you need to know about this terribly sad news.
Article continues below advertisement
Who was Yosuke Imai?
Yosuke Imai was one of the roommates on the first season of Terrace House: Boys x Girls Next Door, which ran from 2012 to 2014 in Japan. He arrived on the show in time for episode 39 and remained at the house for a total of 35 episodes.
Article continues below advertisement
The professional photographer was 29 years old at the time he joined Terrace House and he immediately stuck up an adorable bromance with his roommates, Daiki and Tecchan.
Their relationship became so close that at one point Yosuke even said that once they were all "around 70, [he'd] want to meet up."
These scenes are tragic in hindsight but they offer a glimpse into what a big heart Yosuke had. Compared to most roommates we've seen on the show, Yosuke stood out for how affectionate he was. He was also very open about sharing his life's dreams and the way he wanted to be a good dad to his little daughter. These details only make the fact of his passing even sadder.
Article continues below advertisement
How did Yosuke die?
On Nov. 23, 2015, just a year and a half after his appearance on Terrace House, Yosuke suffered a heart attack that interrupted the blood supply to a part of his heart so severely that he was unable to recover from the incident. Yosuke died at just 31 years old.
Article continues below advertisement
The heart attack was said to be a complication from to the excessive amount of weight he had been working to lose just a few months prior.
Yosuke's struggle with his weight had been known for a while. In fact, in December of 2014, he released a book of diet-friendly Japanese recipes that were inspired by his own weight-loss journey.
However, in his attempts to shed extra weight, Yosuke's body went through too much stress, which had the unintended and tragic result of putting excessive pressure on his heart and causing his death.
Article continues below advertisement
'Terrace House' is honoring Yosuke's memory.
In the fourth part of Terrace House: Tokyo 2019-2020, a new housemate, Reo Kanao revealed that he was actually friends with Yosuke. Reo said of his late friend, "[Yosuke] was so compassionate. We used to work together in the same shop. He'd get excited and sing and play guitar for them. But he had to leave to become a star."
Article continues below advertisement
And the cast of Terrace House: Boys + Girls Next Door haven't forgotten Yosuke either. His former housemates like Daiki, Tecchan and Rinati still post tributes to Yosuke on his death anniversary.
Additionally, there's a page of "Message[s] to Yosuke" on the official Terrace House website, where cast members have left heartfelt messages to their fallen roommate.
The whole story is heartbreakingly sad, but as the current roommates of Terrace House: Tokyo 2019-2020 do on the show, let's raise a glass to his memory and say, "Cheers Yosuke."
Stream the first three parts of Terrace House: Tokyo 2019-2020 on Netflix, and get excited for the next round.