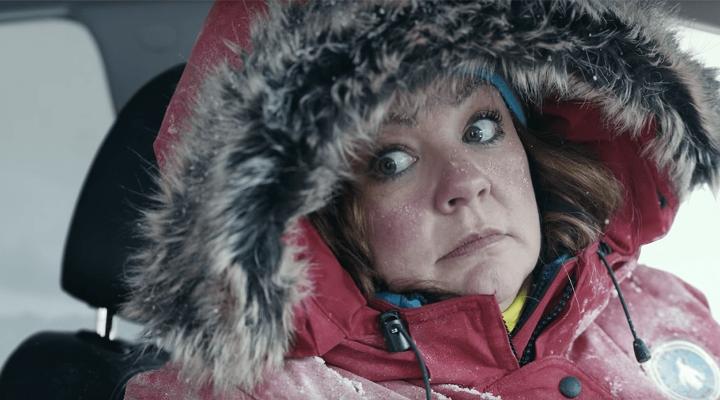 Melissa McCarthy's Hilarious Kia Ad Has Us Ready For Super Bowl Commercials
By Margot Harris
As the Super Bowl LI fast approaches, so, too, does the main event: the Super Bowl commercials.
If any of the pre-released commercial snippets are any indication, this year's ads won't disappoint.
Ghostbusters star Melissa McCarthy stars in a series of ads for the Kia Niro — ads involving some serious offroading, cranky penguins, and running from rhinos.


Check out McCarthy's commercials below:
We're officially ready for the Super Bowl — and we might even watch some of the football in between the commercials.
In a recent interview with Howard Stern, McCarthy explained how her somewhat lonely childhood led to a career in comedy. "I was bored. I had no neighbors, I had no kids to play with. So I'd be, like, running around the barn pretending I was a detective or something," she shared. "I had tons of friends but no one lived around me."
The actress continued, "I was kind of a handful, I think — pretty energetic. I would run around the farm, climb up into things I wasn't supposed to, and get up into the rafters in the barn. I went up into the silo once when I was really tiny, and the farmer had to come and get me down. It was an amazing way to grow up."
And, as it turns out, she credits her mom, Sandy, for saving her career. "Mom never said, 'You can't,' but that's how she is about everything," McCarthy told AARP. "She gave me the freedom to do what I needed, even if she didn't understand it. A normal parent might have said, 'You're insane.' Instead, this maniac kept saying, 'OK, good luck. Let me know what play you're doing.' I was, like, 'My mother's crazy!'"
We're so happy that her mom encouraged her creative ambitions because her many fans are certainly reaping the benefits!