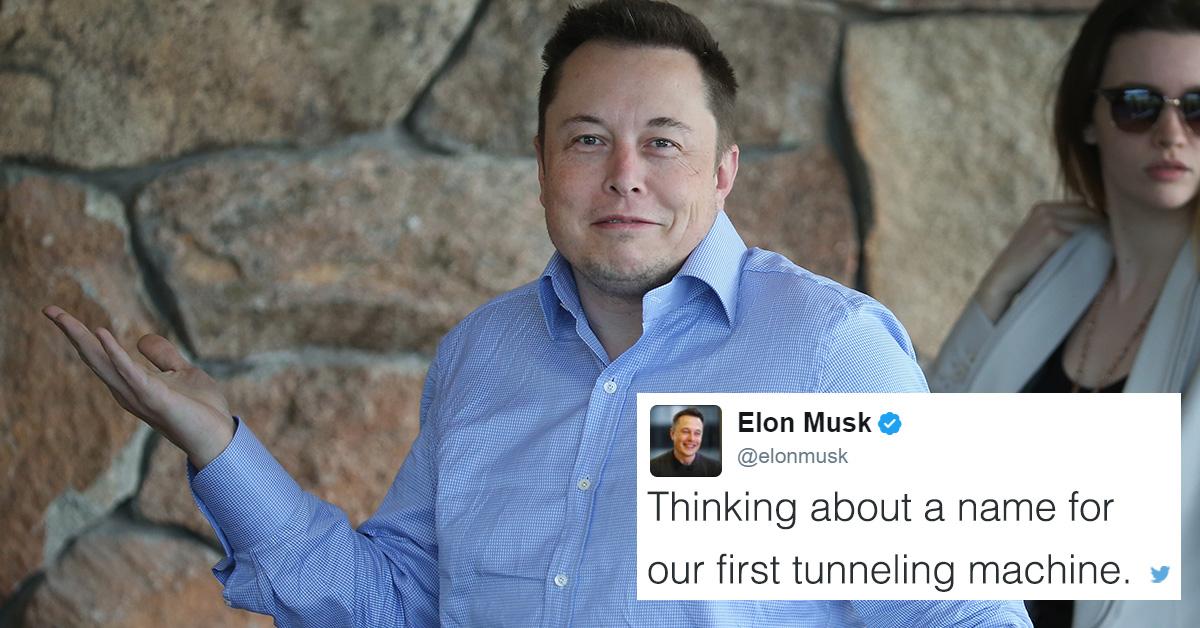 Elon Musk Asked For Help Naming Their First Tunneling Machine And The Internet Obliged
By Mark Pygas
Elon Musk is basically as close as anyone in the real world will get to Tony Stark. Tesla is working on harnessing the power of the sun, and SpaceX is making space travel more affordable than ever. He even gave people a chance to buy flamethrowers if they wanted it. Seriously if something weird, fun and techy exists -- it was probably done already by Elon Musk and his team.
But you might not know that he also has a massive tunnel boring machine that's digging a hole underneath the parking lot of SpaceX's headquarters.
Called The Boring Company —pun intended— the goal is to help alleviate gridlock traffic in the world's busiest cities by taking it underground.
He kept good on the above tweet, showing off his new toy only a few months later. People were in awe of the amazing mechanical feat -- it shows we're really in THE FUTURE now!
But now, Musk is asking for help on naming the machine.
This morning, he took to Twitter with a suggestion of his own. Ultimate Boring Machine, the Second. It did leave us asking a few questions though. Like where did the first go? How can we have a second? Does that mean the other one crashed and burned??
But in true fashion, it was Twitter that came up with the great names. It'll be hard to argue against some of these awesome gems:
But one suggestion seemed to stand out.
Let's make this happen. It's already crazy enough that Elon Musk actually went forward with the Boring Company let alone he's going to let the public name it. We want to see one of these bad boys actually get chosen by everyone's favorite eccentric Billionaire.