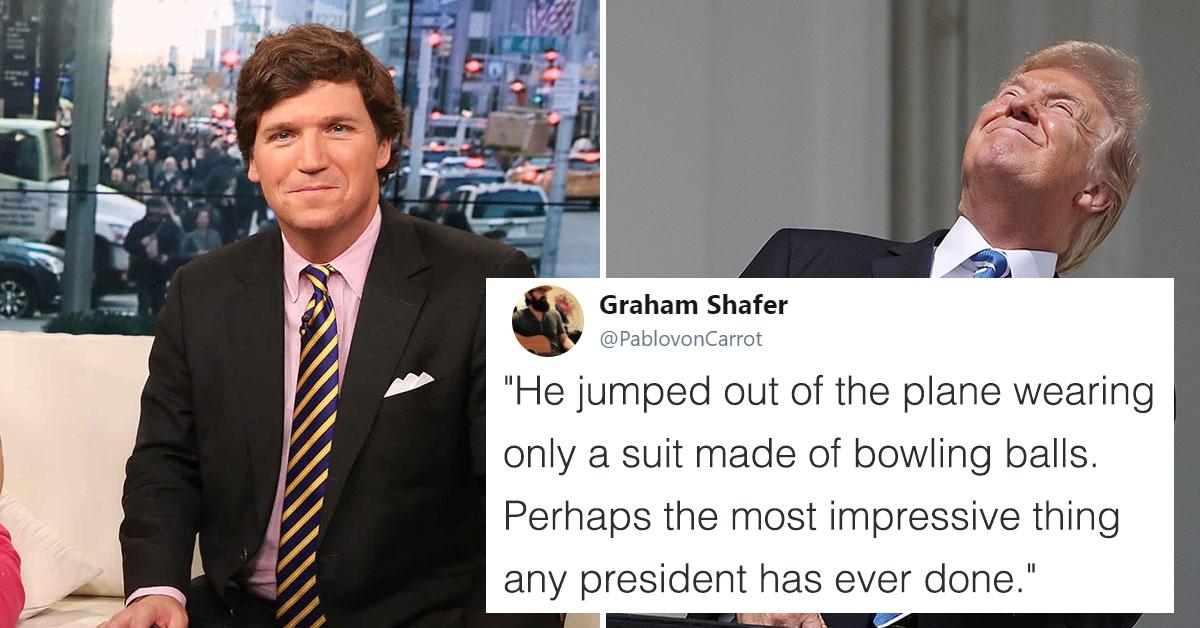 Tucker Carlson Praises Trump For Looking At The Eclipse Without Glasses, And People Are Over It
By Mark Pygas
In the past, presidents have pulled off some pretty amazing feats in service of their country. President Franklin D. Roosevelt worked himself to death during World War II to ensure an Allied victory, while President Andrew Jackson beat a would-be assassin with his cane after their pistol failed to fire.
And according to FOX News host Tucker Carlson, President Donald Trump is right up there with them. Why? Because he stared directly into the sky during the solar eclipse without glasses.
"He looked directly at the sun without any glasses. Perhaps the most impressive thing any president has done," Carlson states. It's unclear whether the comment was made in jest or whether Carlson is actually impressed. Staring into the sun without proper protection can cause permanent eye damage.
Unsurprisingly, Twitter had no idea how to react.
This is real life, people, we are in the day and age of circle-jerk politics, where news reporters and journalists are no longer reporters and journalists but spin doctors, people who pick a side and then come up with all sorts of arguments and statements reeking of bologna to try and make whoever or whatever they support seem pleasing to the eye. It's Republicans vs Democrats, Libs vs Rednecks in a Battle Royale free-for-all where one side is always wrong no matter what they're doing. Killing people? Well they deserved it! Staring into an eclipse despite every single doctor and healthcare professional saying it's an idiotic thing to do? Well that just shows Trump's character as someone who doesn't care for conventional wisdom? Not getting oil changes on your car and doing long-term damage to the engine? Well it just shows that he's so rich and successful that he can ruin a piece of machinery and not care about it? Man we are living in what is in arguably the dumbest timeline right now.