Chris Cuomo Accused of "Faking" COVID-19 Recovery Video After Breaking Quarantine
Did Chris Cuomo fake being sick with coronavirus? Tucker Carlson calls out the CNN anchor for ignoring social distancing guidelines.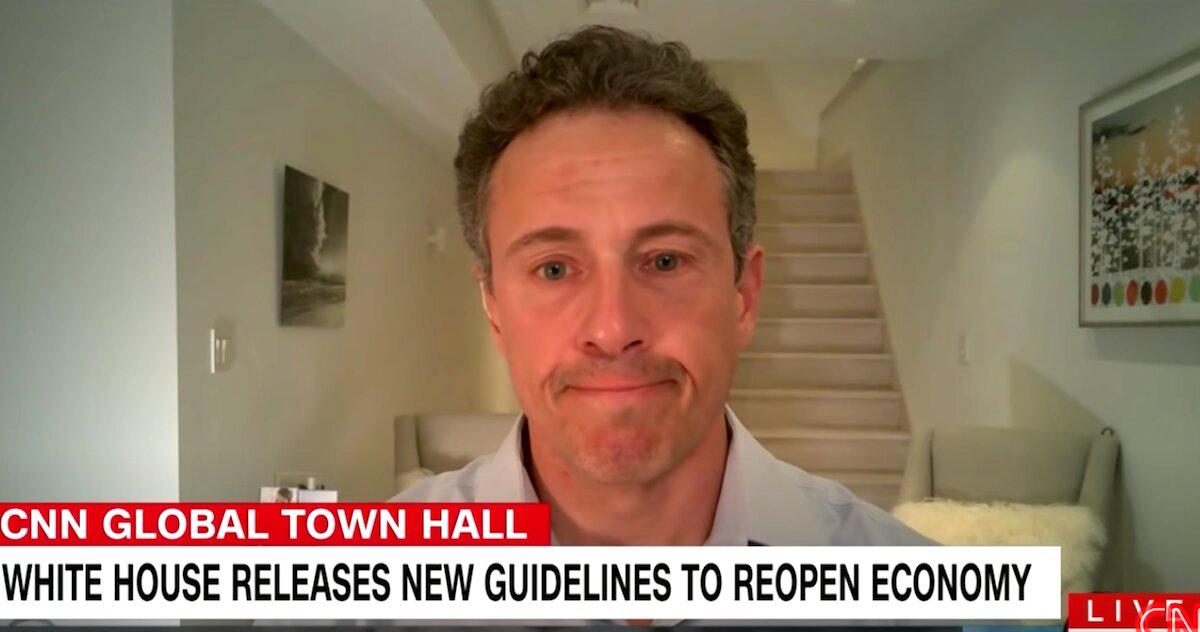 On April 20, CNN posted a video of anchor Chris Cuomo emerging from his basement for the first time in weeks after getting sick with the coronavirus.
The 49-year-old has been quarantined on the lower level, away from the rest of his family, ever since his diagnosis at the end of March. "All right, here it is, the official reentering from the basement, cleared by CDC," he said in the eight-minute clip. "This is what I've been dreaming of, literally, for weeks."
Article continues below advertisement
However, not everyone is buying Chris' tales of self-isolation. A few fellow journalists have even accused the TV personality of faking the severity of his illness.
Did Chris Cuomo fake being sick? Right-wing commentators seem to think so.
One day after the father of three shared the news that he is no longer social distancing in his sublevel, conservative Fox News anchor, Tucker Carlson, claimed Chris and CNN faked his return to normalcy, citing an alleged April 12 incident in The Hamptons involving the Cuomo Prime Time host and a bicyclist.
Article continues below advertisement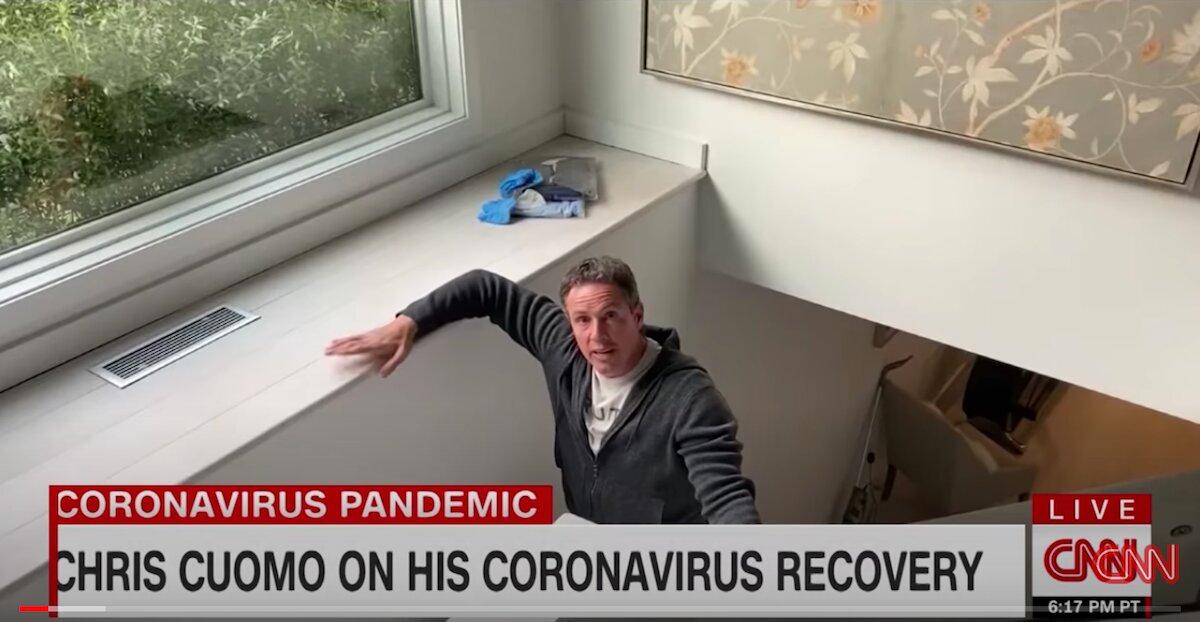 "We watched him seize every chance to remind everyone watching that he was very sick and in very strict containment," Tucker said on Tuesday's broadcast. "CNN, shameless cheese balls that they are, celebrated by filming Cuomo rising like a buff, cable news Lazarus from the grave and back into ordinary life.
"When did journalists start talking about themselves so much?" he continued. "It's not a story, it's narcissism, and that's weird enough. But it's not all. That was fake."
Article continues below advertisement
Tucker went on to explain that Chris confessed to getting into a fight with a man "who harassed him for going outside and congregating with other people, something CNN has been vilifying ordinary people for wanting to do," the reporter stated.
"Here you have a top CNN anchor who appears to have been ignoring the social distancing rules his network has been promoting and forcing on everyone else. It seems like he wasn't telling the truth about staying quarantined in his basement," Tucker concluded. "But you can't be too mean, his own video was humiliating enough."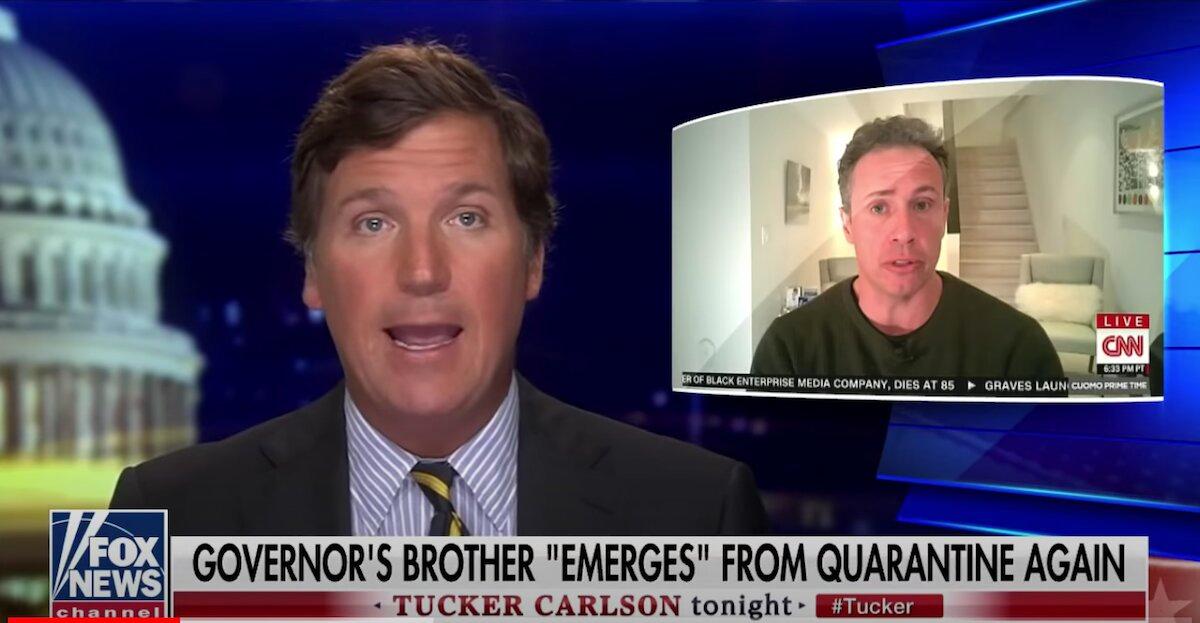 Article continues below advertisement
Chris did admit to going outside on Easter Sunday.
On his SiriusXM show, "Let's Get After It," earlier this week, the New York native complained about a "jackass, loser, fat tire biker" who stopped and lectured him for being outdoors with his family.
"I am in an almost powerless position against this ass because I'm a celebrity and he's allowed to say whatever he wants to me," Chris ranted during the program, according to the New York Post. "I want to be able to tell you to go to hell, to shut your mouth."
The 65-year-old bicyclist, who is simply identified as "David" in news reports, told the Post that he called police after Chris allegedly threatened him. "He said, 'This is not the end of this. You'll deal with this later. We will meet again,'" the Long Island resident recalled. "I hate bullies."
A few days after that outing, Chris announced that his wife, Cristina, had tested positive for COVID-19, and on April 22, he revealed that his teenage son, Mario, had also contracted the virus.