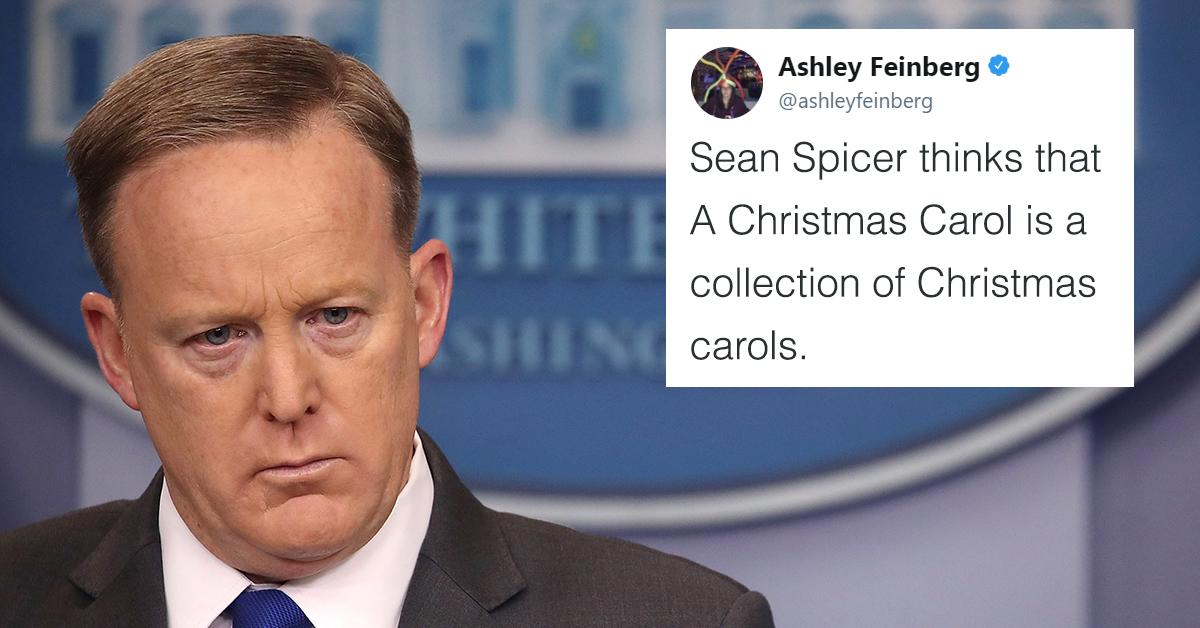 Sean Spicer Clearly Has No Idea What 'A Christmas Carol' Is—And We're LOLing
By Mark Pygas
During White House Press Secretary Sean Spicer's six-month tenure, he provided us with some entertainment when we needed it most. He started this term by defending the size of crowds attending President Donald Trump's inauguration crowds. He became arguably the best character on Saturday Night Live, played by Melissa McCarthy. And of course, he infamously led a campaign against Dippin' Dots.
Sean Spicer now works with the Worldwide Speakers Group, turning down an invitation to appear on Dancing With The Stars. "Few in Washington are as well-equipped as Sean to pull back the curtain and dissect what's really happening in the nation's capital," his biography on the company's website reads.
And recently, Spicer returned to the White House in a trip that he documented on his Instagram account. But one post has people talking more than ever. Why? Because he refers to a copy of Charles Dickens' Christmas Carol.
So what exactly is the problem? He referred to it as "FDRs book of Christmas Carols." Yikes. Effectively proving that — despite his new work bio — there are some things that he can't simply pull the curtain back on and digest; in fact, there are some things that he definitely does not know, despite it being — to many of us here at home — incredibly common knowledge.
Obviously, a book of Christmas carols and Charles Dickens' A Christmas Carol are not the same thing. A fact that Twitter was quick to point out... And, predictably, much of Twitter took great pride in correcting Spicer and letting him know just how wrong he was. But, really, who could blame them?!
And now, people are convinced that Sean Spicer doesn't know the difference.