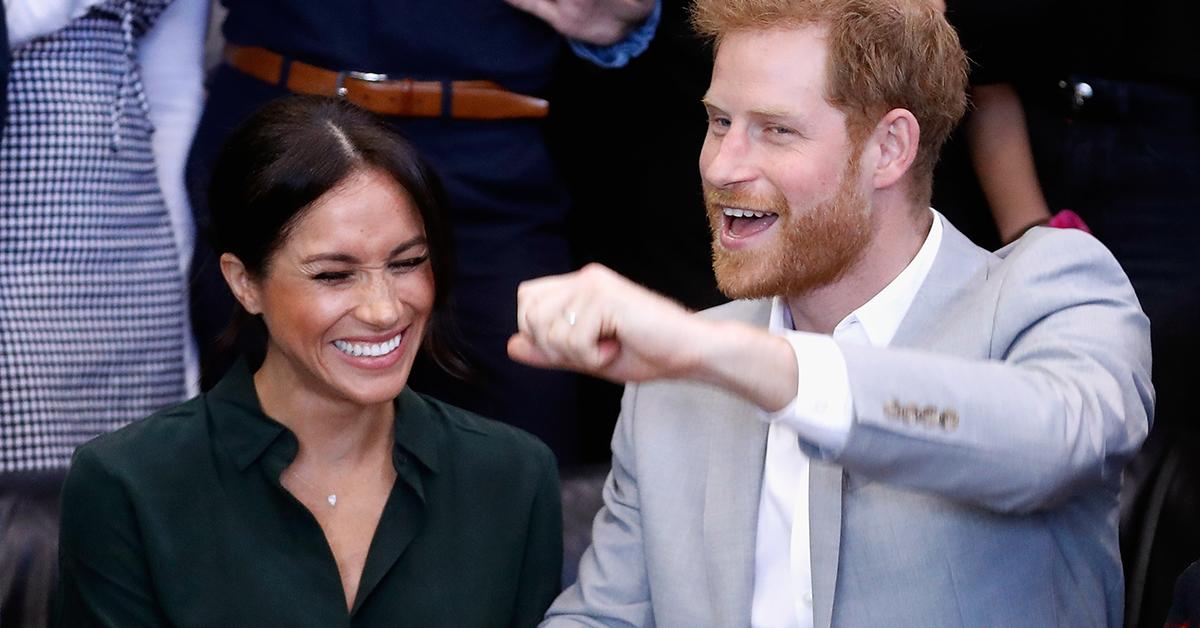 13 Memes That Perfectly Capture Prince Harry and Meghan Markle's Royal Baby News
By Anna Quintana
The royal family is growing! Fresh off the heels of Princess Eugenie's wedding, Prince Harry and Meghan Markle revealed they are expecting their first child together.
"Their Royal Highnesses The Duke and Duchess of Sussex are very pleased to announce that The Duchess of Sussex is expecting a baby in the Spring of 2019," the palace announced in a statement. "Their Royal Highnesses have appreciated all of the support they have received from people around the world since their wedding in May and are delighted to be able to share this happy news with the public."
The couple, who tied the knot this past May, had made it very clear they were ready for kids even before getting married, but the royal baby news still came as a happy surprise to many fans. "I really shouldn't be so excited about a couple I don't know having a baby but Meghan Markle and Prince Harry are having a baby and I couldn't be happier," one royal spectator tweeted before another added, "That baby is going to be so beautiful. I'm so happy for them, wish them the best."
And what would a royal baby announcement be without some memes? Keep scrolling for all the memes that perfectly captured Prince Harry and Meghan's big news:
3. BRB, brainstorming baby names.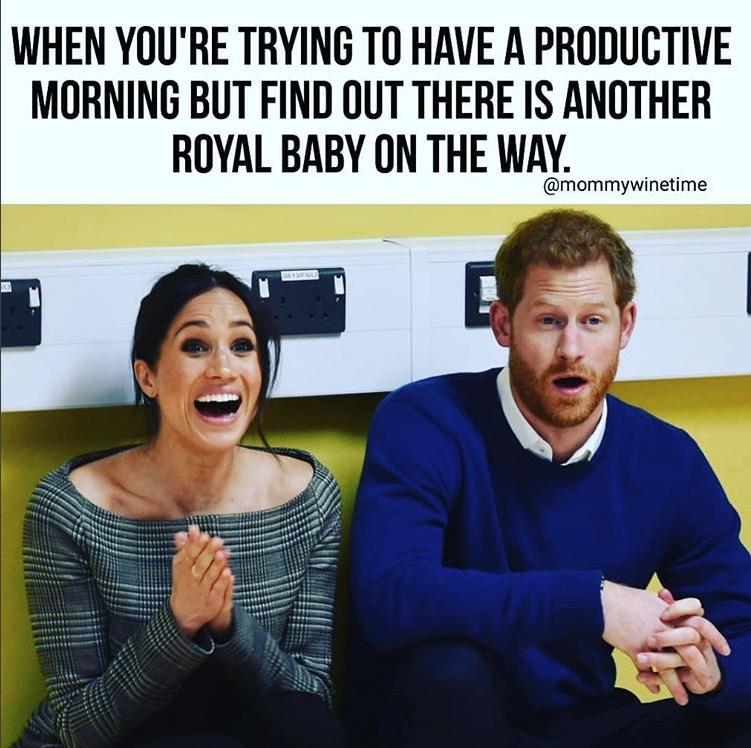 Odds are already out for what Prince Harry and Meghan Markle are most likely to name their baby. If it's a girl, Diana and Alice are the top picks, and if it's a boy, Arthur is the early favorite. We have a feeling Harry and Meghan won't go down the traditional route.
4. We almost forgot this baby will be making history.
Although technically, Queen Charlotte of Mecklenburg-Strelitz, who was descended from Margarita de Castro y Sousa — the black branch of the Portuguese royal family — was the first interracial royal.
5. "Gary. *in my Lisa Rinna voice*"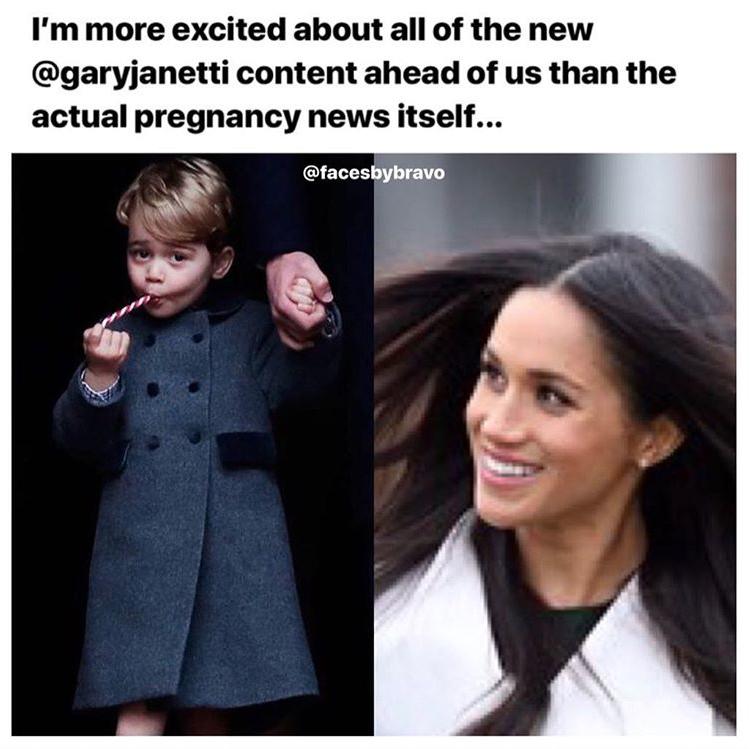 If you don't follow Gary Janetti on Instagram, now is the time if you want a hilarious prediction on how Prince George will react to the news that a cousin is on the way.
6. It was fun while it lasted.
It is being reported that Prince Harry and Meghan Markle actually shared the baby news at Princess Eugenie's wedding — effectively stealing the spotlight. Of course, Eugenie's mother Sarah Ferguson threw some low-key shade their way.
8. Oh, British humor.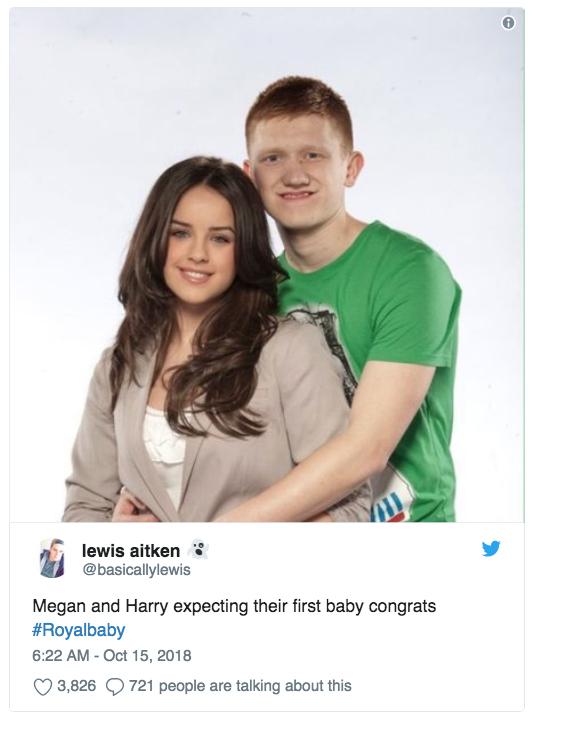 If you're a fan of UK soap opera Coronation Street, you'll understand this meme.
9. When's the due date again?
Prince Harry and Meghan Markle shared the news just five months after tying the knot — prompting many to speculate on the due date.
10. Prince George forever.
Don't worry George. You will always be our favorite heir.
11. The cutest child in ALL of human history.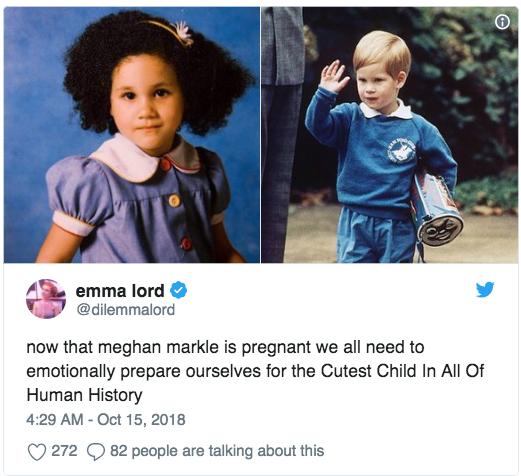 We can't wait to see what Prince Harry and Meghan's baby is going to look like. Maybe it will inherit the Markle nose, which in 2017 was the most requested plastic surgery procedure.
12. Prince Harry is already an overprotective dad.
That's going to be one lucky baby.
13. This "pre-pregnant" moment.
She definitely left that church a little pregnant.
Congrats Harry and Meghan!