El Chapo Will Be Featured on 'Narcos: Mexico' Amid His High-Profile Trial
Here is everything you have to know about El Chapo's role in 'Narcos: Mexico,' his trial, and his wife and sons.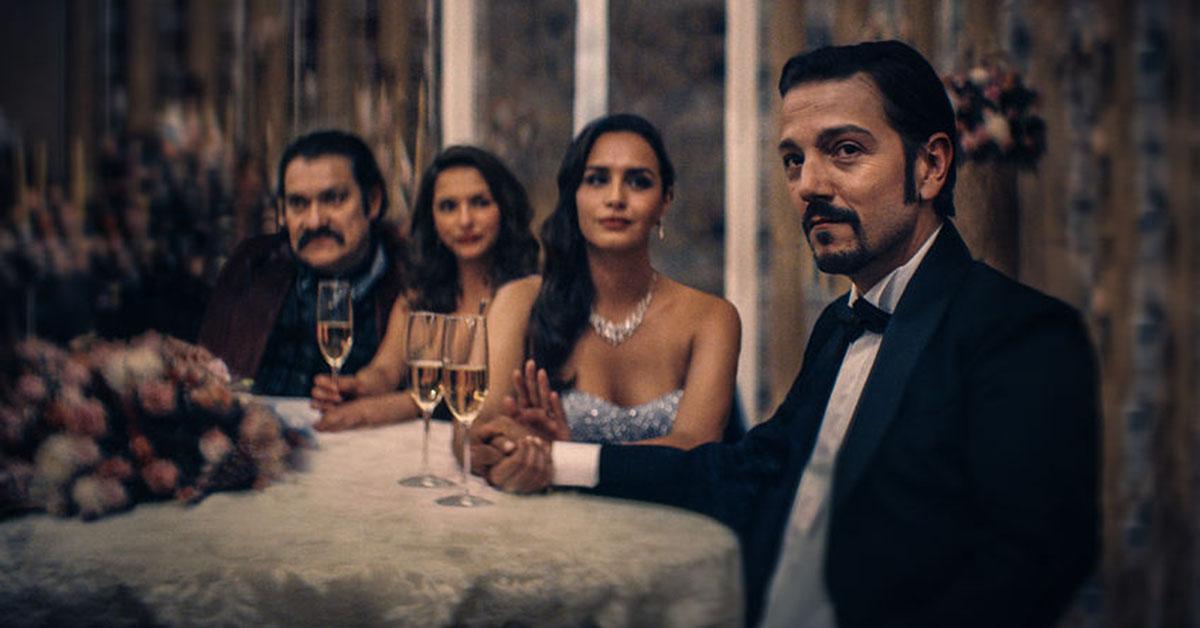 The most notorious drug trafficker in the world, Joaquín "El Chapo" Guzmán is currently on trial, facing a 17-count indictment and a minimum sentence of life in prison. However, the courtroom isn't the only place you can catch a glimpse of El Chapo on your television screens.
Article continues below advertisement
The infamous leader of the Sinaloa Cartel will also be briefly featured on the Netflix original series Narcos: Mexico. Season 4 (or Season 1 depending on which way you look at it) of the crime drama will shift focus from Pablo Escobar's criminal enterprise in Colombia to tell the story of Mexico's illegal drug trade.
"It's not a story about a bad guy," said Diego Luna, at a media roundtable on Nov. 9. (Diego portrays the leader of the Guadalajara cartel, Félix Gallardo.)
"[The main character of the series] is cocaine." Luckily, you can't tell the story of cocaine without at least mentioning the "bad guy" known as El Chapo.
Article continues below advertisement
So, who will play El Chapo on Narcos: Mexico? 
El Chapo, whose nickname is slang for "shorty," will be played by Mexican actor Alejandro Edda. According to IMDB, he will only appear briefly on the series since the focus will be on the origins of the Guadalajara cartel.
Article continues below advertisement
"Chapo was there at the beginning, in a way," show runner Eric Newman explained to The Hollywood Reporter. "He was one of the younger guys in the Guadalajara cartel before it splintered and he and another guy were given Sinaloa as territory." This is not the first time Alejandro has played a high-profile drug trafficker — he also appeared as Escobar's right-hand man Jorge Ochoa in the Tom Cruise film American Made. More recently, he starred as Rudy in the TV movie Cocaine Godmother.
The El Chapo trial: 
As previously mentioned, El Chapo, 61, is currently on trial in Brooklyn and has been charged in a 17-count indictment "that alleges he ran a criminal enterprise that imported and distributed massive amounts of drugs into the United States," as reported by the Washington Post. If found guilty, El Chapo faces a mandatory minimum sentence of life in prison and prosecutors are also asking for a forfeiture of more than $14 billion in assets.
Article continues below advertisement
The trial, which is expected to last four months, will be closely followed by El Chapo aficionados — especially those who want to see if the drug lord can escape one last time. He famously escaped from Mexican prisons twice before; first in 2001 — when he escaped in a laundry cart with the help of corrupt prison officials — and again in 2015, though a tunnel dug by workers that led from his shower cell to a house more than a mile away.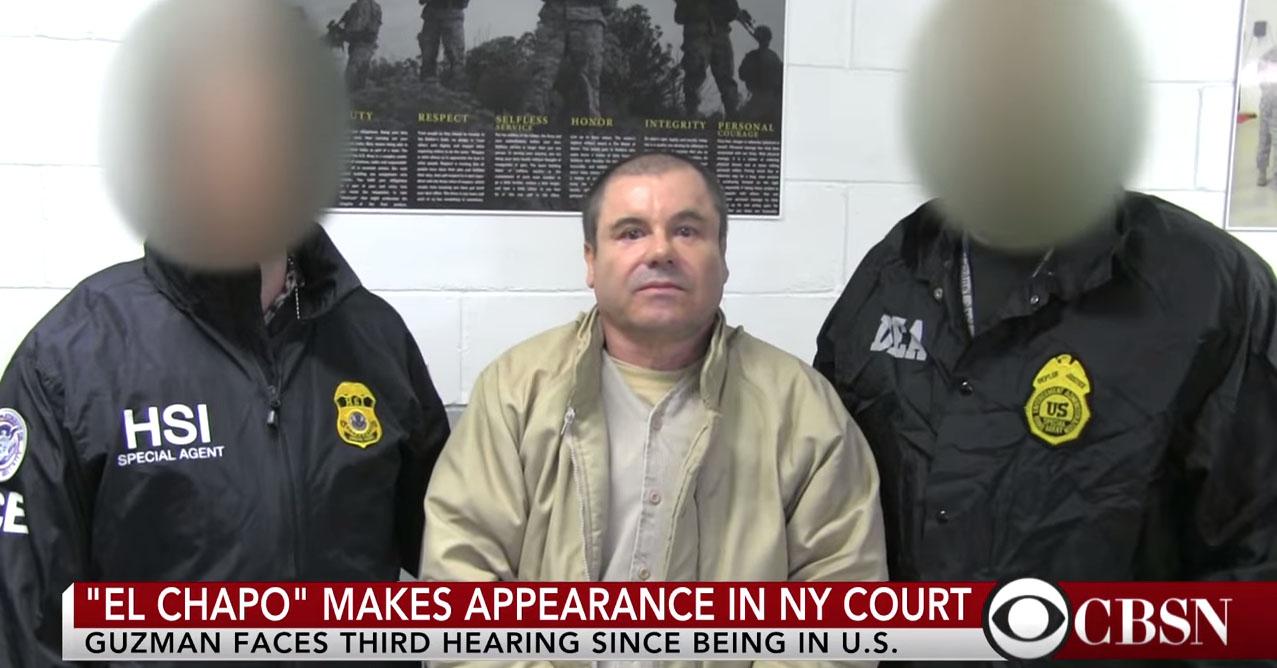 Article continues below advertisement
He was recaptured in 2016 after a meeting with actor Sean Penn led authorities to his hiding place, and El Chapo was eventually extradited to the United States in 2017, where he has been charged by several federal courts and has been awaiting his trial.
Unfortunately, there is no El Chapo trial live stream. 
You can't watch the drama unfold live in the courtroom, but several media outlets are providing updates in real time, like local news station WGEM.
Article continues below advertisement
Where are El Chapo's wife and sons? 
El Chapo's wife and biggest supporter, Emma Coronel Aispuro, was spotted entering the courthouse on the first day of his trial. Emma, who is American born, married El Chapo in 2007 on her 18th birthday. They met at a party organized by her father, who is also a member of the Sinaloa cartel. The 29-year-old former beauty queen has even traveled to Washington, D.C. to plead his case before the Organization of American States after she accused Mexican authorities of violating his human rights.
"I could never forget you, not after loving you so much," she tweeted shortly after he was extradited.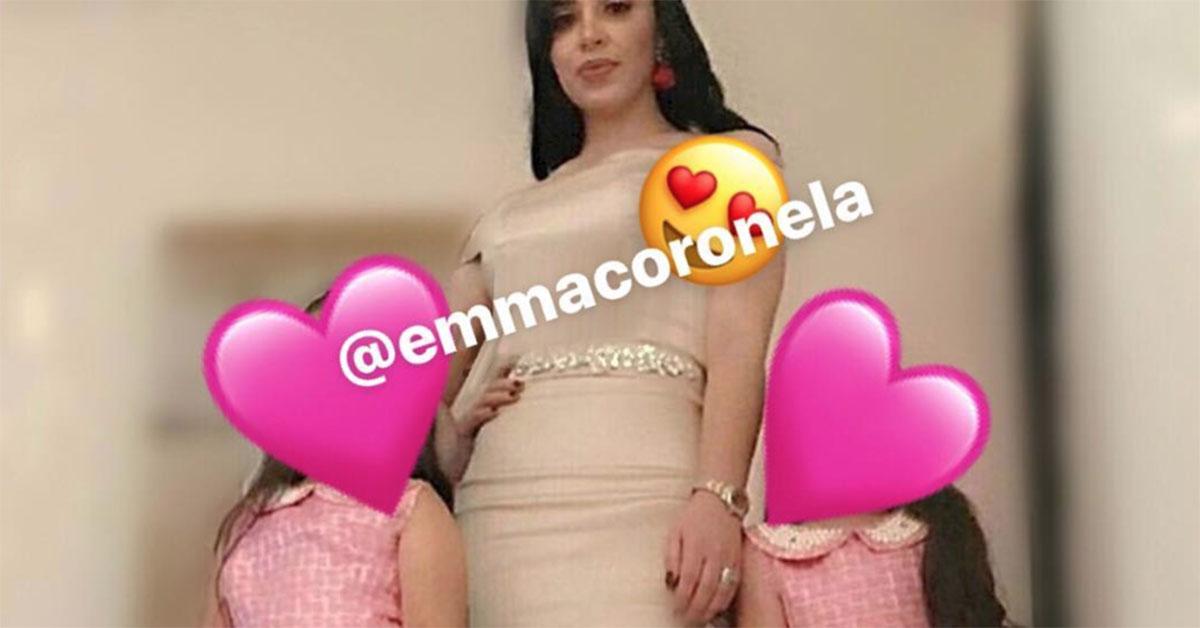 Article continues below advertisement
The couple share 7-year-old twin daughters Emaly and Maria Joaquina — and Emma is known for flaunting her wealth on social media, despite her husband's notorious reputation. "There is no political will in Mexico to seize El Chapo's or any other drug trafficker's assets in the country," a federal law enforcement source told The New York Post before estimating that El Chapo has "hundreds of millions" of dollars in cash, property, and holdings below the border.
El Chapo also has two sons from a previous relationship, Jesus Alfredo Guzman-Salazar and Ivan Archivaldo Guzman, who followed in their father's outlaw footsteps, and are both wanted on drug trafficking charges. This past September, Alfredo, 35, was added to the DEA's 10 Most Wanted List.
And no, his wife and children won't be making a cameo on Narcos: Mexico.
What is El Chapo's net worth? 
In 2009, Forbes estimated El Chapo's net worth at $1 billion, but due to the difficulty in verifying his assets, he was removed from the billionaires ranking completely. More recently, Bruce M. Bagley, an expert on drug cartels, told the media outlet that El Chapo is most likely still a billionaire, estimating his net worth at $2-$4 billion at most.
This means he doesn't have the $14 billion forfeiture prosecutors are seeking if he is found guilty. "The drug business may earn Mexican drug lords up to $20 billion or so a year," Bruce explained. "Much of that money goes into operations and protection. El Chapo probably makes well below a billion per year."