Narcos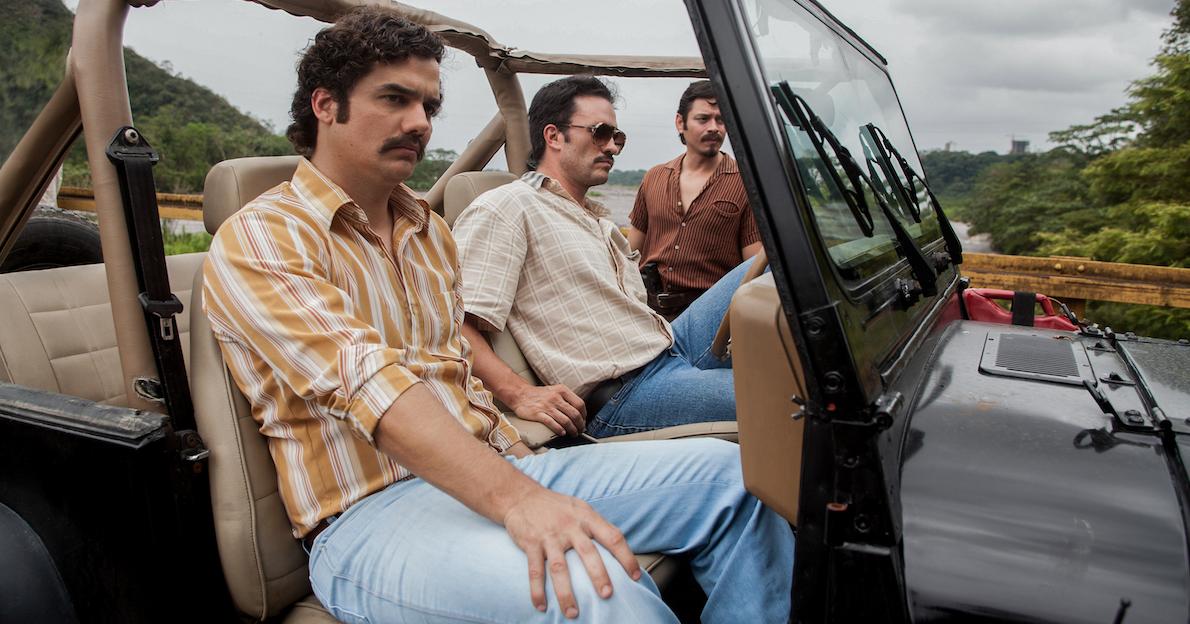 The American drama series Narcos tells the story of the rise and fall of Colombian drug kingpin Pablo Escobar and his interactions with the DEA. Following the death of Escobar, the show followed the rise of the Cali Cartel in his place.
Narcos: Mexico is a companion series and shifts the focus from Colombia to Mexico, and the Guadalajara Cartel led my Félix Gallardo. Other prominent drug lords such as El Chapo and Amado Carrillo Fuentes are also featured on the show.
The final season of Narcos: Mexico premiered in November 2021.
Network: Netflix
First Episode Date: August 28, 2015 / November 16, 2018
Narcos Cast:
Wagner Moura (Pablo Escobar)
Boyd Holbrook (Steve Murphy)
Pedro Pascal (Javier Peña)
Maurice Compte (Colonel Horacio Carrillo)
André Mattos (Jorge Ochoa)
Roberto Urbina (Fabio Ocho)
Paulina Gaitán (Tata Escobar)
Stephanie Sigman (Valeria Vélez)
Bruno Bichir (Fernando Duque)
Raúl Méndez (César Gaviria)
Cristina Umaña (Judy Moncada)
Eric Lange (Bill Stechner)
Damián Alcázar (Gilberto Rodríguez Orejuela)
Alberto Ammann (Hélmer "Pacho" Herrera)
José María Yazpik (Amado Carrillo Fuentes)
Narcos: Mexico Cast:
Diego Luna (Miguel Ángel Félix Gallardo)
Michael Peña (Kiki Camarena)
Tenoch Huerta (Rafael "Rafa" Caro Quintero)
Alyssa Diaz (Mika Camarena)
Joaquín Cosio (Ernesto "Don Neto" Fonseca Carrillo)
José María Yazpik (Amado Carrillo Fuentes)
Matt Letscher (Jaime Kuykendall)
Alejandro Edda (Joaquín "El Chapo" Guzmán)
Fernanda Urrejola (Maria Elvira)
Teresa Ruiz (Isabella Bautista)
Gerardo Taracena (Pablo Acosta)
Scoot McNairy (Walt Breslin)
Alfonso Dosal (Benjamín Arellano Félix)
Manuel Masalva (Ramon Arellano Félix)
Alberto Ammann (Hélmer "Pacho" Herrera)
Flavio Medina (Juan García Abrego)
Bad Bunny (Everardo Arturo "Kitty" Paez)
Luisa Rubino (Andrea Nuñez)
Where to Watch: Netflix
Latest Narcos News and Updates