Meet Sam and James, the Unsuspecting Villains of Netflix's 'Instant Hotel'
Meet 'Instant Hotel's Sam and James. Follow them on social media and learn how to book their not-really Byron Beach house.
If you're new to Netflix's Instant Hotel, all you really need to know about your new obsession is that it's essentially the Australian homestay version of TLC's Four Dresses. In each of the two rounds on Season 1, five teams of two compete against each other to see who has the best short-term rental, and each episode follows the four teams of contestants as they judge and rate the fifth's house. For such low stakes, the show is surprisingly addictive.
Article continues below advertisement
Probably the most satisfying part of the show is the close-quarters drama we experience when the contestants are forced to live in each other's spaces, judging and being judged by them in turn. Because the Australian show, which originally aired on Channel 7, did such a good job at casting Instant Hotel's contestants, each bingeable episode proves more delectable than the last.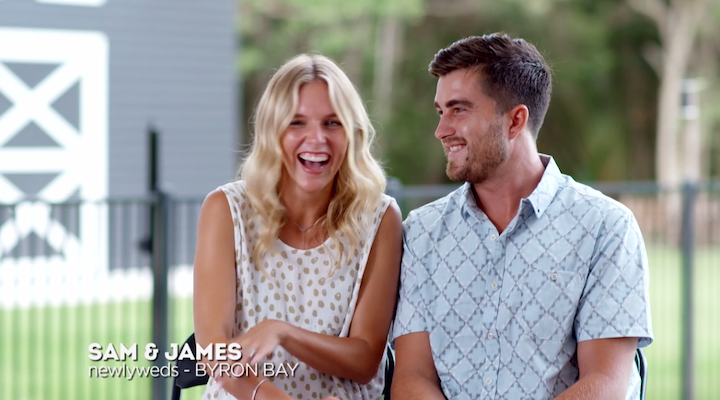 Article continues below advertisement
And even though fans were quick to pick their villainous faves in "fussy couple" Brent and Leroy or even snarky Babe and Bondi (is everyone forgetting insufferable Shay, or the fact that Serena got doxxed by haters for being so unbearably conceited?), I'm here to tell you the boring and straight-laced couple known as Sam and James were the real villains of our new favorite Aussie show.
So, who are Samantha and James?
Yoga instructor Sam and plumber James were described as "newlyweds" when they first appeared on the Australian show, but these days, they've started their own family.
Sam, 25, who used to model under her maiden name, Samantha Cannon, comes off as a bratty prude on Instant Hotel and ropes poor James into seeming about half as annoying as she is. Throughout the many Instant Hotel episodes in which she features, she's continually complaining — "The humidity gave me a headache," "The wine gave me a headache" — even though she claims she doesn't drink and low-key wants her husband to abstain with her.
Article continues below advertisement
These days, the athletic new mom of Bowie, 1 — who raved on the show about loving "pretty much anything to do with fitness" — runs a yoga studio of her own, Yoga + Sculpt. She also boasts "strong self-education within nutrition" and is committed to helping clients realize the "spiritual and physical benefits of practicing yoga."
Article continues below advertisement
As for soft-spoken James, 28, he usually lets Sam do most of the talking. "He was this cool surfy guy, love hearts in my eyes," she says of their high school romance. "We got married just over a year ago, I knew he was the one." While the couple introduces "their" house (I'll get to that later), James only speaks up once or twice. "I work as a plumber," he quietly mentions at one point.
Although he doesn't seem as openly spoiled as his wife, he never calls her out on her prissy ways, like constantly cutting the whole group's fun short because she wants to go to bed at 8, for example.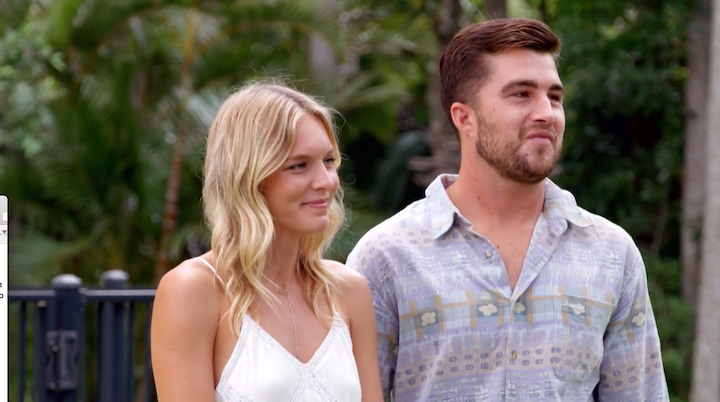 Article continues below advertisement
What's up with Sam and James' house?
Sam and James' gorgeous estate doesn't really belong to them, but to Sam's parents, which the contestants immediately pointed out. That made everyone feel like the playing field wasn't even, as the others were competing with their own residences, not massive familial properties they help manage.
It was also a low-key cult, as Sam and James described to the guests when they first arrived. "About 20 years ago," she said, "there was a man who lived here and he had nine wives. So it was a bit of a cult, one man, nine wives, and 63 children."
If the fact that the property didn't belong to them wasn't enough to annoy the other contestants, the news they were staying on a former cult's property definitely did. When it came time to scoring, Sam and James were completely obliterated with a devastating score of 26 points out of 40. Babe went in on their "misleading" location, while Leroy "took off points for the lack of wardrobe, no air conditioning, and the fact that I'm nowhere near Byron."
This was all compounded by Adam revealing that "people are definitely scoring strategic," which took Sam and James from seething to plotting their total revenge.
Article continues below advertisement
Sam and James became Instant Hotel's unsuspecting villains.
Sam and James were horrified when they heard their score. "I think this property deserves a bigger score than that," said Sam, holding back tears. But once she got the bright idea from Adam to score strategically, she decided to make James take every other future contestant down with them.
Article continues below advertisement
"It was James and I who were giving the lowest scores," Sam revealed in an interview with Now to Love. "I was trying to do little calculations in my head when the scores were revealed. I said to James, 'I think we're the strategic ones!' James and I really didn't know how tough to be. Once we'd set the bar on that first property, we then went against that."
The other contestants went on to call this unsuspecting goody-two-shoes couple the "most conniving" of the lot.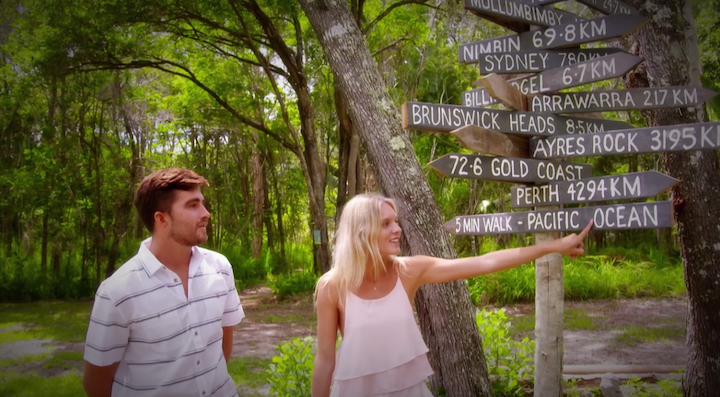 Article continues below advertisement
Sam and James even got in trouble with Byron's mayor.
Although you can still totally book a stay in their house, I have no idea how they're keeping their rental property under wraps after the mayor literally called them out for "non-compliance," saying that instant hotels (or short-term rentals) have "no place" in Byron.
The Gold Coast Bulletin reported that Byron's mayor accused Sam and James of having "a flagrant disregard for Byron Shire Council and thus, the community, which is charged with protecting the rights of residents against unlawful developments." "To see this property promoted on national television as an 'instant hotel' is extremely disappointing given it is not currently complying with council regulations," he went on to say.
Article continues below advertisement
Follow Sam and James on Instagram:
If this article piqued your interest in undercover villains Sam and James, who managed to make enemies out of the other contestants and even an Australian mayor, you can find his page here and her page here. James, who seems to be a surf photographer in his free time, shares his artier images here, on a page he calls "Visual Rhythm." Also, their baby Bowie is 100 percent adorable.
Don't miss Instant Hotel to catch Sam and James' drama and pick your favorite contestant duo on Netflix.