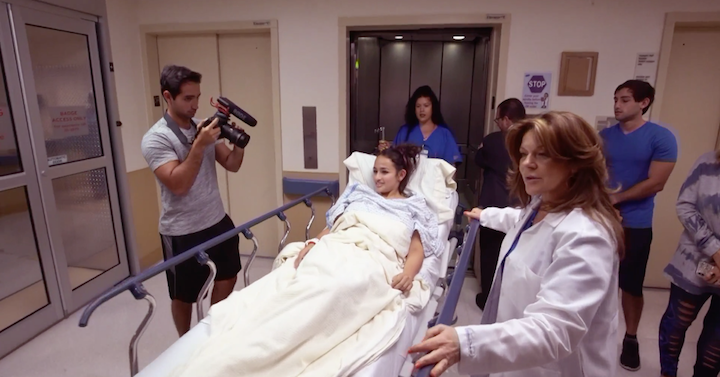 Jazz Jennings Surmounted Surgery Complications and Is "Finally in the Body" She's Always Wanted
By Pippa Raga
Last week's episode of I Am Jazz provided more than just your average TLC emotional roller coaster. After watching the resilient trans teen get in stellar shape, go on her first date, and take her friends to prom in Season 5, the moment finally arrived to see Jazz Jennings undergo her gender confirmation surgery and become physically reborn as the young woman she's always felt herself to be.
"I remember waking up on the day of the surgery and I was feeling pure ecstasy," Jazz recalls. "I was so excited, I was so euphoric, there was not one negative thought going through my head. I thought I would be nervous on the day of the surgery but I was so ready for this."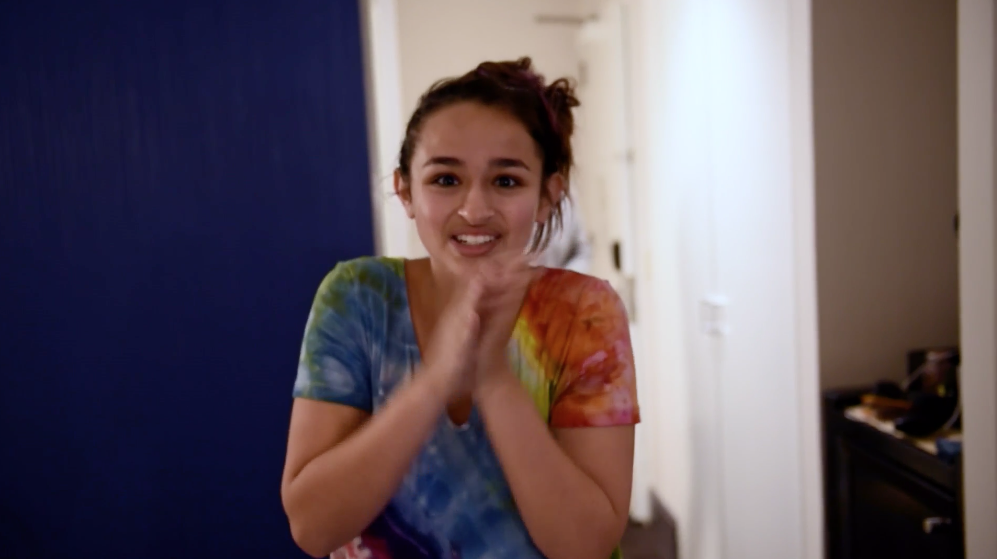 But her operation, which doctors cautioned throughout the season would be "highly experimental" and "potentially complicated" didn't go as smoothly as planned — and she eventually had to return to the hospital for another procedure, she shared with Nightline.
In a trailer ahead of tonight's episode, we hear a doctor mention there's "a tremendous amount of tension on the incisions" and later flash to a pain-ridden Jazz who thinks one of her incisions "just popped."
So, what were the complications of Jazz's surgery?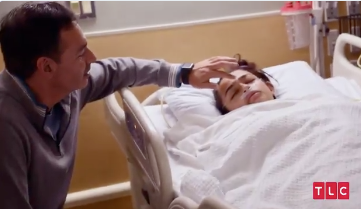 Throughout Season 5, Jazz's surgeon Dr. Marci Bowers has tried to make sure that Jazz's surgery would go as smoothly as possible, even when the Jennings family wasn't so keen on her methods. First, she made the teen lose 30 pounds, which Jazz did willingly, since "surgery is so much more important to me than any slice of cake or pizza."
Then, she wanted to make sure the family would stay in New York with Jazz for three weeks after the surgery, instead of the one week they had initially agreed on. Jazz's mom Jeannette was shocked and upset about the change of plans, which is now compounded by the fact that her own father is sick and in need of surgery.
But Dr. Bowers was especially concerned about Jazz's case because the trans teen had her puberty blocked early on, and she knew she wouldn't be able to perform the gender confirmation surgery in the conventional way.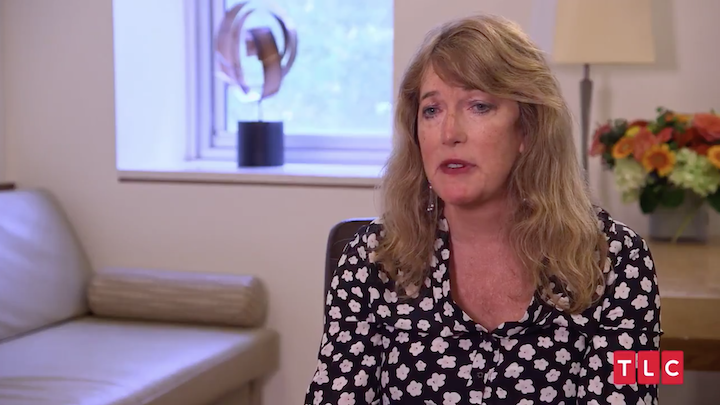 "Jazz as a medical case is really a conundrum because her puberty was blocked so well that she didn't get growth of her genitals in a way that allows us surgeons to use a conventional approach," the doctor explained. "And so we have to be very creative to find new ways of getting tissue to line these areas of the body that we create."
In an Instagram post ahead of tonight, Jazz revealed this evening would hold "the most dramatic" episode yet. "Going into the procedure," she writes, "we knew it would be difficult since I had a lack of genital tissue due to my early suppression."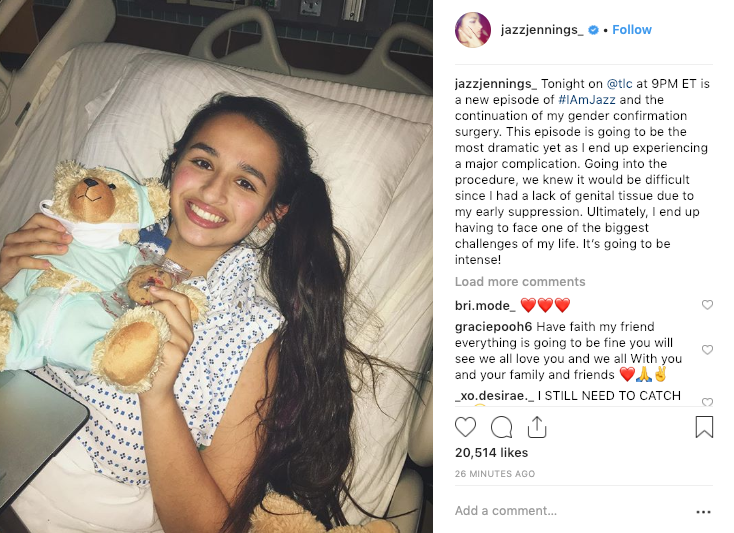 "Ultimately, I end up having to face one of the biggest challenges of my life," she continues. "It's going to be intense!" Although it seems from her profile that the I Am Jazz star ultimately made it out of her surgery OK, tonight promises to be an emotional episode, but one that Jazz felt she needed to share with the world.
"We've been so open and honest with our journey this entire time and when it came to the surgery, it's definitely a very personal step and it's hard to document something so intimate like that, but it's about the education and we wanted to share the message and help other people who want to know about the procedure," she said to the camera.
What is suppressed youth?
Many I Am Jazz fans are wondering why Jazz suffered these surgery complications. The reason that the doctors weren't able to operate in the conventional manner was due to a lack of tissue available to construct Jazz's vagina.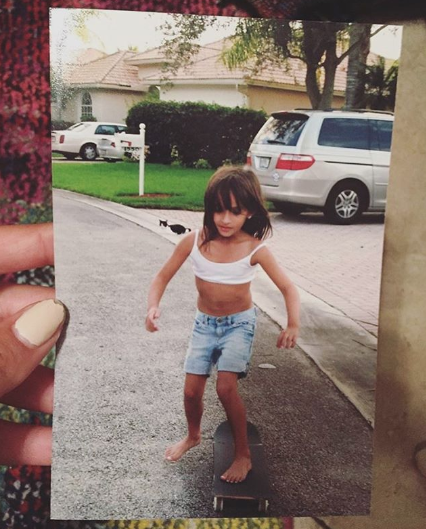 This happened because Jazz and her family were so certain of Jazz's decision to transition from an early age, they blocked her puberty so she wouldn't have to struggle further with her gender.
"Puberty suppression gives young people [with gender incongruence] time to breathe and to explore their gender identity and not have to face puberty — the development of sex characteristics — which can cause great distress," Dr. Ashleigh Lin said in an interview with Endocrine Web.
We know from last season that Jazz's puberty suppression has also had an impact on her dating life, as the teen herself revealed that the "big O" hasn't happened for her yet. Due to the hormone blockers she's been taking for years, she admitted to Dr. Bowers that "My libido's still basically nowhere."
But Jazz is "not worried about suppression having long-term effects."
"I know that once I fall in love and I really admire another individual, I'm going to want to have sex with them," she told her doctor.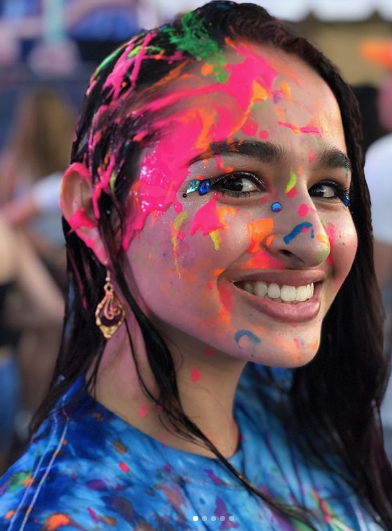 Update: Jazz is happier than ever in her body today.
After her surgery back in October, the teen star is doing better than ever. "There were some setbacks and complications," she said, "but I was able to get through it and now I'm doing wonderful and just so happy to finally be in the body that I've always wanted."
Don't miss tonight's dramatic episode of I Am Jazz on Lifetime at 9 p.m.