Chair Purchased for $50 on Facebook Marketplace Sells for $85,000 — OG Seller Knew Its Value!
Here's the story of a $50 Facebook Marketplace chair that sold at auction for $85,000 and how the original seller actually knew it was very valuable.
The tale of how a very valuable Frits Henningsen wingback chair purchased for $50 on Facebook Marketplace went on to sell at auction for a jaw-dropping $85,000 is one you have to hear to believe.
Article continues below advertisement
The rare collective, which people will also see in an Architectural Digest video featuring actor Kirsten Dunst's home, is one of only 50 ever made. And as TikTok creator @mitzermiller shares in a series of videos, the original seller knew how valuable the piece was, and still parted with it, to his serious benefit.
The original seller knew the chair was extremely valuable, so why did they part with it?
Justin Miller knew he had come across a valuable chair on Facebook Marketplace, but would later learn it's a "rare collector's piece as well."
Still, the L.A.-based creator was able to purchase the wingback for $50.
Article continues below advertisement
Upon sharing the deal he had scored, Justin found himself at the center of a controversy. Commenters to his TikTok demanded to know how he could essentially take advantage of the seller.
While Justin asserted he wouldn't want to do such a thing, he also noted in his TikTok that it's "not the buyer's responsibility to inform the seller how much their item is worth."
To be fair, with Justin joking Google is free, the seller did indicate she knew the chair was valuable, according to him. And, when he looked up the Beverly Hills home where he picked up the piece, its value was listed at a cool $6.3 million — meaning the seller is doing OK financially.
Article continues below advertisement
In fact, Justin got the feeling that this was a rich couple who was purging their home of a lot of items, and wanted a quick transaction when it came to their chair.
Article continues below advertisement
The lucky purchaser went on to auction off the item for a jaw-dropping sum.
Months later, Justin posted a video of the live auction that saw his $50 chair with a starting bid of $22,000. Not too shabby for a $50 purchase, right?
Meanwhile, having researched the value of the piece, Justin informed his followers that he came into the auction wanting $40,000 — but feared the auction wouldn't go as well as he'd hoped.
Article continues below advertisement
Not to worry, as he then watched the auctioneer steer the bidding up to $50,000, and the sale price finally settle at — wait for it — $85,000! Justin breathily claimed there isn't too much that he gets excited over, but this situation certainly merited his enthusiasm.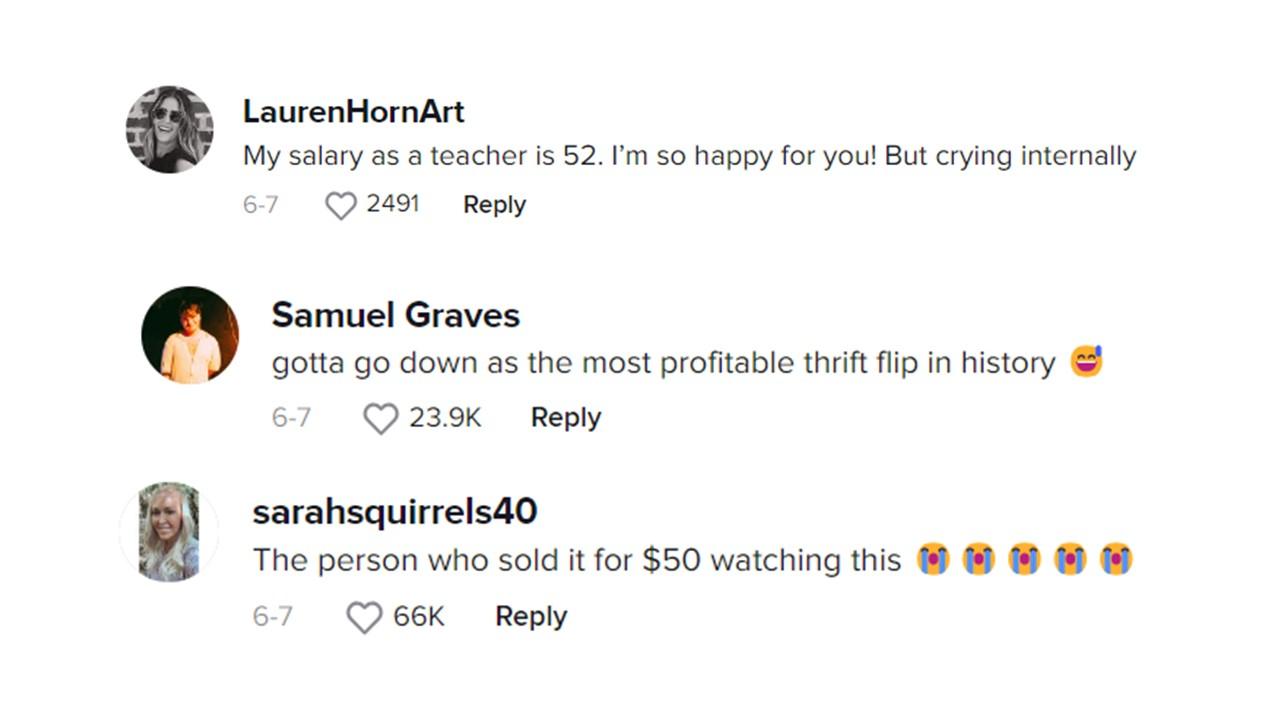 Article continues below advertisement
Comments to the auction video were in awe of how he'd turned such an impressive profit. Even Sotheby's auction house where his item was sold responded to the TikTok by saying, "Congratulations! These are the moments we live for."
Meanwhile, many other commenters pondered how someone could spend $85,000 on a chair, with one person joking, "Rich people are wild." Someone else intoned that "there's something wrong with the world" when a person spends this kind of money for a piece of furniture.
Article continues below advertisement
But as Kirsten explained about her own Frits Henningsen wingback chair, which resides in her 1930s ranch house in the San Fernando Valley, "That was a Spider-Man purchase."
Fair, Kirsten. But the rest of us will be over here scouring Facebook Marketplace for our $50 find, hoping for even a shred of as much luck as this story has yielded!