Adriana Chechik Suffered Some Serious Injuries in the TwitchCon Foam Pit
Adriana Chechik sustained injuries in the Twitchcon foam pit. Here's what happened.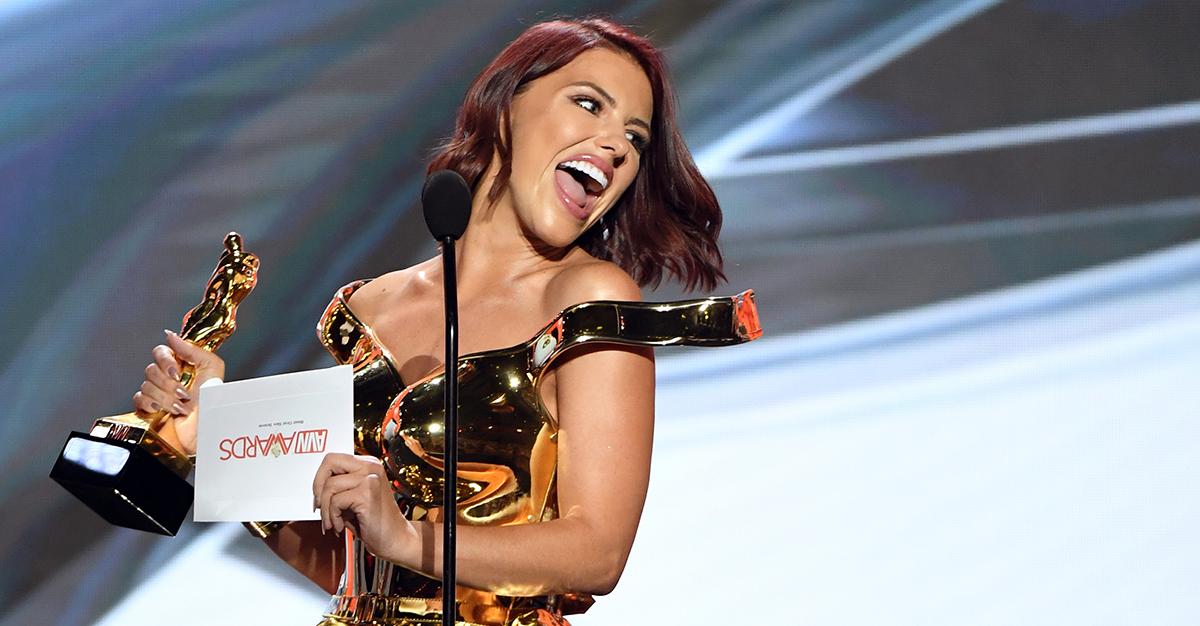 Our regularly scheduled Twitch drama is still going strong. TwitchCon occurred over the weekend of Oct. 7. As the name suggests, it's an annual convention hosted by the popular livestreaming platform. The event is a celebration for streamers and grants them the opportunity to grow their individual brands. Content creators, industry professionals, and fans alike are encouraged to attend and celebrate the community.
But it seems that not even TwitchCon is immune to the recent drama.
Article continues below advertisement
Amidst gambling crises, harassment allegations, and ongoing feuds among content creators, multiple notable streamers were reportedly injured during a TwitchCon event. Among them, streamer Adriana Chechik suffered serious back injuries after leaping into a foam pit at the San Diego-based conference. Here's everything you should know about the incident
Article continues below advertisement
Streamer Adriana Chechik suffered injuries at the TwitchCon foam pit.
Aside from her work in the adult film industry, Adriana Chechik is best known for her Twitch channel. She's previously streamed herself playing games like Sekiro: Shadows Die Twice and Final Fantasy VII Remake. She has also dabbled in titles like Elden Ring and Fortnite.
As a regular streamer, she was naturally in attendance at the 2022 TwitchCon event. Unfortunately, she would end the weekend in the hospital.
Adriana reportedly sustained serious injuries after jumping into a pit full of foam blocks. Video of the incident shows her leaping into the pit and landing squarely on her tailbone, likely hitting the floor at the bottom of the pit. She was unable to get up from the pit without assistance.
Adriana later tweeted on Oct. 9, confirming the nature of her injury.
She posted: "I broke my back in two places and am getting surgery to put a meter rod in for support today."
Article continues below advertisement
Adriana wasn't even the only person to have gotten hurt jumping into the foam pit. Streamer LochVaness confirmed that she dislocated her knee and sprained her ankle after falling into the pit.
LochVaness later tweeted: "I will never be able to trust Twitch at another convention in my entire life."
Article continues below advertisement
According to BuzzFeed News, the pit was organized by computer manufacturer Lenovo. BuzzFeed also reports that the pit was not necessarily up to code, as the pit was less than two feet deep. Professional foam pit manufacturers even suggest that the recommended depth is between 6 to 8 feet.
A representative of Lenovo recently reached out to IGN to comment on the incidents and address those who were harmed in the foam pit.
Lenovo told IGN: "We are aware of the incidents of TwitchCon visitors who sustained injuries in the gladiator game soft foam pit at the Lenovo booth. Safety remains our top priority and we are working with event organizers to look into the incidents."
As of this writing, Twitch has not made any statement to outlets regarding the injuries sustained at TwitchCon.