These Tips Will Help You Defeat All Frox in 'Tears of the Kingdom'
Frox are one of the new bosses introduced in 'Tears of the Kingdom.' Here's how to defeat the frog-like Depths creature and where to find them all.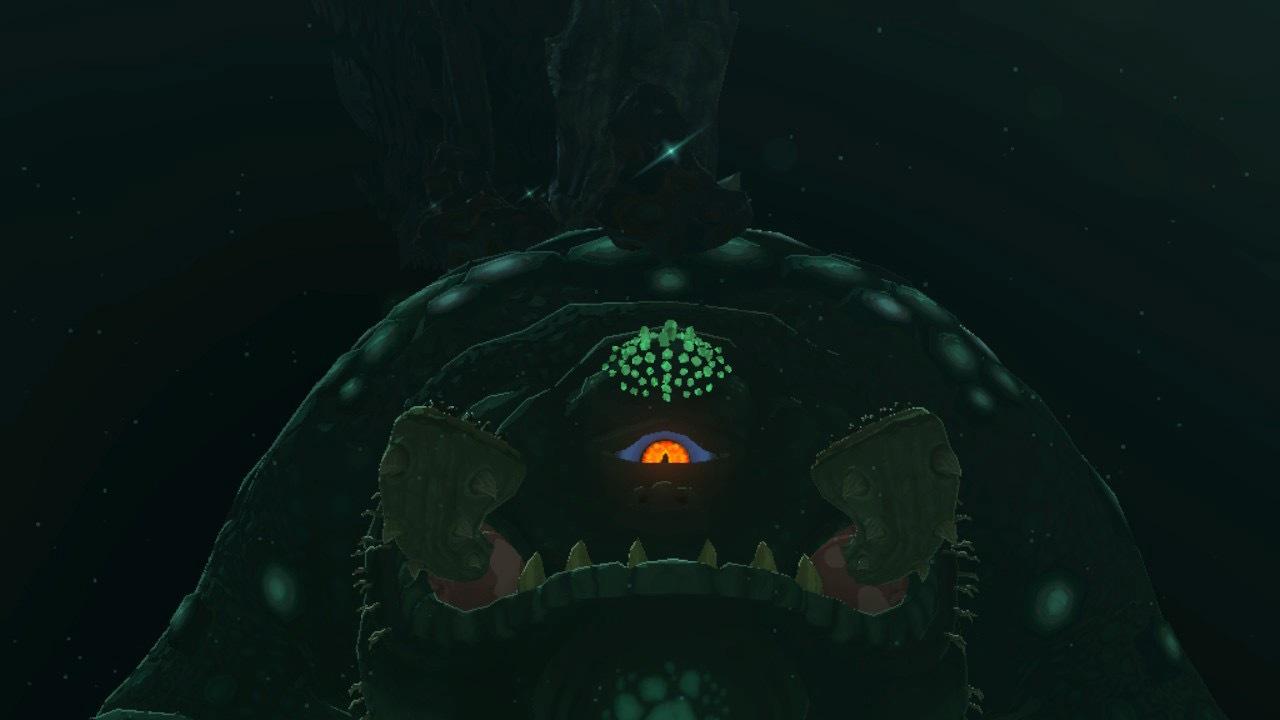 The long-awaited Tears of the Kingdom added so much to the original Breath of Wild map, expanding the map's original size with the addition of the Sky Islands and the Depths.
Among the Depths, there are also a few new boss monsters to face off against, including the Frox. Though there are smaller versions of this monster scattered around the dreary underground, the bigger Frox are bosses dropping a lot of loot you'll want to get. Here are all of the Frox locations in TotK and how to beat them.
Article continues below advertisement
How to beat a Frox in 'Tears of the Kingdom.'
Similar to the Hinox, you'll want to stun a Frox to deal the most damage to it. This can be done by shooting arrows into its eye when open, forcing it to collapse on the ground. Frox are also an excellent source of Zonaite, as there are often ores of it on its back. To deal optimal damage, you can climb onto it while it's stunned and use a hammer to break apart these ore deposits. Not only will you come back with a lot of Zonaite, but you'll take down the ferocious Depths boss.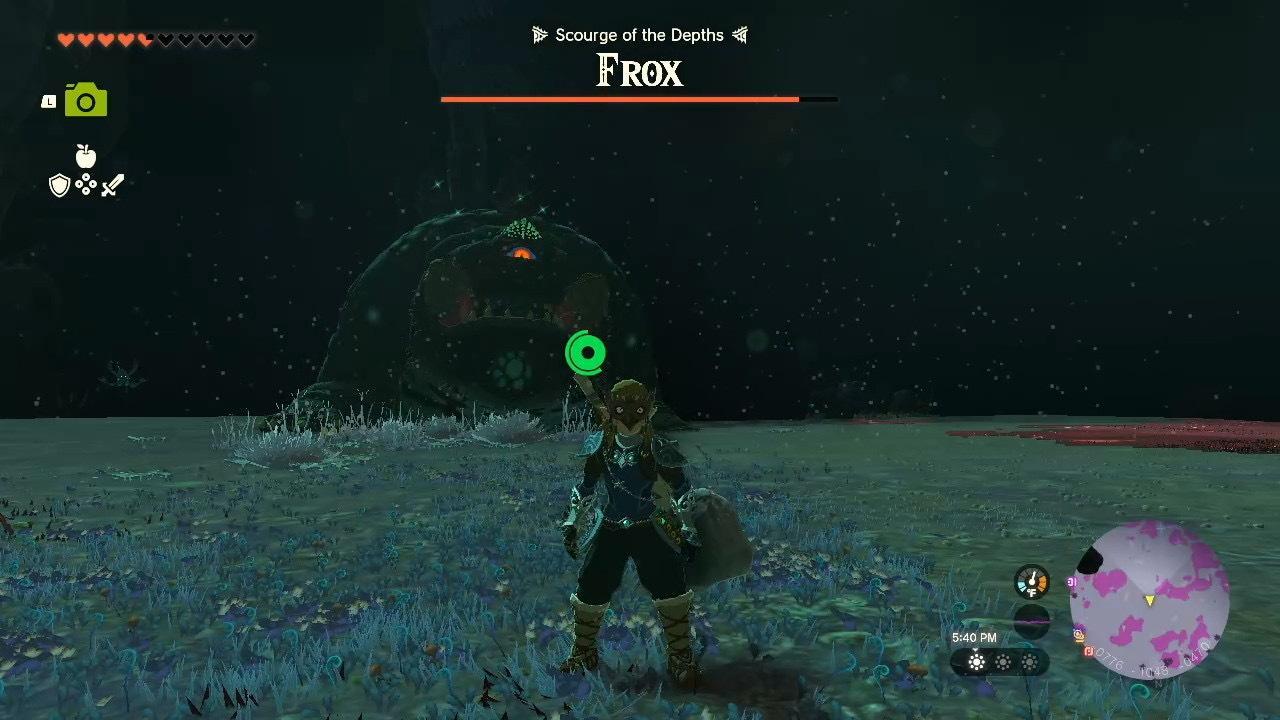 Article continues below advertisement
The Frox also has the ability to suck you up in a big gulp; if you find yourself being sucked into its maw, you can shoot a bomb arrow into its mouth to save yourself. This will, of course, also deal damage, though since Bomb Flowers aren't easy to come by, you may want to save them as much as possible.
All Frox locations explained.
Once defeated, a Frox will drop Frox Fang (with different variations for the different Frox colors), Frox Fingernails, and Frox Guts. All of these can be used in different ways, whether you want to use them to cook elixirs or attach to a weapon to increase its damage.
Article continues below advertisement
The listed locations are the closest point of interest to the Frox, meaning you'll have to go to the exact coordinates listed if you want to find it. That said, these points of interest are a good place to start, and if you're trying to farm Frox item drops, then you can start at one point of interest and try to find all of the Frox listed near it.
Article continues below advertisement
| Frox Location | Coordinates |
| --- | --- |
| Granajh Canyon Mine | -0380, -3195, -0466 |
| Great Abandoned Central Mine | -0874, -2872, -0515 |
| South Lomei Depths Labyrinth | -2436, -3170, 0475 |
| South Lomei Depths Labyrinth | -2739, -3334, -0441 |
| South Lomei Depths Labyrinth | -1905, -2684, -0589 |
| Abandoned Gerudo Mine | -3397, -32,62, -0468 |
| Abandoned Kara Kara Mine | -2203, -1964, -0583 |
| Great Abandoned Central Mine | -0776, -1056, -0470 |
| Great Abandoned Central Mine | -0285, -1800, -0461 |
| Plains Bargainer Statue | 0208, -0876, -0477 |
| Giant's Grove | -0585, 0243, -0463 |
| Minshi Grove | 2083, 1725, -0752 |
| Blue-White Frox Location | Coordinates |
| --- | --- |
| Ancient Observation Deck | 2108, -3557, -0448 |
| Abandoned Kara Kara Mine | -3646, -1535, -0803 |
| Abandoned Kara Kara Mine | -4713, -1283, -0939 |
| Cuho Canyon Mine | -3722, 0974, -0551 |
| Cuho Canyon Mine | -3861, 0562, -0573 |
| Plains Bargainer Statue | 1072, -0091, -0465 |
| Apapes Lightroot | 0224, 0917, -0472 |
| Hyrule Castle | 0730, 0838, -0465 |
| Abandoned Hebra Mine | -2252, 1962, -0713 |
| Cliff Bargainer Statue | -1809, 2425, -0676 |
| North Lomei Depths Labyrinth | -1744, 3656, -0677 |
| Corvash Canyon Mine | -3199, 2642, -0887 |
| Sherfin's Lavafalls | -4421, 2688, -0666 |
Article continues below advertisement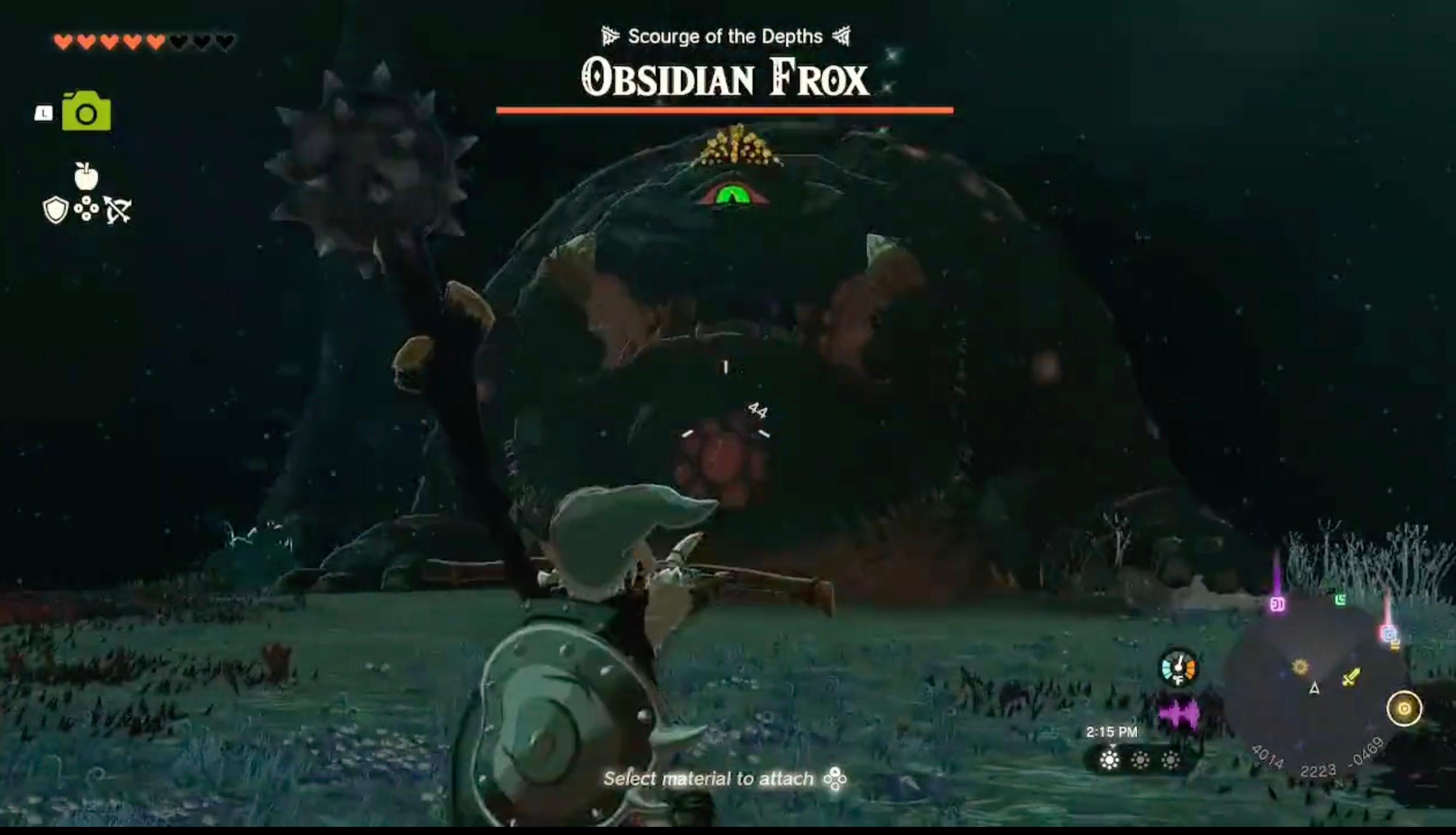 | Obsidian Frox Location | Coordinates |
| --- | --- |
| Floria Canyon Mine | 0765, -3372, -0476 |
| Abandoned Kara Kara Mine | -3039, -2732, -0463 |
| Abandoned Gerudo Mine | -4104, -2620, -0491 |
| Abandoned Gerudo Mine | -4676, -3481, -0467 |
| Abandoned Hebra Mine | -2258, 0413, -0549 |
| Giant's Grove | -1652, -0395, -0498 |
| Lindor Canyon Mine | -1301, 0974, -0541 |
| Cliff Bargainer Statue | -0862, 1757, -0545 |
| Cliff Bargainer Statue | -0931, 2833, -0619 |
| Gleeok Den | -0165, 2895, -0616 |
| Gleeok Den | 0513, 3444, -0592 |
| Rist Mine | 4003, 2167, -0469 |
| Ploymus Canyon Mine | 4122, 1026, -0684 |
| Abandoned Lanayru Mine | 2507, 0819, -0500 |
| Abandoned Lanayru Mine | 3000, -0787, -0513 |