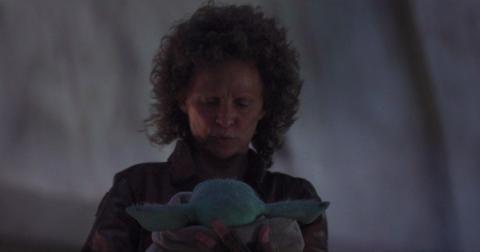 Move Over Baby Yoda! Amy Sedaris' 'Mandalorian' Cameo Has Fans Asking For More [SPOILERS]
By Jacqueline Gualtieri
Baby Yoda may have spawned a million memes, but there's a new character on The Mandalorian that may be going for the title. In the fifth episode of The Mandalorian, fans were introduced to Peli Motto in a special celebrity cameo. Amy Sedaris brought the repairwoman to life and fans of the actress are already asking for more of Peli.
What's Amy Sedaris doing in The Mandalorian?
Amy was the latest celebrity cameo to appear in the Disney Plus show. Her character, Peli Motto, is a repairwoman who works at the spaceport at Mos Eisley on Tatooine. When the Mandalorian's ship lands on the planet in need of repair after a battle, she takes on the job of fixing "Razor Crest". But when she finds Baby Yoda aboard the ship, she promises to look after him.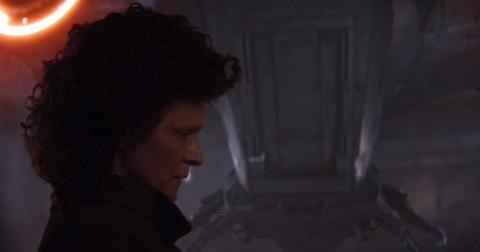 Unfortunately for her, when a bounty hunter who had hired the Mandalorian for assistance with a job finds out that the gunfighter is wanted by the Bounty Hunters' Guild, she's taken as a hostage along with Baby Yoda. When the Mandalorian comes to kill the bounty hunter, she assists in the recovery of Baby Yoda.
Fans were excited to see the actress on Tatooine, but also a little confused.
The cameo has received excitement with just a little bit of criticism. Many fans are comparing Peli's attitude with Baby Yoda, along with her look, to Sigourney Weaver's Ellen Ripley in Alien.
Her look, though somewhat similar to Ellen Ripley's, got some fans talking, particularly the wig that was chosen for her to wear. The wig is reminiscent of the Alien character, although some fans are saying it's a bit of a more extreme version. Some viewers said the wig threw them so much that they didn't recognize that it was Amy in the costume.
Ultimately, though, fans agree that Amy Sedaris in The Mandalorian is more than worth a watch.
So will there be more Amy and Peli in the Star Wars universe?
Most likely, no. There have been other celebrity cameos throughout the series so far and it seems likely that they will remain cameos. The show has already had appearances by Horatio Sanz, Taika Waititi, and Giancarlo Esposito.
The fifth episode of The Mandalorian was somewhat of a nostalgic throwback, complete with a return to the Mos Eisley Cantina and someone even makes a mention about having the high ground. At first glance, the episode is a love letter to A New Hope but throughout the episode are more and more references to other movies throughout the series.
Having one very nostalgia-filled episode is one thing but if the Mandalorian just went to Tatooine every episode, the series wouldn't develop much.
So will we see more Peli in the future? The answer is that there has been no confirmation that she won't return, but it seems unlikely, unless the Mandalorian has to make another pit stop in the future.