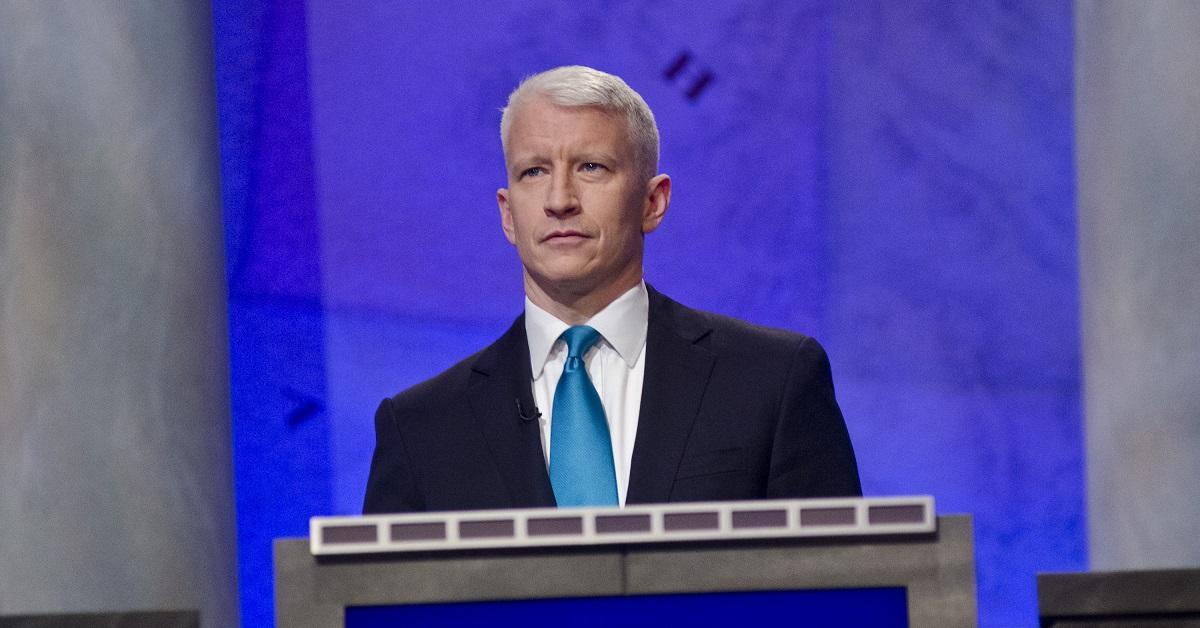 CNN Anchor Anderson Cooper Is Just the Latest to Take Over as 'Jeopardy!' Host
Although no one can fill the shoes left behind by Alex Trebek, there are plenty of famous trivia-lovers who are lining up to try. Following a hosting stint from Green Bay Packers quarterback Aaron Rodgers, CNN anchor Anderson Cooper is now stepping in to host Jeopardy! from April 19 through April 30. Now that Anderson is stepping into the role, many want to know what he's being paid.
Article continues below advertisement
What is Anderson Cooper's salary as 'Jeopardy!' host?
Anderson's exact salary for his role hosting Jeopardy! is unknown, although it was fairly widely reported that Alex Trebek was making roughly $10 million a year to host the show at the time of his death. Given Anderson's limited run as host, he'll likely be making far less than that. Regardless of how much he gets paid to host Jeopardy!, though, Anderson isn't exactly hurting financially.
Article continues below advertisement
As an anchor on CNN, Anderson is reportedly making roughly $12 million a year and has a net worth of about $200 million. Regardless of what he's getting paid for Jeopardy!, it's not likely to change his financial outlook very much.
Ultimately, though, it seems like money may not be the reason that Anderson decided to return to Jeopardy!, this time as the host.
Anderson is excited about his chance to host.
Anderson has already been a contestant on Jeopardy! on four separate occasions, but as he explained in a video promoting his stint as host, being in the host role is an entirely different type of thrill.
"To be a contestant, I was so freaked out when I did that," Cooper said. "And, you know, I've done it four times. I won twice. I lost really badly twice. It's definitely better to win."
Article continues below advertisement
"Just to be on 'Jeopardy!', whether as a contestant or guest host, is just – even in the audience – it's just thrilling to watch, you know?" he continued. "When you've watched something your entire life, and you really enjoy it, and you really just feel a part of a larger kind of family and fan base, to suddenly be inside it is extraordinary. And I can't believe I'm here."
Article continues below advertisement
Anderson is just the latest guest host on the show.
For the time being, it seems that Jeopardy! and its producing team are happy with bringing in guests to host the show for fairly limited runs. After Anderson is done hosting, the next guest hosts will be actress Mayim Bialik, 60 Minutes correspondent Bill Whitaker, Today host Savannah Guthrie and CNN chief medical correspondent Dr. Sanjay Gupta.
Prior to Anderson and Aaron, there had also been a slew of other guest hosts on the show. At the moment, it's unclear whether all of these guests would be interested in hosting the show full-time, or whether some of them are just passing through for a guest stint. There's been no word on who will replace Alex Trebek permanently, and we also have no sense of when that decision might be made.