Anna Marie Tendler's Joke Accusing Taylor Swift of Plagiarizing Her Art Backfired
On TikTok, artist Anna Marie Tendler accused Taylor Swift of plagiarizing her art in her Eras set design. Was it all a big joke?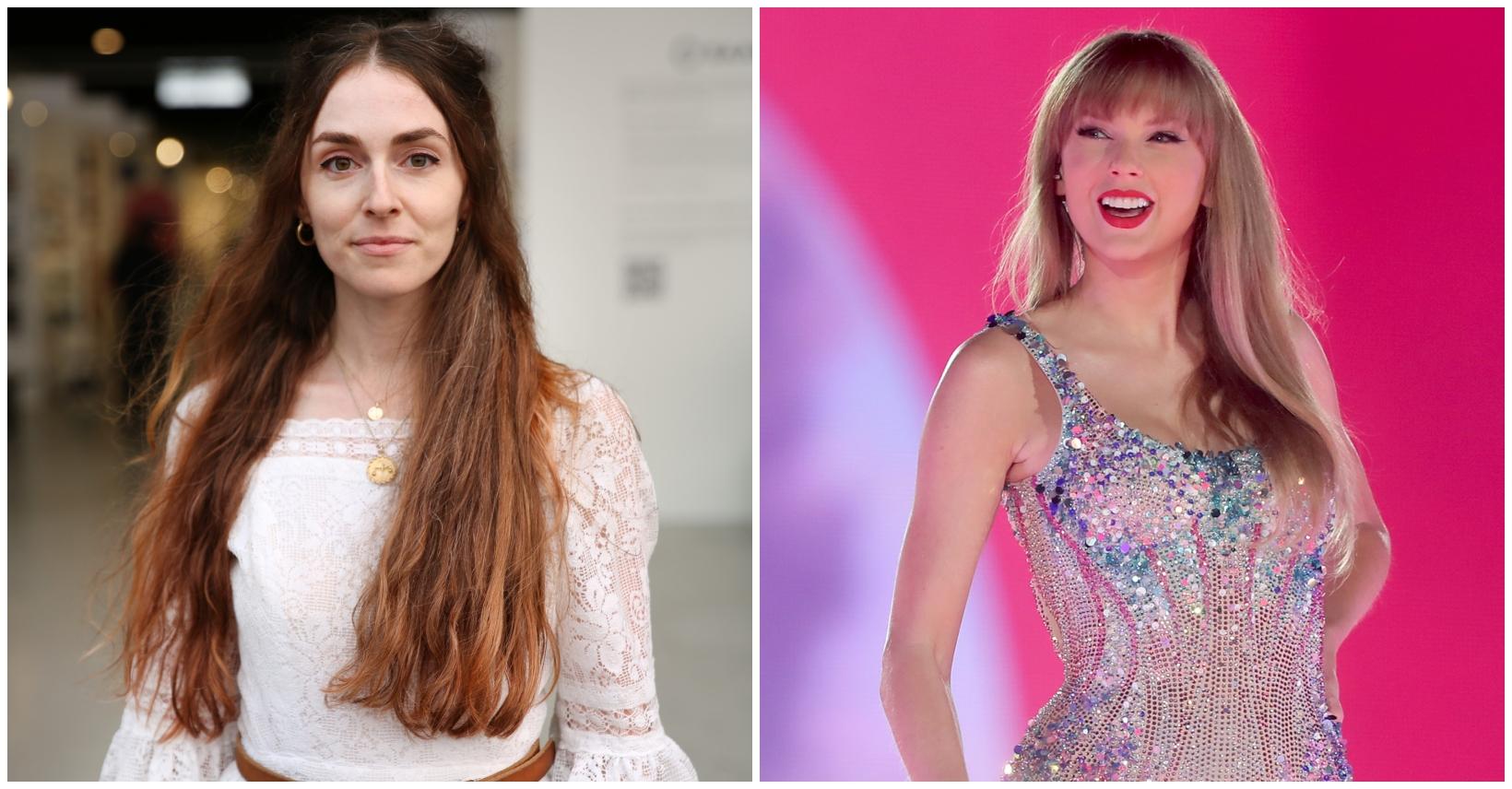 Artist Anna Marie Tendler, the former wife of comedian John Mulaney, recently made a joke that wasn't received all too well. On TikTok, Anna made a bold statement about Taylor Swfit's set design for the Eras tour, which kicked off on March 17. Long story short: Anna's video caused a huge commotion amongst Swifties. What did she say in it? Keep reading to find out.
Article continues below advertisement
Anna Marie Tendler accuses Taylor Swift of plajarizing her artwork.
"My girl. People who designed Taylor's tour. This setup looks strikingly like one of my photographs in tone and aesthetics," said Anna in her now-deleted TikTok. Anna first showed a clip of pre-recorded footage of Taylor by a table that had played during the Eras tour. Then she showed her sold-out piece, "Dinner in March," which is priced at $5,000.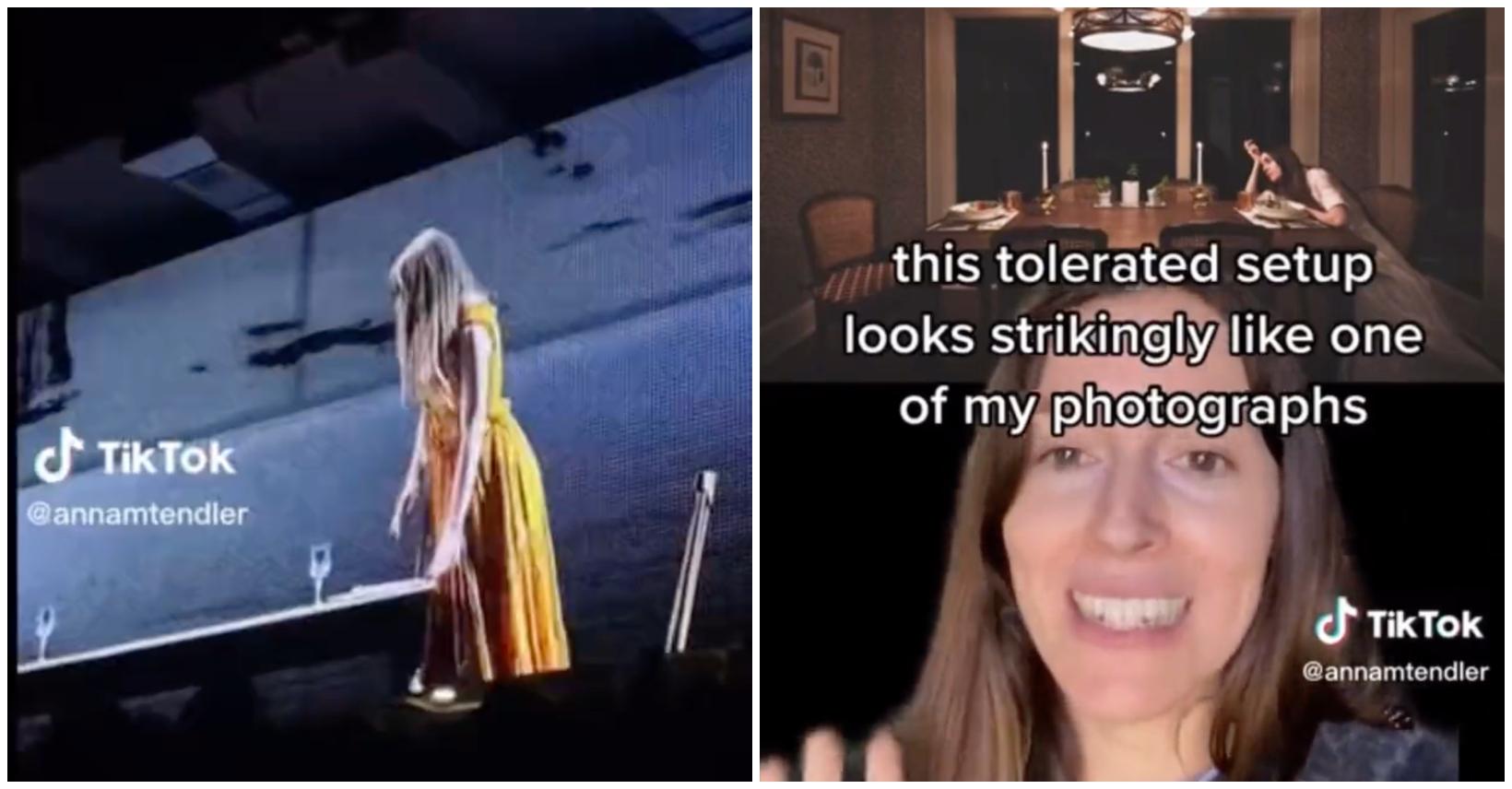 Article continues below advertisement
Anna continued: "Um, it doesn't totally feel like parallel thinking to me. I'm a small artist, an independent artist who is trying to make money and live off of my artwork. I don't know what to do about this, and maybe someone can help me."
Swifties were not pleased with Anna's remark. "Like, this has to be satire right? She can't seriously be accusing Taylor Swift of stealing her idea of setting a table," wrote one user.
It wasn't long before Anna deleted the video and made her account private — but it was already too late. A screen recording of Anna's TikTok was making the rounds on the internet, confusing viewers alike.
A Reddit thread was even created to discuss Anna's video.
Article continues below advertisement
One user wrote that Anna accusing Taylor of copying her art was "embarrassingly delusional." Another user added: "It's a dinner table, yo. This barely qualifies as similar, let alone plagiarism."
Article continues below advertisement
Trying to clear her name, Anna took to the comment section of a TikTok video where her deleted video continued to be shown via screen recording: "Hi! This was meant to be a joke. Most of my videos are jokes or satire! When I realized it wasn't landing as a joke, I deleted it. Didn't mean offense."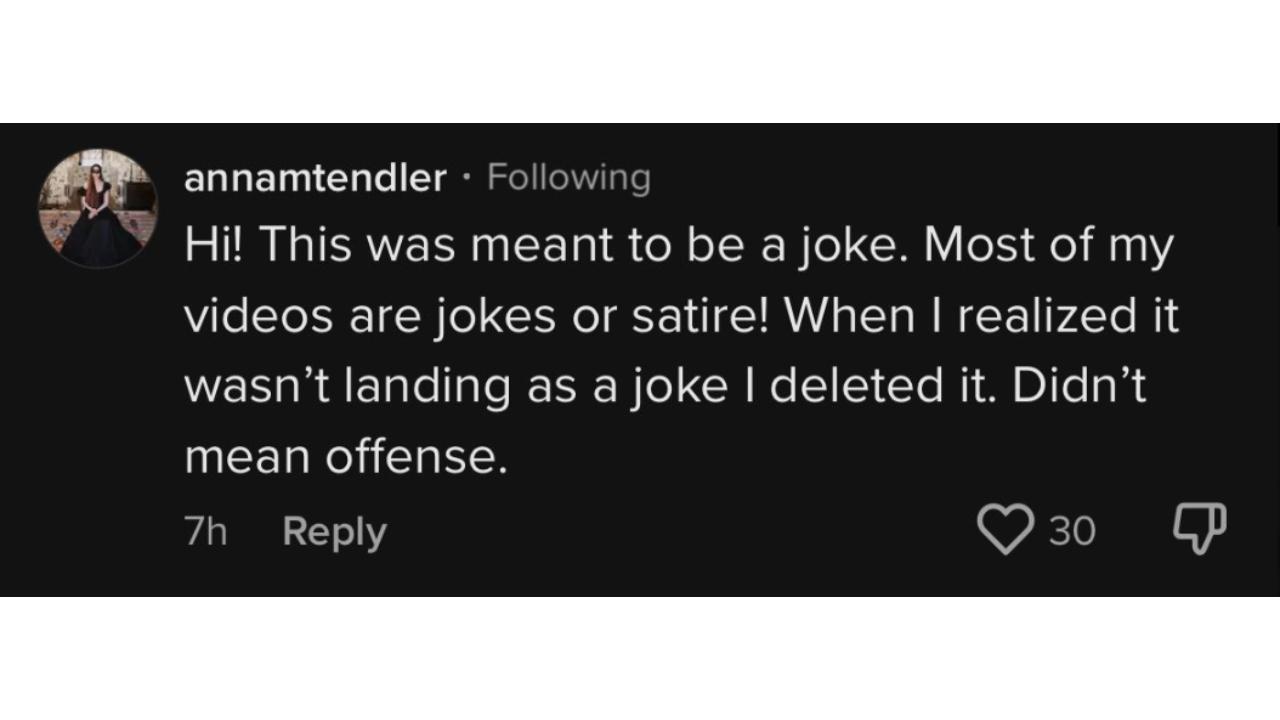 Article continues below advertisement
After Anna's statement, her fans even took to her defense. "It's a joke! That's just her sense of humor, I'm like 99.9 percent sure she's a Swiftie, and she is NOT a small artist," opined one.
Still, others were unable to wrap their heads around Anna's joke explanation. "Yeah right, LOL," wrote one user. Others joked that Anna had "really poor humor."
So, was it actually a joke? Taylor's fans don't think so. Hopefully, if Anna ever makes another joke about Taylor, she'll run it by a Swiftie first.