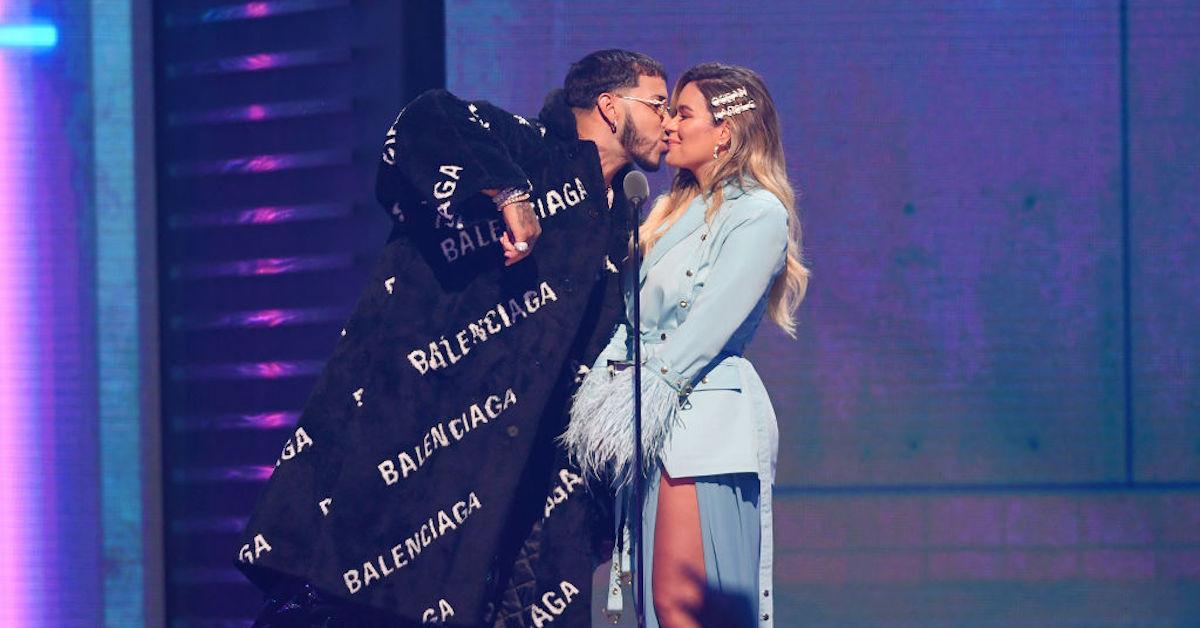 "Este Año Hay Boda" — Here's What We Know About Anuel AA and Karol G's Engagement
By Pippa Raga

Oct. 19 2020, Updated 10:04 p.m. ET
Rapper Anuel AA and singer Karol G have been pretty private about their relationship from the start. The couple famously got together before ever meeting in person, and kept their affair private for months after they became an item, despite the many rumors swirling around them.
Article continues below advertisement
They finally made their debut as a couple at the 2019 Billboard Latin Music Awards and almost a year later, they were once again caught up in the rumor mill, this time with fans wondering whether there would be wedding bells in the couple's future. So, are Karol G and Anuel AA engaged? Keep scrolling to find out.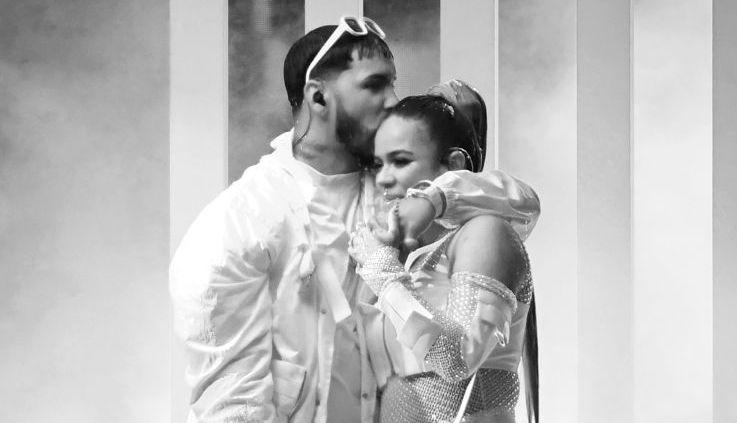 Article continues below advertisement
Are Karol G and Anuel AA engaged?
Yes, Karol G and Anuel AA are engaged and the couple has even made it Instagram-official. On Jan. 1 of 2020, Anuel AA took to his Instagram to share a post of the adorable couple both dressed in white, with the caption, "Este año hay boda," suggesting a wedding was in store. 
While there doesn't appear to be an official date yet, the urbano star's caption pretty much sums it up and if you look closely, Karol G is definitely sporting a shiny ring on that finger.
It's certainly been a whirlwind romance for the couple, who first got together in 2018. Their story started when Karol G reached out to Anuel AA to record a remix for "Ahora Me Llama," but Anuel was unable to do so because he was serving a 30-month sentence for illegal possession of firearms.
Article continues below advertisement
After Anuel was released however, fans were quick to notice the rapper leaving numerous affectionate comments on Karol G's posts. The couple hadn't even met in person but a month later, they were chatting daily on the phone and soon they wrote and released the song "Culpables," which translates to "Guilty," about a couple that falls in love while dating other people. 
Article continues below advertisement
The song seems appropriate given that both Anuel and Karol were in different relationships at the time when they first started talking. After the music video for "Culpables" dropped, the rumors understandably went into overdrive. 
However, both artists stuck to the story that they were "just friends" for a couple more months before taking a skiing trip to Colorado for Anuel's birthday and making their relationship Instagram-official. 
"26 years of experiences, of living, of struggles, of learning. It's not a lot what I'm going to write to you here, you more than anyone know what I think; hopefully other people can see what I see in you. All I can say is I've had the honor to know your heart and fall in love. I'm so proud of you—you're a giant. Happy birthday and cheers to many more. I love you Emmanuel," Karol captioned the picture in Spanish.
Article continues below advertisement
Finally, in April of 2019, they came out as a couple at the Billboard Latin Music Awards. Anuel credits Karol for a lot of changes in his life. He told Billboard magazine, "With Karol, I'm calmer, I have more inner peace. I've learned to be a better person." The couple appears to be very serious about one another, with Karol and Anuel both tattooing each other's real names, Carolina and Emmanuel, on their hands. Anuel also has a picture of the two of them on his back.
Since becoming an official couple, Karol and Anuel also released the song "Secreto," with a music video that gave fans an inside look into their private moments together. But while Karol and Anuel have opened up about their relationship, there's still a lot that they're keeping private. 
The couple hasn't revealed how Anuel proposed or whether they've set a wedding date, but Anuel told Billboard that though they've had to put some plans on hold because of the COVID-19 pandemic, "this year, God willing we'll get married."