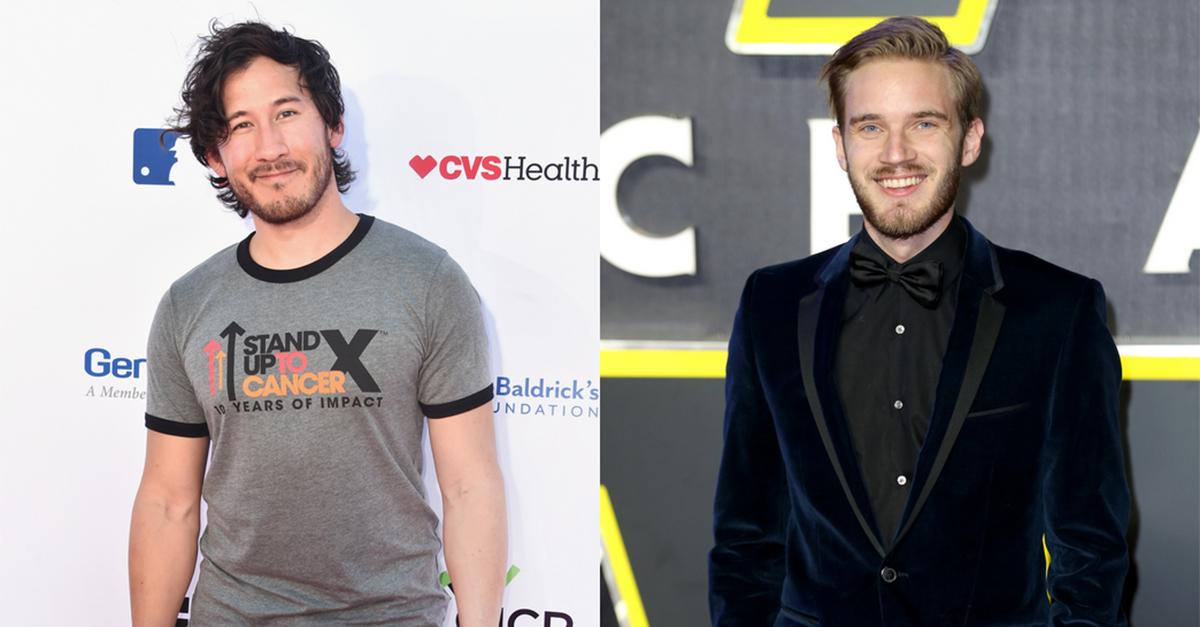 Markiplier and PewDiePie Were Once Close Friends — What's the Deal With Their Friendship Now?
Are Markiplier and PewDiePie still friends? The popular streamers/YouTubers have previously collaborated on streams on each other's platforms.
Streaming has become a sizeable part of the entertainment industry, with online personalities amassing enormous followings by playing video games in front of an audience and providing commentary. Many have come out of the woodwork over the past decade or so, allowing regular folks to reach celebrity stardom as long as they're live on YouTube, Twitch, or any other social media platform that allows folks to stream. It's most popular among gamers, but people will stream just about anything.
Article continues below advertisement
Of course, the streaming community lends itself to plenty of crossover. Popular streamers are known to collaborate with each other, whether they hop online to play games with each other from afar or even participate in events together. Some real friendships can even be forged through content creators streaming together.
For instance, there's PewDiePie and Markiplier. As two of the most popular content creators ever, they've crossed paths before. But are Markiplier and Pewdiepie still friends?
Article continues below advertisement
Are Markiplier and PewDiePie still friends? Here's what you should know.
Felix Kjellberg aka PewDiePie is a popular Swedish YouTuber who built a massive following for his Let's Play videos in which he plays new and popular games while providing comedic commentary. Some of his most popular videos include reactions to horror video games. As of this writing, he currently has over 111 million subscribers on YouTube. He's also been at the center of controversy multiple times for racist humor and his contributions to normalizing white supremacy.
Meanwhile, Mark Fischbach aka Markiplier is similarly popular for his content on YouTube. His content includes Let's Plays and comedy sketches, as well as charity livestreams for various causes. He currently has over 34.5 million subscribers on YouTube and has even founded a clothing company with fellow famous YouTuber Jacksepticeye.
Article continues below advertisement
The two of them have collaborated with other content creators before, including each other. They've appeared on each other's channels and videos in which they play games and discuss various topics with each other. They did it quite often in the past, but many have noted that as time went on, they would collaborate less frequently. It eventually got to the point where they stopped collaborating and speaking with each other altogether. This led many to believe that they stopped being friends.
Article continues below advertisement
The truth isn't exactly far off. They don't communicate as often as they once did, let alone collaborate with one another. Some speculated that drama was sparked between the two that led to an eventual falling out. It wouldn't be unthinkable, considering the many controversies that PewDiePie has been embroiled in throughout his career. However, the truth is apparently less salacious than that.
In a March 2021 video, PewDiePie directly addressed the issue, stating that the two of them simply grew apart over time. When asked about why he stopped making videos with streamer Xebax, he stated that people simply don't stay friends forever. He applied the same logic to Markiplier.
"We're just not as close as we used to be," PewDiePie admitted about Markiplier. "It's kind of awkward when everyone online is just going 'you need to collab!'"
From what PewDiePie has stated publicly, the two of them simply drifted apart. It could happen to any of us, even two wildly popular streamers.