Is Vinny Guadagnino Still With 'Double Shot at Love' Season 3 Winner, Akielia Rucker?
On 'Double Shot at Love,' audiences watched as Vinny Guadagnino picked Akielia Rucker in the Season 3 finale. Are the two still together? Find out the deets!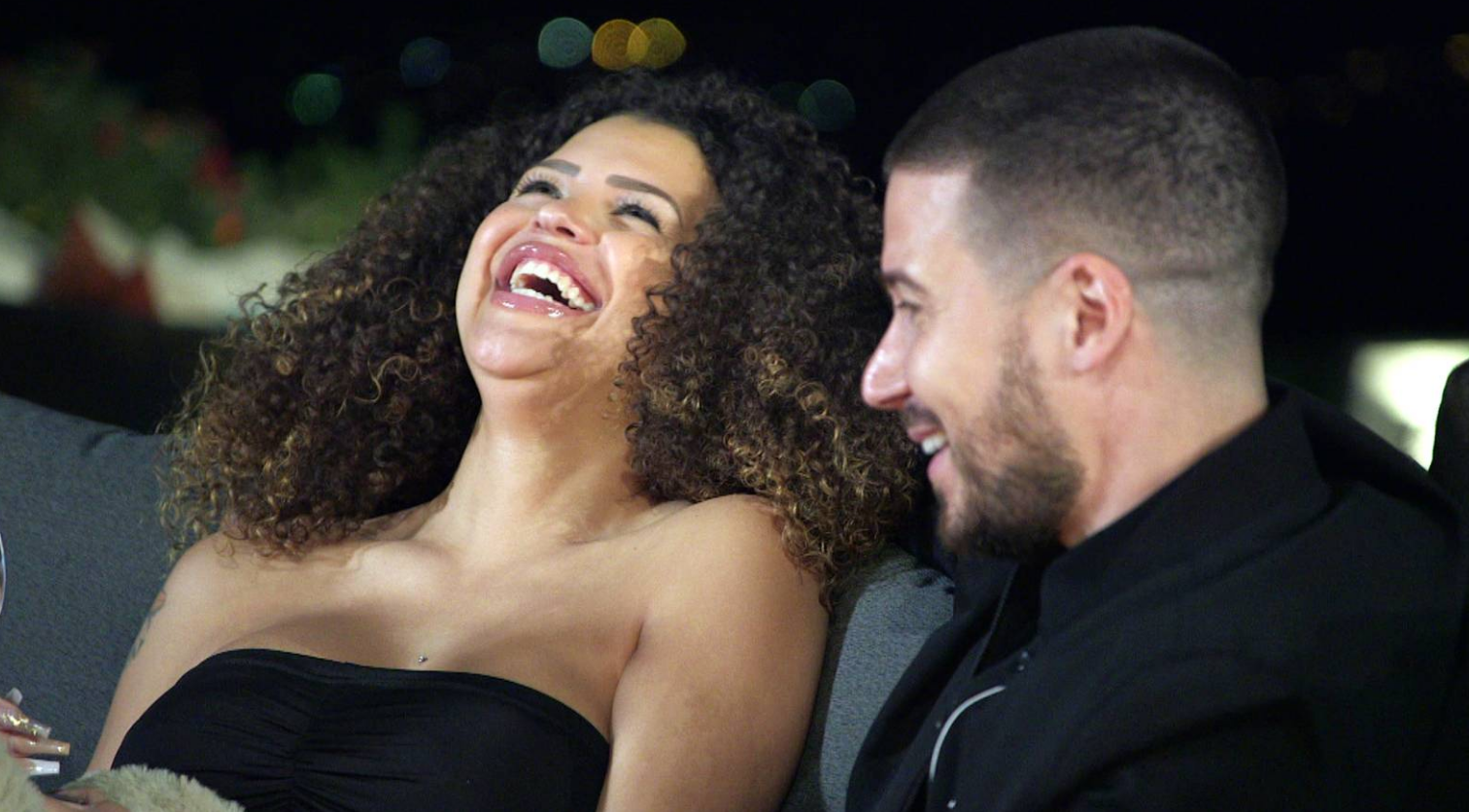 Six months after Double Shot at Love Season 2 wrapped in Las Vegas, the series was renewed for a third. The new season went back to the format of Season 1, however this time it was only Vinny Guadagnino looking for love. Pauly D DelVecchio had found love on Season 2 with Nikki Hall, and the duo were there to help Vinny find his match in Season 3.
Article continues below advertisement
Fans tuned in week after week as 17 women tried their best to change this eligible bachelor's relationship status from "Single" to "Giving love a shot." By the finale, Vinny was down to three ladies: Erika Devito, Emily "Peachy" Piccinonno, and Akielia Rucker. Fans wondered if the MTV personality would actually start a relationship with one of the women, or if he'd give the network more of an opportunity to have a Season 4.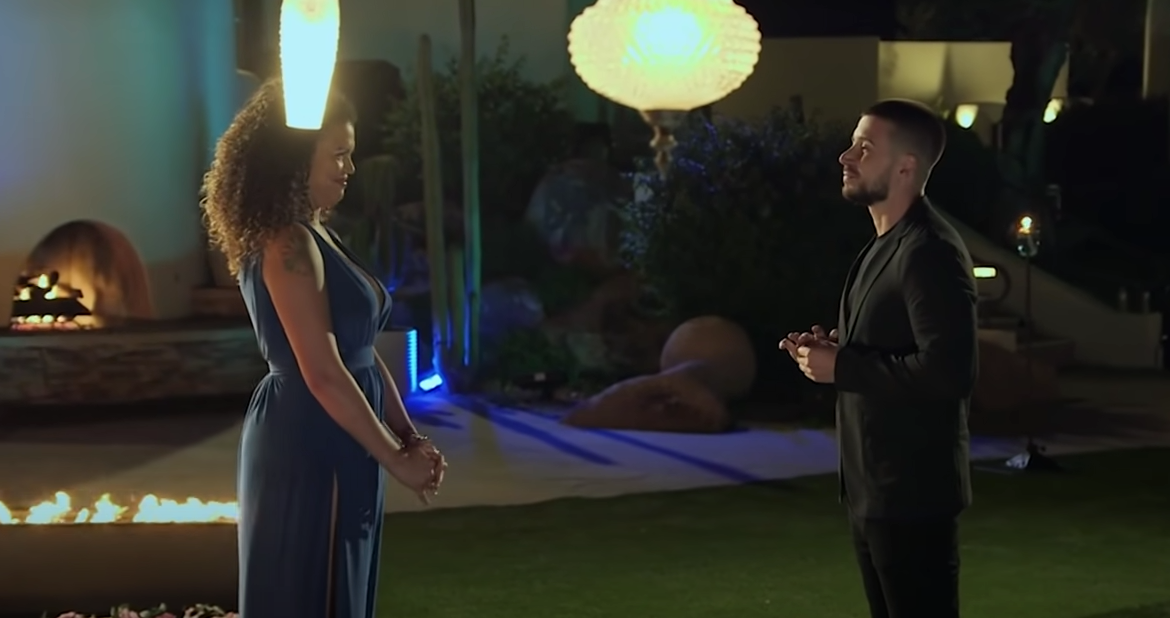 Article continues below advertisement
At first, it seemed like Vinny was going to pick Peachy, but in the end, the Chippendale host and dancer asked travel nurse Akielia if she was interested in taking a chance to see where things go. Many fans were hoping the relationship would actually turn into something long-term. So, did it? Here's what we know.
Are Vinny Guadagnino and Akielia Rucker still together?
After Season 3 of Double Shot at Love wrapped, Vinny and Akielia weren't allowed to see each other face-to-face for several months. So, where do the two stand today?
Unfortunately, Vinny and Akielia are not together. After only a day after the finale aired, the Jersey Shore star took to social media to let his followers know whether or not the pair were still in a relationship.
Article continues below advertisement
On his Instagram stories, Vinny shared, "The finale you watched last night was filmed seven months ago. 'AK' and I have kept in touch. We are not in a relationship, but I now consider her a friend because she's cool AF." He went on to explain that he came into the season with an "open heart and mind," hoping to meet his person.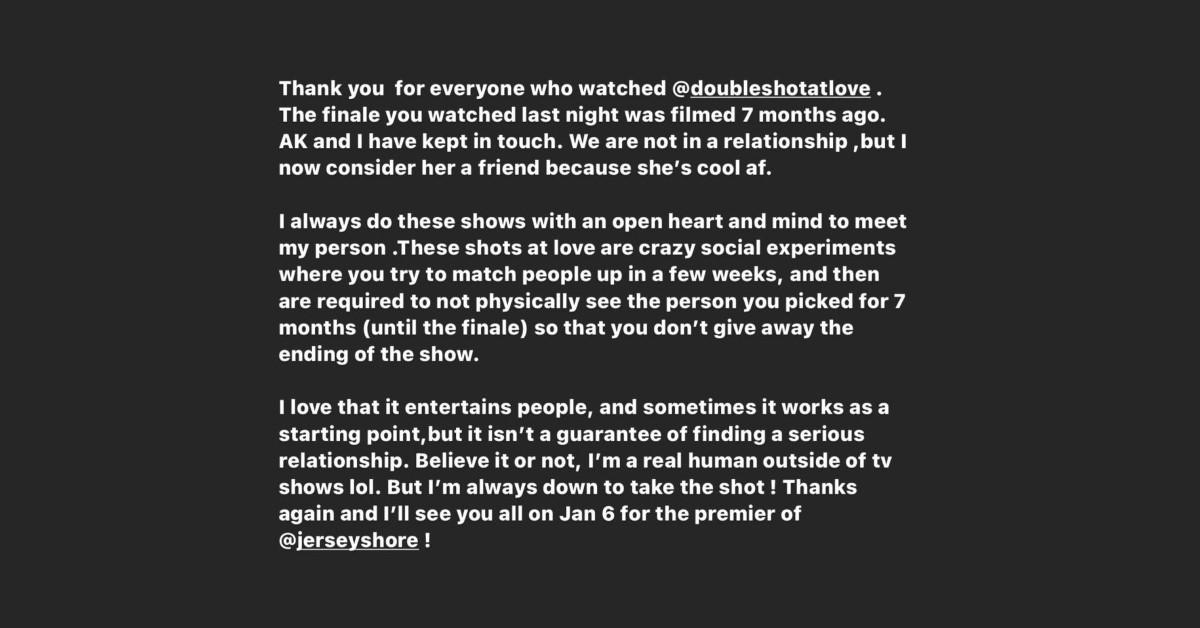 Article continues below advertisement
Vinny cited the format of the show as being part of the reason why it's been difficult to find a true connection. "These shots at love are crazy social experiments where you try to match people up in a few weeks," he wrote. "And then [you're] required to not physically see the person you picked for seven months (until the finale) so that you don't give away the ending of the show."
"I love that it entertains people," he continued. "And sometimes it works as a starting point, but it isn't a guarantee of finding a serious relationship. Believe it or not, I'm a real human outside of TV shows, lol. But I'm always down to take the shot!"
Here's hoping that MTV will renew the series once again so that Vinny can have his quadruple shot at love!