James Charles and "Pull Up" Rapper Asian Doll Are Feuding Over MUA Fees
Inside Asian Doll's feud with James Charles: The rapper condemned makeup artists who charge high service fees — which didn't sit well with James.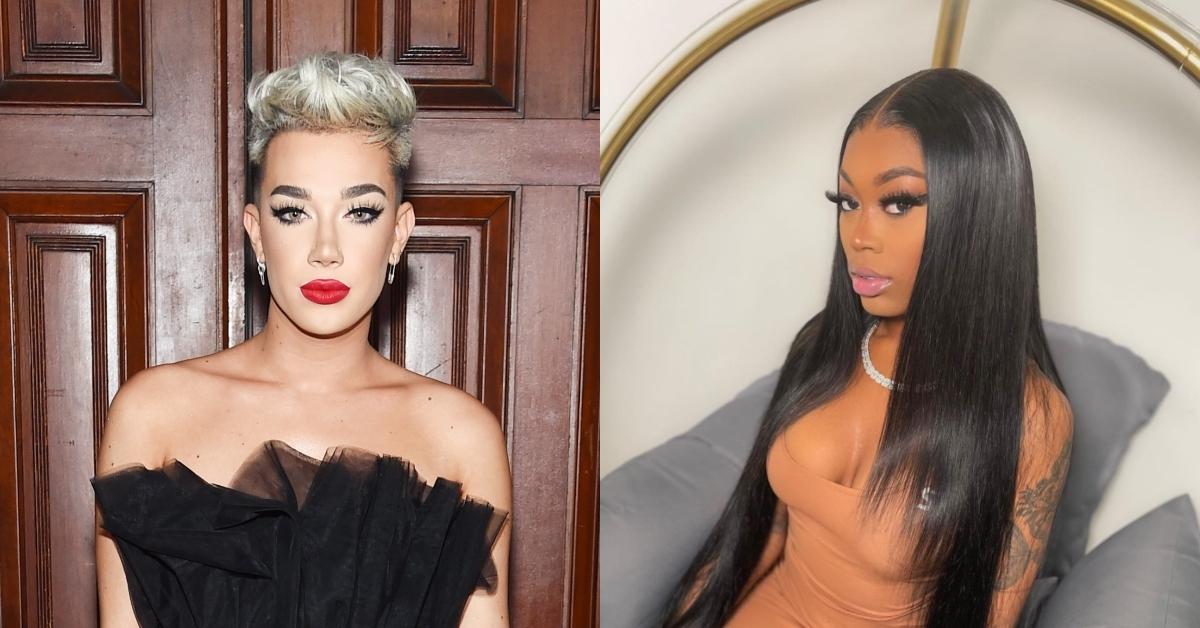 "If you charge over $150 to do a face of makeup, you can go to hell, respectfully," rapper and influencer Asian Doll (aka Asian Da Brat) tweeted on Jan. 15, 2021.
The remark triggered considerable backlash on Twitter. Many took it as an opportunity to weigh in on how much makeup artists should be allowed to charge clients. One of these commenters was none other than James Charles, who clapped back by detailing the reasons why some MUAs might choose to set higher service fees.
Article continues below advertisement
Asian Doll got into a feud with James Charles in January 2021.
James took to Twitter on Jan. 15, 2021, to defend makeup artists who charge $150 for their work.
"What a stupid tweet. One foundation can cost $50, artists have to buy EVERY SHADE for their kit, and that's just the first step," James responded to Asian Doll.
"Either pay an artist's rate for their time and skill, do it yourself OR get it done at a counter and risk looking busted," he went on to add.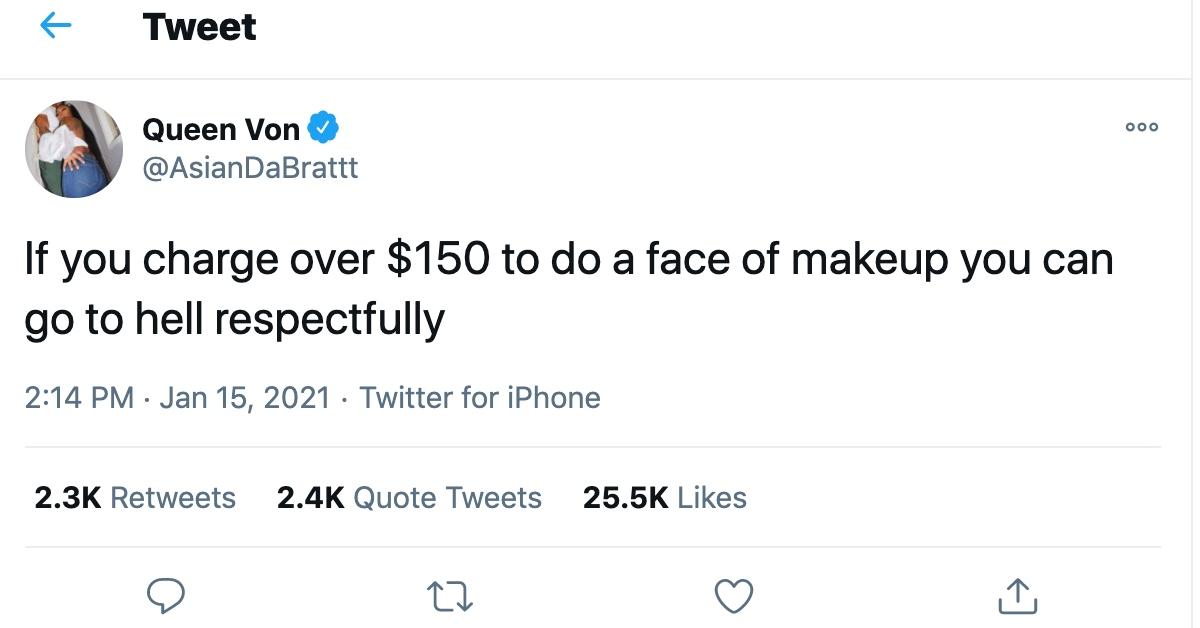 Article continues below advertisement
Although some makeup lovers might not realize, pursuing a career in the field can be more expensive than more traditional professions. From high-quality brushes to foundations, concealers, eyeshadow palettes, and bags and containers, there's no shortage of items makeup artists are required to purchase regularly.
Article continues below advertisement
Some came out in defense of Asian Doll, stating that James's tweet was too harsh.
Several Twitter users attacked James for the tweet, stating that he could have formulated a more polite response.
"The tone wasn't needed James," wrote a user named @barbzstruggle.
"I'm definitely a fan of his, but I agree that it was a bit harsh. I hope, literally just for his own sake, that James thinks a bit more about how blunt he can come across because that's the kind of drama that seems common for him and he can easily avoid it by doing that," tweeted @SugoiKatniss.
Article continues below advertisement
"There's no tone. I didn't say SHE was stupid. I said it's a stupid tweet. If she doesn't want to pay $150 for makeup, she doesn't have to, but she also doesn't need to publicly shame working artists that priced their time and skill at that rate," James responded to one of his detractors.
However, the feud wasn't over just yet. On Jan. 15, 2021, Asian Doll returned to Twitter to respond to James.
"What a dumb --s to be in my business replying to something that has absolutely nothing to do with you ... I'm having a debate about HOOD PRICES Baby stay over there in HOLLYWOOD where they having you looking GHOST," she tweeted.
"Y'all go give James all your coins if you want to. I'm going to either do mine, or I'm going to where they got good hood (normal) prices," she added in a now-deleted tweet, per TikTok Room.