Big Ed and Liz Woods Have Broken up (Again) — Here's a Look Back on Their Relationship
Ed "Big Ed" Brown and Liz Woods are broken up once again. Here's a look back at their relationship timeline.
Viewers of 90 Day Fiancé (and its many spinoffs) are familiar with the ups and downs of the relationships between the stars, but the relationship between Ed Brown (aka Big Ed) and Liz Woods has really given those viewers a run for their money.
During the 90 Day Fiancé: Happily Ever After? tell-all in January of 2023, Ed and Liz broke up ... for the eleventh time.
Article continues below advertisement
People are starting to lose track of the breakups and reunifications of Ed and Liz's relationship — and we can't blame them! But we can help them. Here's a look back over the extreme highs and lows of Big Ed and Liz's time together (and apart).
Article continues below advertisement
Big Ed and Liz met in San Diego in early 2021.
When Ed appeared on 90 Day Fiancé: The Single Life, he explained how he met Liz. Unlike his previous relationship in the franchise, it wasn't on a dating app or on the internet at all. Instead, he met her at his favorite San Diego restaurant, where she was the manager. They hit it off and, after consulting a dating coach, Big Ed went for it with Liz.
For some 90 Day Fiancé fans, Liz was a breath of fresh air. She wasn't afraid to be honest with Big Ed and also seemed to genuinely care for him. Even when he revealed on-camera that they slept together in a hotel room.
She even joked that she had to teach Big Ed how to kiss. But, miraculously, things were still on the up and up for them for a little while.
Article continues below advertisement
They reveal on 'The Single Life' tell-all that they broke up.
The early days of Liz and Big Ed's relationship weren't without their troubles. Big Ed's daughter, who is much closer in age to Liz than Big Ed himself, expressed concern about the relationship. Liz worried that she and Big Ed were moving too fast. During the 90 Day Fiancé: The Single Life tell-all, they confirmed they had broken up.
Article continues below advertisement
"When we finally became a couple, the next week I was meeting his daughter, the next week I was meeting his sister, [and then] his brother," Liz explained on the tell-all. "I was thrown in multiple situations I was not prepared for. It took me months to introduce him to my grandparents. Months for that to happen, to break up two weeks later."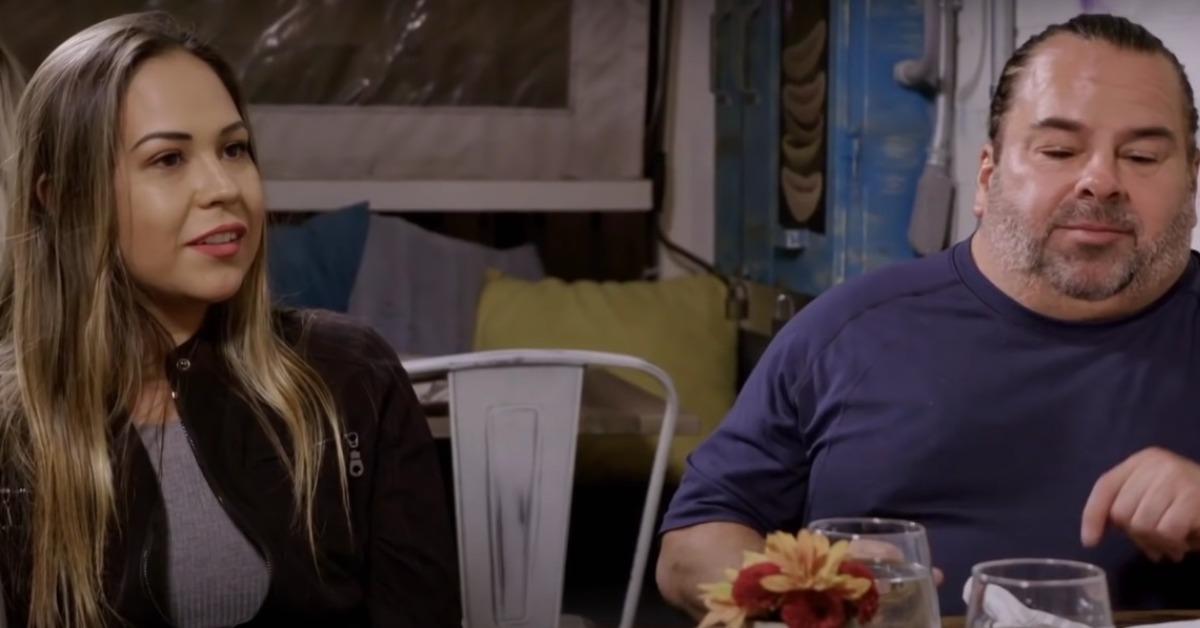 Article continues below advertisement
In May 2021, a phone call leaked in which Big Ed insulted and yelled at Liz.
Despite both of them publicly moving on from their relationship, a recorded phone call leaked in May 2021, which sent fans into a tizzy. In the phone call, Liz asks Big Ed if she can drive a male coworker home.
During the course of the conversation, he accuses her of asking a "stupid" question and says he is tired of her "dumb f--king mistakes."
Liz was rumored to be dating another '90 Day Fiancé' star in July 2021.
In July 2021, a 90 Day Fiancé gossip Instagram account revealed that YouTuber Master of Blackjack matched Liz and fellow 90 Day Fiancé star Andrew Kenton through Cameo videos.
The Instagram account shared a video that showed Liz and Andrew out for drinks together, but it doesn't look like they were in a full-fledged relationship.
Article continues below advertisement
In August 2021, Big Ed proposed to Liz.
Despite Liz and Big Ed's differences and that phone call which fans won't soon forget, they got back together at some point before August 2021. In November of that same year, Liz shared on Instagram (in a post that has since been deleted) that Ed had popped the question on Aug. 29.
Article continues below advertisement
"We are not perfect by any means," she wrote. "Passing by all the bulls--t with the many breakups, I am forever grateful to be called yours. I am your forever and you are mine. If I could give you my vows today I would, but our timing needs to be right. I will forever be by your side. I have never felt love, comfort, support, and encouragement the way you have given your heart and love to myself and my daughter. 6 months of separation changed us, not for worse but for better."
"What a year we have had. We had one hell of a rough patch and somehow in god's hands we ended back together. I promise to do my best to never disappoint you, be by your side, and support us in both our crazy decisions, and we are crazy. You make me whole. I love you. TO FOREVER! August 29th at 3:30 in the morning! I'll never forget your proposal and I'll never forget my attitude and completely shocked !!!!!!! Yessssss!!!! I will marry you."
Article continues below advertisement
Ed and Liz broke up and reunited again, but have now once again called it quits.
Over the course of the next several months, Ed and Liz broke up and got back together again.
At the beginning of the 90-Day Fiancé: Happily Ever After? tell-all, Ed and Liz were together, but during the program, Ed's ex, Rose, revealed that he had been reaching out and trying to reconnect with her while he was engaged to Liz.
The two got into a huge argument which resulted in Ed asking Liz for the engagement ring back and marking their eleventh breakup. So far.
We'll definitely be staying tuned to see how things pan out!