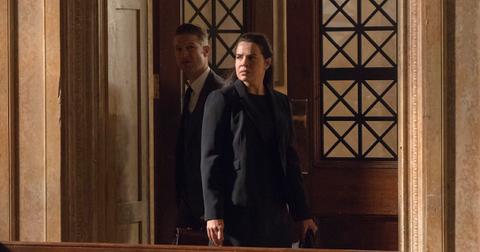 Vanessa Hadid Is the New Bureau Chief for the DA's Special Victims Unit
By Pippa Raga
This historic 21st season of Law and Order: Special Victims Unit has seen a few changes when it comes to the core members of the squad. While Carisi traded in his police badge to pass over to what Fin terms "the dark side," AKA the District Attorney's office, we also welcomed a new detective and said goodbye to Chief Dodds.
Bureau Chief Hadid is Carisi's new boss, and she's a tough cookie.
We first meet Vanessa Hadid (Zuleikha Robinson), in Season 21's premiere, while the squad is toasting Sonny Carisi's new position as an ADA at the District Attorney's Special Victims Unit.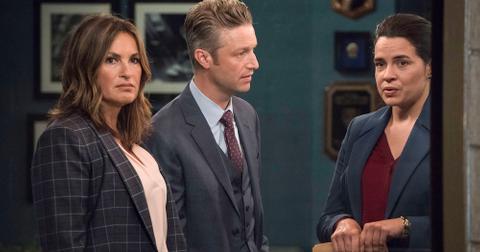 "I'm sure the NYPD's loss will be the DA's gain," Carisi's new supervisor Vanessa offers as a toast. "And if it isn't, I understand there's a 90-day return policy?"
Vanessa's first case involves the high-profile media mogul Sir Tobias Moore, who's accused of several sexual attacks against young actresses.
The squad find themselves chasing evidence to build a case against Sir Tobias Moore, but their suspect is so well connected with the media, police and the DA's office (he even has Vanessa Hadid wrapped around his pinky), that the detectives struggle to make their case.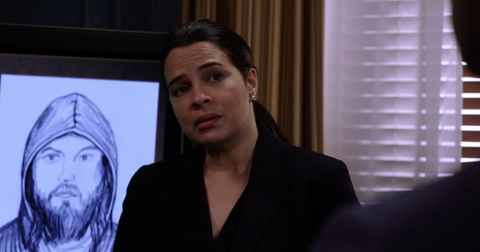 When the SVU team find Hadid and other high-ranking law enforcement members entering Sir Toby Moore's penthouse the morning after an alleged attack, they realize that they may not fully be able to trust her, and need to tread lightly.
Hadid comes back in "Down Low in Hell's Kitchen," and she and Benson butt heads once again about whether or not they have enough evidence to indict a possible rapist.
But the two bosses start to see eye-to-eye in the following episode, "The Burden of Our Choices," when Hadid stands by a young victim who wants to get an abortion after being raped by her stepfather.
So far, Hadid appears more concerned about maintaining a high conviction rate than about the victims she's meant to be advocating for. Her relationship with the Special Victims Unit is proving to be sometimes strained, although her new mentee Carisi has been consistently coming to her defense.
Let's see whether the SVU team keep facing an uphill battle when it comes to working with the new Bureau Chief.
Here's where you've seen Zuleikha Robinson before.
British actress Zuleikha Robinson hails from London and brings her solid talent to the SVU ensemble. Before joining the Season 21 cast, the actress appeared as Gaia in Rome, Roya Hammad on Homeland and Ilana Verdansky on Lost.
What's more, she recently came back to her Twitter account to find it flooded with messages from SVU fans. "So thrilled to be a part of this iconic series," she wrote before adding, "P.S. I will always give Carisi a hard time!"
We look forward to seeing more of Vanessa Hadid when new episodes of Law and Order: Special Victims Unit air Thursdays at 10 p.m. on NBC.