Call Center Manager Refuses to Help Employee Dealing With Verbally Abusive Customer
A call center employee literally falls into despair before our very eyes when his manager won't step in and help appease an abusive customer.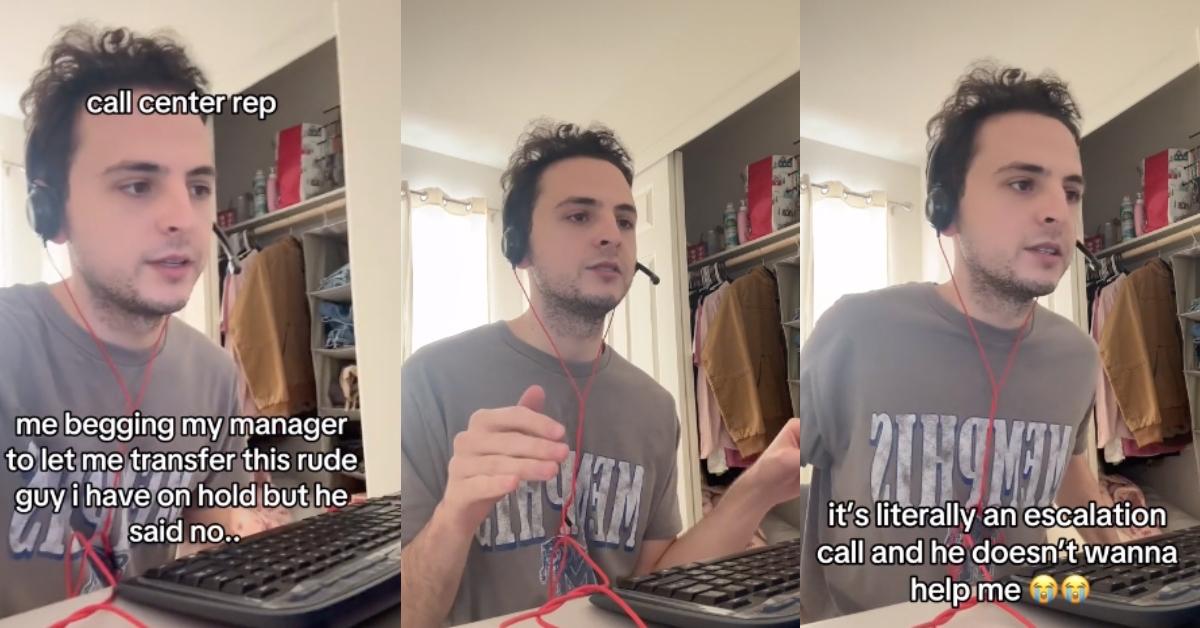 Anyone who has ever worked in customer service knows how soul-crushing the job can be — take it from a former call center employee. People can be downright abusive.
TikTok creator @angel2124ever is pulling back the curtain on just how mean some customers are.
Article continues below advertisement
In a TikTok that will make you think twice about how you treat someone at a call center, the creator describes a mean-spirited customer to his manager. The caller is "really upset right now," and "rude," according to the TikToker.
And, the man is asking to speak with a manager — but the manager is apparently not having it.
Article continues below advertisement
The customer "wants to argue" with the call center employee instead of finding a solution. How fun!
"It's like he's not trying to resolve the issue. He just wants to argue," the employee goes on to share during the chat with his manager. As a fun bonus, the customer is calling him names.
At this point, the customer is asking the employee to be transferred to his supervisor. We don't know what the supervisor is saying exactly, but apparently, this isn't happening.
Article continues below advertisement
Even though the employee is saying that the caller is cutting him off, and repeating "manager," he soon realizes he'll have to handle the call on his own.
"So what do I do?" he asks his supervisor, clearly dejected.
Article continues below advertisement
There's hope for the call center employee, because people feel his pain.
In the end, your heart breaks for this creator, who hasn't only suffered verbal abuse from the caller, but whose manager is seemingly not willing to take it from there.
It's as if his soul is being crushed before our very eyes as the TikTok ends.
The employee is polite and thanks his manager, but the frustration on his face is evident — as is the vibe that he feels beat up and full of despair at this point.
Article continues below advertisement
We don't know how the call went from there or how much more abuse the employee had to endure, but at least commenters were supportive of the employee's plight, with many confirming that call center workers have the most difficult jobs.
Some people blasted the manager for not doing his job. Others encouraged the employee to be more assertive when talking to his supervisor. Meanwhile, this is far from the only low moment the creator has experienced on the job.
Article continues below advertisement
Indeed, if you haven't had enough of this creator's call center nightmares, the good news is that he often shares TikToks of his time spent dealing with customers — and his seemingly very difficult supervisor.
Article continues below advertisement
For example, the creator also filmed himself having a call with his manager, who wasn't happy about how he handled another situation. The manager accused him of "wrongfully disconnecting" a customer.
While these interactions pull at our heartstrings, and we truly feel for the employee, one has to wonder if at some point his manager will discover this TikTok, and he'll get fired.