Carrie Revived Her Iconic Wedding Dress for 'And Just Like That' — Can You Buy It?
Carrie Bradshaw has many breathtaking fashion looks, but her Vivienne Westwood gown is one of her most memorable. See if the wedding dress is for sale.
Article continues below advertisement
While she never got to say "I Do" in the dress, it was so mesmerizing that it appeared in Season 2 of the spinoff, And Just Like That. Although the season premiere confirmed Carrie still has her dress, is it attainable for the rest of us? Keep reading to find out!
Article continues below advertisement
Can you buy Carrie's wedding dress from Vivienne Westwood?
Since Carrie never wore her Vivienne Westwood gown on her wedding day, many fans wondered what happened to the luxurious dress. However, Carrie's dress resurfaces in And Just Like That Season 2 when she enlists her former podcast host, Jackie's (Bobby Lee) wife, Smoke (Bethlehem Million), to design her dress for the Met Ball.
While fitting Carrie for the dress, Smoke struggles to alter it in time for the gala. She eventually asks Carrie if she has anything that could pair with the cape she designed for the Met, and Carrie hesitates before mentioning the wedding dress.
Article continues below advertisement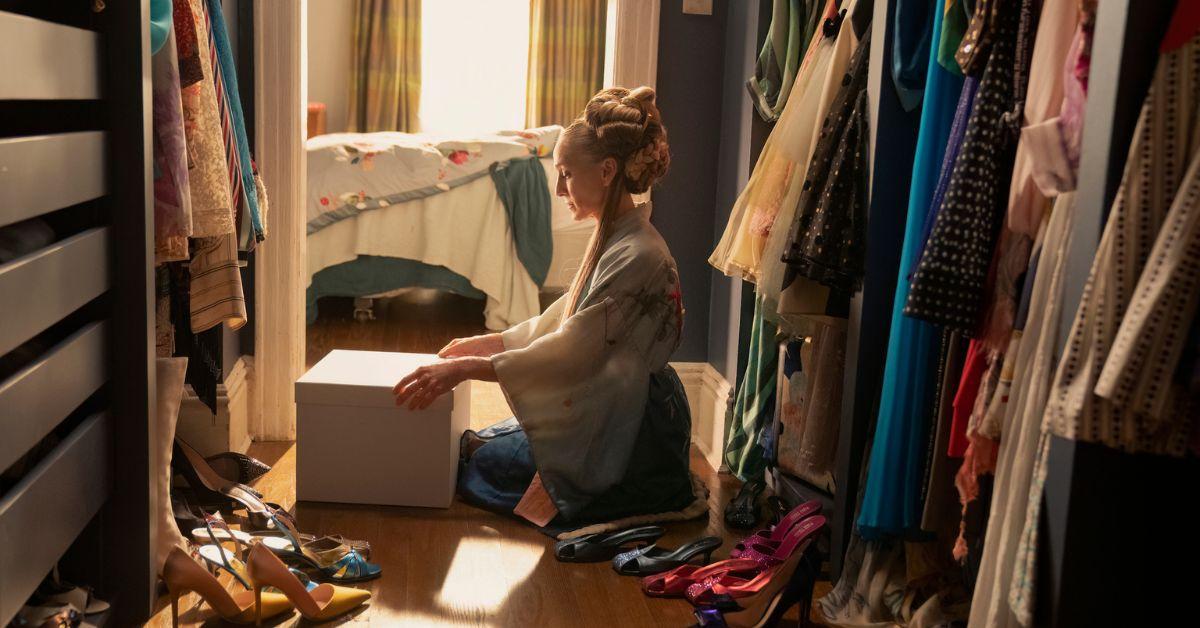 Though she admitted the gown doesn't have the most positive sentimental memories, Carrie agreed to wear the dress, and struts out of her apartment rocking the gown and feathered hairpiece.
Article continues below advertisement
Carrie's wedding dress has been a talked-about look since Sex and the City the movie debuted in theaters worldwide on May 30, 2008. Since the movie aired, many brides-to-be have tried recreating the iconic look. Unfortunately, the exact Vivienne Westwood look isn't available.
Article continues below advertisement
According to Glamour, the Vivienne Westwood "cloud dress" was part of Vivienne's Winter 2007/2008 collection. In 2009, the dress was available in Vivienne's London boutique and could be made to order. However, those looking for the exact design had to wait at least six months to get it, and it's unclear if that's still an option today.
Online stores like Net A Porter also created a shorter dress with a similar design in 2009, but it doesn't seem to be available, either. Additionally, Vivienne Westwood designed several pieces inspired by Carrie's wedding dress to honor the movie's 10th anniversary in 2018.
Unfortunately, Marie Claire stated in May 2018 that the collection was only available from May-June of that year. While Vivienne passed away in December 2022, the Vivienne Westwood collection still has many other beautiful gowns that Carrie would surely approve of!