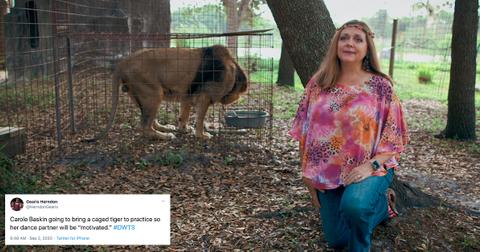 Carole Baskin Will Be on 'DWTS,' and the Memes Basically Created Themselves
By Shannon Raphael

Updated
Hey, all you cool cats and kittens, Tiger King's Carole Baskin is going to be on Season 29 of Dancing with the Stars. In what feels like an appropriate move for 2020, considering the global pandemic and the rise of murder hornets, the Big Cat Rescue creator is going to put on her dancing shoes for the upcoming edition of the hit ABC competition series.
When Carole first appeared on Tiger King in March of 2020, she polarized viewers. Some accused her of being responsible for her the disappearance of her husband, Don Lewis, while others felt like she was unfairly villainized.
Whether you're Team Carole or Team Joe Exotic, you may find these tweets and memes about Carole Baskin's DWTS casting entertaining. Keep scrolling for some of the best ones.
1. Some people are ~concerned~ for the dancer who gets paired with Carole.
Though the lineup of dancers and the cast members have both been officially announced, it's currently unclear what the pairs will be. Carole's potential dance partners include the likes of Artem Chigvintsev, Val Chmerkovskiy, Sasha Farber, Gleb Savchenko, Keo Motsepe, Brandon Armstrong, and Alan Bersten.
Hopefully, the dancer Carole ultimately gets paired with hasn't seen Tiger King. If there wasn't a global pandemic occurring, a cast trip to Big Cat Rescue would make for some pretty amazing television.
2. Of course, there were plenty of jokes made about Carole's first husband.
One of the key storylines on Tiger King was the mysterious disappearance of Carole's first husband, Don Lewis, in 2002. One popular theory that people gravitated toward was that Carole fed her husband to one of her tigers.
After the docu-series came out, an investigation was launched into Don's disappearance. Many are not happy that Carole has gotten a spot on DWTS considering her potential involvement with the investigation.
3. The season's a bust if Carole doesn't dance to "Eye of the Tiger."
Yes, this perhaps is the easiest joke to be made about Carole's casting, but it's a fair point.
There are several big-cat-centric songs that Carole should dance to on the show, including "Eye of the Tiger," and "Roar" (which is about lions, but still).
Some users would also love to see her dance to the TikTok song about her involvement in Don's disappearance, but we understand that's probably not going to happen.
We just hope she wears her signature flower crown as well. Extra props if Howard Baskin wears his wedding look in the audience.
4. The 'DWTS' lineup feels appropriate for 2020.
In any other year, it might seem strange that the star of a Netflix docuseries about tigers which came out six months earlier was a cast member on DWTS. In 2020, anything goes.
5. Others were perplexed by the range of talent on the Season 29 'DWTS' cast.
From Nelly to Nev Schulman to Skai Jackson to Jesse Metcalfe, the DWTS cast list is bringing a lot of celebrities together.
The influence of Netflix is clear too, as Carole Baskin is joined by Cheer star/head coach Monica Aldama, and Selling Sunset agent Chrishell Stause.
6. Is a 'Catfish' and 'Tiger King' crossover what we need to find out if Carole killed her husband?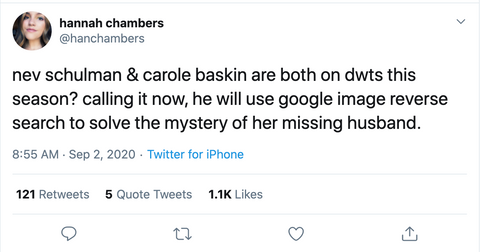 Perhaps the real ploy of Season 29 is that it's all an elaborate scheme to get Catfish host Nev Schulman to apply his reverse-image and Facebook-messaging skills to the disappearance of Don Lewis. Stranger things have happened.
DWTS Season 29 premieres on Sept. 14 at 8 p.m. on ABC.