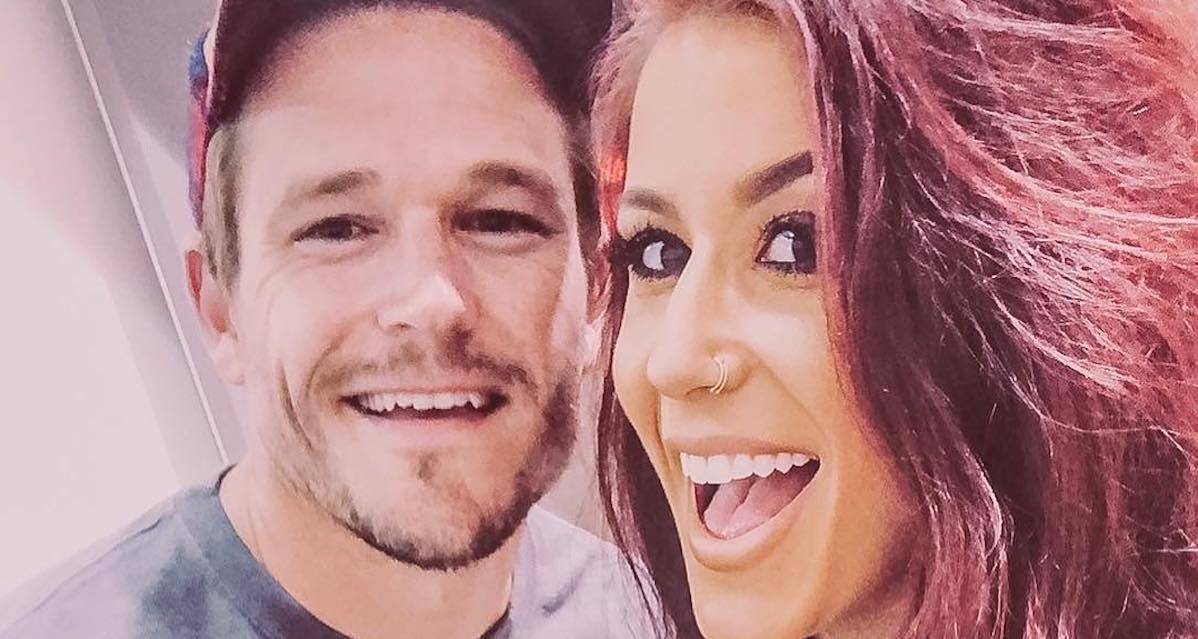 This Is How 'Teen Mom 2' Star Chelsea Houska's Husband Cole Pays the Bills
While many fans of Teen Mom 2 may think the women of the show are the only breadwinners of their families, that is not true. While the starlets may be raking in some serious dough, their significant others are still contributing.
Article continues below advertisement
Like Chelsea Houska's husband, Cole Deboer, who has a pretty solid job in their hometown in South Dakota.
So, what does Cole do for a living?  
Cole works as a traffic control specialist in the Mount Rushmore state. According to PayScale, the average annual salary for a traffic control specialist is estimated at $45K. Along with from manning the roads and highways in the area, he also has his own sock line with TrueFeat.
Cole and Chelsea are also not shy when it comes to marketing their popularity from the hit MTV show, and the duo recently announced that they've partnered with Itzy Ritzy, a modern baby and parent retail company.
Article continues below advertisement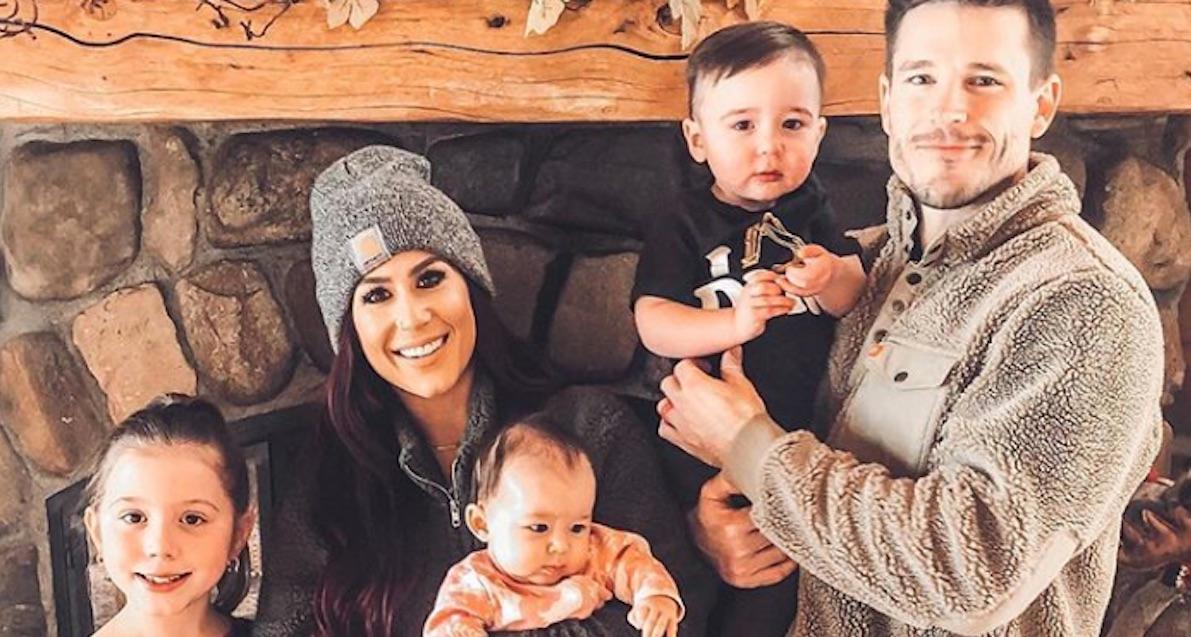 "We're beyond excited to announce that we're collaborating with @itzyritzy on a collection of cool products for everyone and parents just like us," Cole wrote in a recent Instagram post. "We can't wait to go on this journey and have you along for the ride. Follow the link in our bio to sign up to be in the know and the first to learn more! And stay tuned for...The Chelsea + Cole Collection for Itzy Ritzy."
Article continues below advertisement
While Chelsea may have welcomed baby No. 3 six months ago, the family is not seemingly struggling for money. The Teen Mom star reportedly makes $250,000-$300,000 from the MTV show per season. Aside from her work with MTV, the mother-of-three works as a social media influencer. Her partnerships include Itzy Ritzy, Profile Standford, and FabFitFun.
Will Cole adopt Aubree?
During a recent episode of Teen Mom 2, Chelsea revealed that ex Adam Lind had pretty much stopped visitations with their 9-year-old daughter Aubree. She also told viewers that Adam had given up his paternal rights to his other daughter Paislee, from a previous relationship with Taylor Halbur.
Article continues below advertisement
"He can't see her at all," she told MTV producer Mandi. Chelsea explained that once Adam gave up his rights, Taylor's husband adopted Paislee. Mandi then asked if the couple ever considered going that route, which they both agreed was an option.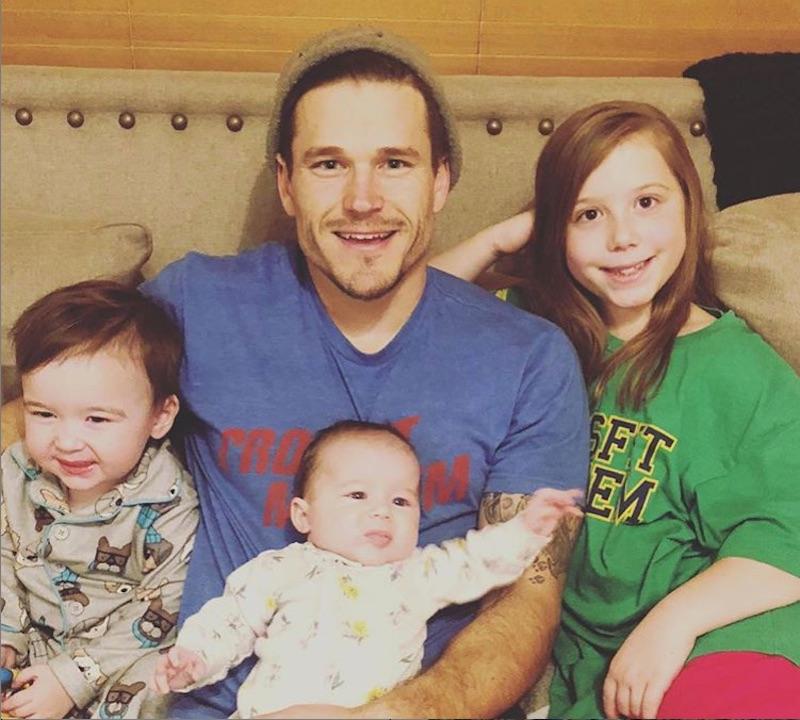 Article continues below advertisement
"You could adopt her," Chelsea told hubby Cole. "I mean, yeah. I'd do it right now if she wants to. I'd never make her do anything," he replied.
Though the pair — who are also parents to son Watson, 2, and 6-month-old daughter Layne — agree that Cole adopting Aubree would be in the little girl's best interest, they both explained how they would not want to force the decision on Aubree.
"It's hard because we know what we feel is the best for her. I feel what is best for her is if he was completely out of the picture instead of in and out," Chelsea explained. "I think she's old enough now where you can't just make that decision for her."
Article continues below advertisement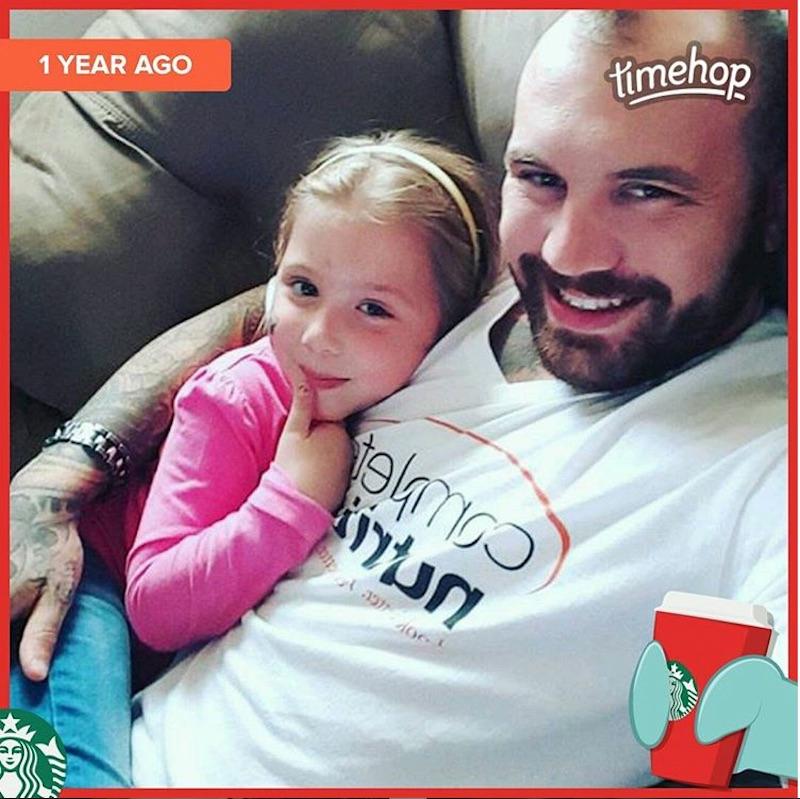 Chelsea then consulted her father, Randy, about a conversation she had with Aubree regarding the adopting situation, saying, "She was confused; she wanted to know if Paislee was still her sister."
She continued, "It kind of made her sad. I said, 'Is that something you'd ever want?' She said, 'Yes.' And then she's like, 'Wait, would that mean that my dad is not my dad anymore?' I was like, 'Yeah, he wouldn't really be your dad like that anymore.' And she said, 'Well then I don't think I want to [do it]."
Article continues below advertisement
Randy gave his insight into the situation telling his daughter, "Just go with the flow and just do what you're doing. You can't push it because if you force it she might resent [you]. Just keep answering questions. As she gets older, her brain matures, she'll know. He also added, "At some point, the answer will become more clear."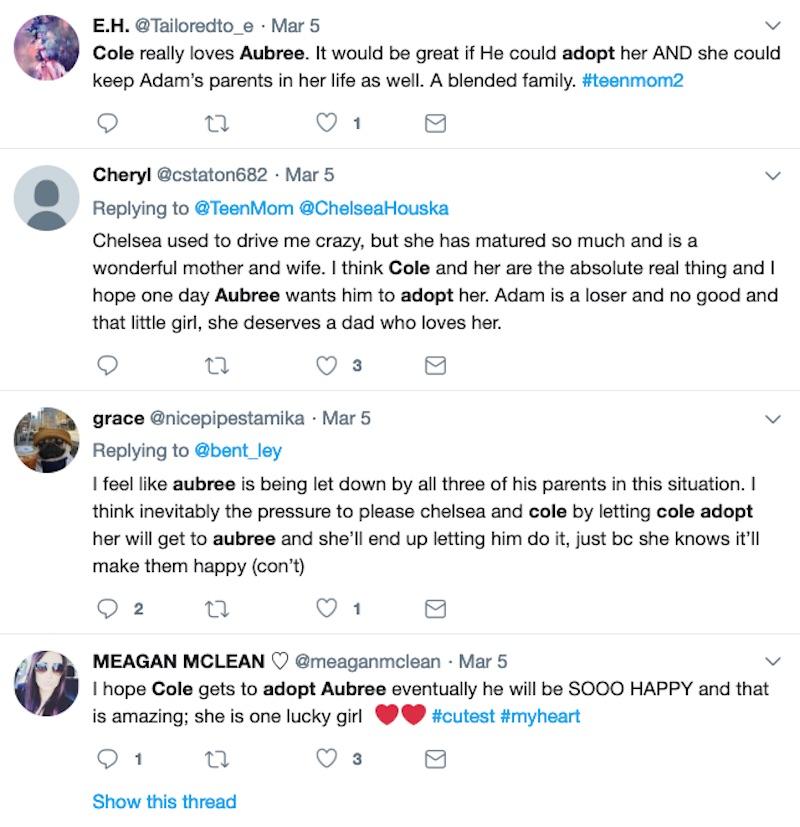 Chelsea and ex Adam were previously embroiled in a custody battle until the court ruled in favor of the Teen Mom 2 star retaining full custody of their daughter in 2015. Adam was previously arrested in 2017 for violating a no-contact order, and in a 2017 episode, he tested positive for methamphetamines. As expected, fans are optimistic Cole will adopt Aubree.
"Cole really loves Aubree. It would be great if He could adopt her AND she could keep Adam's parents in her life as well. A blended family," one viewer tweeted. Another added, "Chelsea used to drive me crazy, but she has matured so much and is a wonderful mother and wife. I think Cole and her are the absolute real thing and I hope one day Aubree wants him to adopt her. Adam is a loser and no good and that little girl, she deserves a dad who loves her."
Watch new episodes of Teen Mom 2 on Mondays at 9 p.m ET on MTV.