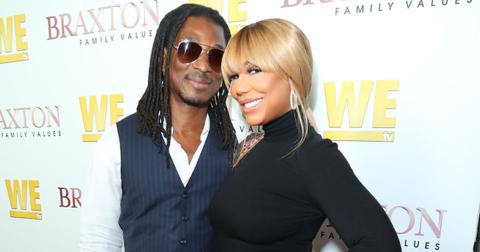 David Adefeso Did Not Wait Long to Move on From Tamar Braxton
By Distractify Staff

Updated
Between dealing with mental health issues, toxic work situations with shady networks, crumbling relationships with her family, and a recent suicide attempt, Tamar Braxton has been going through A LOT lately, and even that is an understatement.
But in addition to all of that, and the stresses we're all experiencing in 2020, Tamar has also had to deal with the relentless stress caused by her now ex-fiancé, David Adefeso.
Article continues below advertisement
What started as a whirlwind romance between the two — leading to Tamar calling David her "rock" during the tough times she was going through — came to an abrupt end earlier in September when the couple got into a physical altercation in their car and both accused the other of physical abuse.
Now, just weeks after their split was made public David Adefeso has a new girlfriend. So, who exactly is his new mystery woman?
Article continues below advertisement
Who is David Adefeso's new girlfriend?
After weeks of trying to paint himself as the "good guy" in all of their surrounding drama, Tamar's ex-fiancé David Adefeso's reputation is quickly coming apart. On Sept. 20, David was spotted with an unknown woman, and sources close to both Tamar and David have said that she is David's new girlfriend and employee.
The source also shared with Hollywood Unlocked that David and his mystery woman have been together since earlier this year, including through all the times when David publicly declared his love for Tamar, and appeared to be there for her through recent difficulties with work and her mental health. David wasted no time at all after his and Tamar's breakup, making his new relationship official mere days after the split.
Article continues below advertisement
The photos of David and his new woman show them vacationing together, and fans of Tamar are speculating as to whether David's infidelity is the real reason the couple called it quits. The source that shared the details about David's new girlfriend has also said that David has been profiteering from his newfound fame as Tamar's ex and that he lied about Tamar being physically abusive just so he could seem like the victim of the situation.
Article continues below advertisement
While David has shared his own version of the story on his Instagram, claiming that Tamar was the aggressor and that was why he filed a restraining order against her, people close to the couple say that it was in fact David who was behaving erratically and it was he who threatened Tamar with a murder-suicide if they broke up. They also claim that Tamar had been acting differently since she and David started dating and that he could be very controlling.
What did David say on Instagram?
In an Instagram Live David did earlier this month, he addressed his recent split from Tamar, saying, "I love Tamar with my entire heart. I loved her from day one ... I loved her with everything I had, and I stood by her through thick and thin. I will continue to stand by Tamar no matter what."
David maintains his claim that he was the "victim of domestic violence, of domestic assault" in their altercation and that he has "never, ever, ever, and never will" put his hands on a woman.
If you or someone you know is experiencing domestic violence, call the National Domestic Violence Hotline at 1−800−799−7233.
If you or someone you know are experiencing suicidal thoughts, call the National Suicide Prevention Hotline at 1-800-273-8255 or text HOME to the Crisis Text Line at 741741.