David Dobrik Rents Billboard to Embarrass Friend Who Keeps Drunk-Texting His Assistant
David Dobrik's latest prank is also a valuable lesson for a drunk-texting friend: a giant billboard plastered with those drunk texts.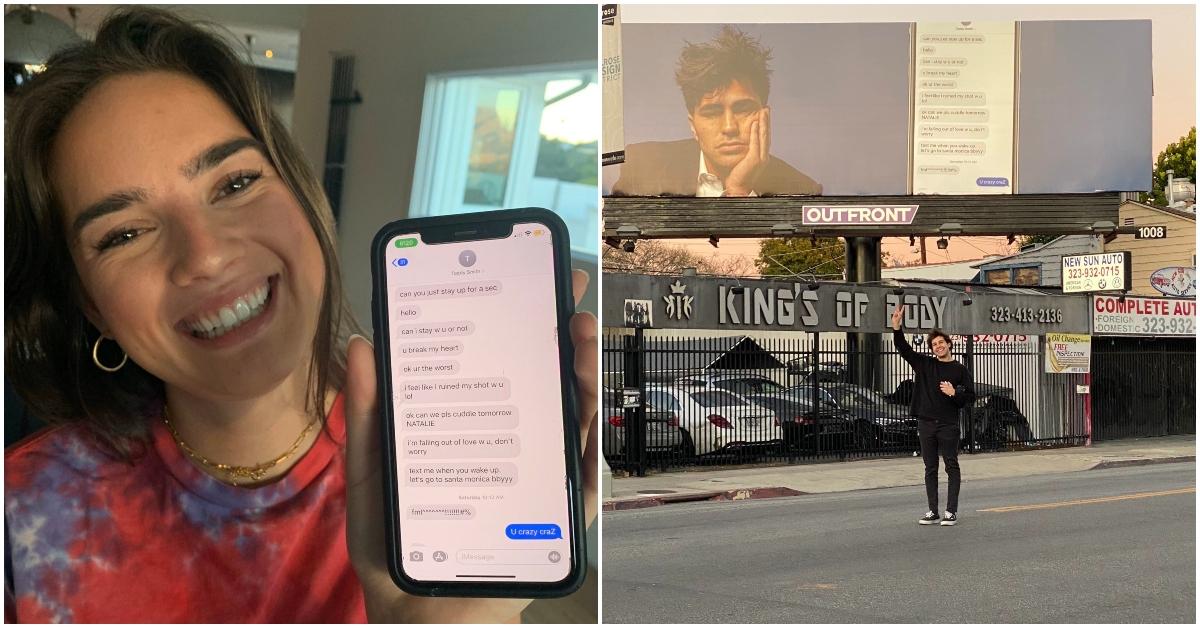 Virtually everyone who has gotten drunk has at some point sent a drunk text. Drunk texts come with their own terrible consequence, in that they are usually very embarrassing. But for some repeat offenders, the mortification in the harsh, sober light of day is clearly not enough.
Article continues below advertisement
YouTube star David Dobrik is known for pranking his friends, but his latest antic may also be just the thing his friend Todd needs to start texting more responsibly. After David's assistant, Natalie, showed David the texts Todd sent her in the middle of the night, the 23-year-old prankster taught his pal a valuable lesson... by plastering a billboard with Todd's pic alongside his unfortunate texts.
Article continues below advertisement
Natalie is pretty good-natured about the 3 a.m. blast, but honestly, one could hardly blame her if she were annoyed. In the string of drunken missives, Todd asks if he can stay with her, accuses her of breaking his heart, begs for a cuddle, tells her he's falling out of love with her (don't worry) and then invites her to go to Santa Monica. What a journey.
Clearly in the morning, he was embarrassed, but pal David decided to make a more indelible lesson out of Todd's lack of self-control. In his latest vlog, he reveals the billboard to Todd and several other friends. Towering over Melrose Ave for all to see are his mortifying declarations of love.
Article continues below advertisement
First, David revealed the billboard to their mutual friends, who are probably all mentally scrolling through their phones trying to recall if they have to worry about having this same prank play out for them. "Please tell me you didn't do this to me, too," said Jeff Wittek.
Article continues below advertisement
After the whole squad got to see Todd's middle-of-the-night indiscretions, David unveiled the stories-high screenshot to Todd himself. He's appropriately embarrassed —however, it seems like maybe we only got one side to this drunk-texting story.
Article continues below advertisement
In the video David posted, Todd pulled out his phone and read out at least one flirty text Natalie sent him, saying, "miss being warm in your arms." While Natalie declares she was just "f--king with him," it definitely seems like Todd's not the only one who needs to exercise some discretion over text.
Thankfully most drunk texters won't have any friends with the resources necessary to pull off this kind of epic shaming. But perhaps more should.