Hollywood's Already Beefing Over Who Should Play Joe Exotic in 'Tiger King'
The 'Tiger King' docu-series is the #1 program being streamed on Netflix right now, and Hollywood's already beefing for who'll play Joe Exotic.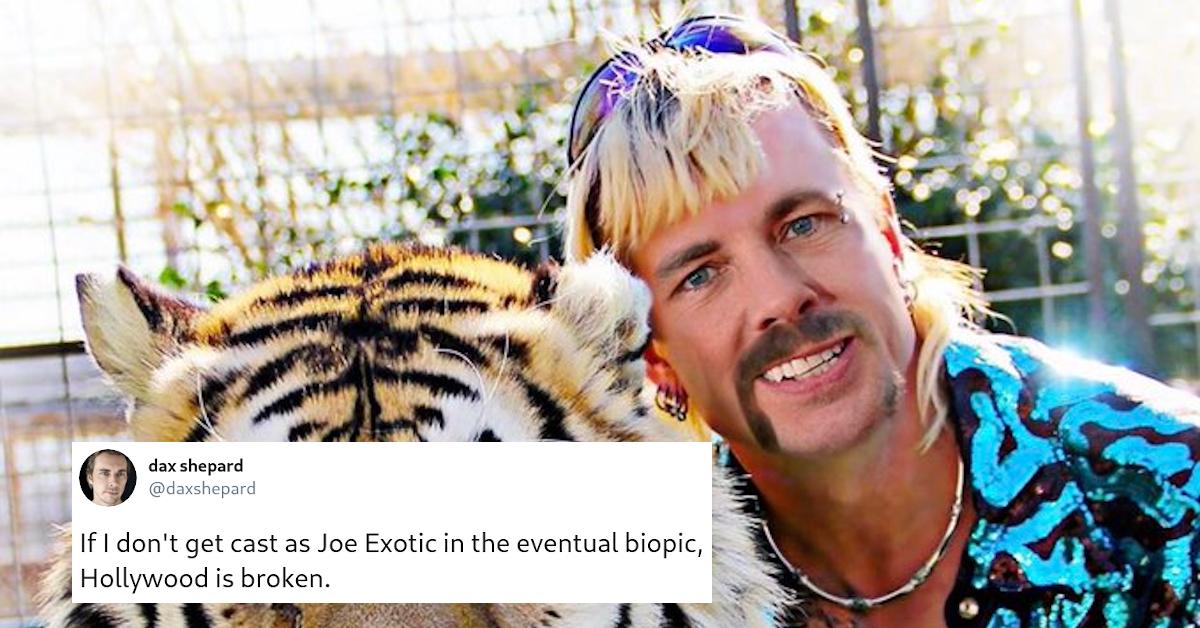 With the way 2020's going, it certainly looks like the year will become a series of unfortunate events. From Kobe Bryant's tragic helicopter crash early on in the year, to the Australian bushfires continuing, to drum legend Neil Peart passing away, and Jakarta flooding, there are lot of people who just can't wait for 2020 to be over. To top it all off, everyone's stuck inside because of the COVID-19 pandemic — but Netflix has provided us with a silver lining.
Article continues below advertisement
A little seven-part docu-series by the name of Tiger King: Murder, Mayhem and Madness about private zoo owner and big cat/gun/mullet/ego enthusiast, Joe Exotic, is the biggest surprise hit of the year for the streaming platform. If you haven't seen it yet, then do yourself a favor and make the best use of your social distancing by bingeing the whole thing.
It's really difficult, too, to pin down just what makes TK so darn good.
The way the series is storyboarded and shot is second to none. Then there's the way details about each colorful character in the series are slowly revealed; it's just masterful. The subject matter is off-the-wall, too, but that really boils down to how all of the documentary's major players — Joe Exotic, Carole Baskin, Jeff Lowe, Travis Maldonado, Jeff Finlay, and co. — behave in their day-to-day lives.
Article continues below advertisement
In fact, the characters are so zany, that even before Tiger King came out, there were actors already working on producing a scripted series about the rivalry between Joe and Carol. Kate McKinnon has been developing a TV show with Universal Content Productions for which she will play Carole Baskin.
Tiger King is such a huge hit with audiences, that people are already speculating a biopic film will soon be in the works.
Article continues below advertisement
Folks have already been submitting who they think would make for the perfect Joe Exotic. But that hasn't stopped actors from already tossing their name into the proverbial hat for the biopic's "eventual" release.
Dax Shepard took to Twitter to say that if he isn't cast as Joe Exotic, then "Hollywood is broken."
Article continues below advertisement
It didn't take long for Ed Norton to chime in and let Dax know that he'd make for the best Joe Exotic in a biopic and that Dax — because he's buff — is best suited to being Travis Maldonado.
Then, that opened up the floodgates of people submitting their own dream castings for the Tiger King movie.
Jim Gaffigan as Bhagavan Antle, Bautista as John Finlay, and Jennifer Coolidge as Carole Baskin were all suggestions in response to Dax's tweet.
Article continues below advertisement
Article continues below advertisement
Personally, I think Kate McKinnon would be great as Carole Baskin she can pull off that "space cadet with a touch of evil" role perfectly. As for the other major players, I think Jason Mantzoukas as Mario Tabraue would be epic, and James Caan as Jeff Lowe would be pretty darn good. Willem Dafoe as Erik Cowie would be an absolute dream. And while many people think Dax and Ed would be good for Joe Exotic, I've got a better person to cast.
Article continues below advertisement
Shia LaBaeouf. Don't even act like he wouldn't be absolutely perfect for the role. Imagine Shia on Joe's campaign trail with Josh Gad playing his manager Joshua Dial? That would be absolutely wonderful and you know it.